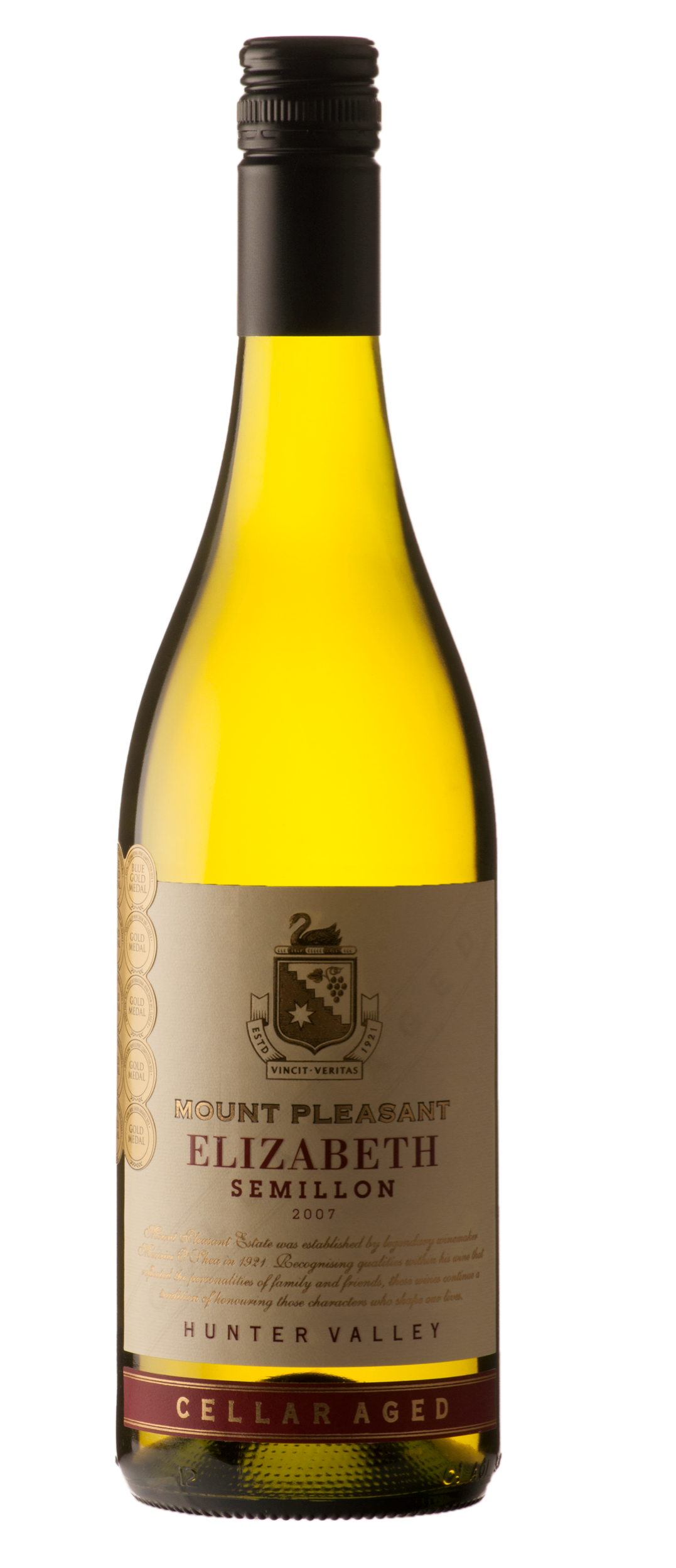 2007 Cellar Aged Elizabeth Semillon, Mt. Pleasant
---
Notes on the wine
Tasting Note: Pale golden with a hint of bright green hues. Fresh limes, grapefruit, lemon blossom and cut grass jump out on the nose, giving this wine great complexity. It has a lively fresh citrus palate with ripe lemon and lime notes, enhanced by a refreshing acidity and a long, lingering finish. This is a seamless wine with rich citrus flavours and a fine acidic structure, hinting at the potential for this wine to cellar with great longevity.
Winemaking: All grapes for this wine are handpicked, and once in the winery they're de-stemmed, crushed, must chilled and the juice is quickly drained from the skins. After a cold natural settling, the clear juice is racked off, warmed and inoculated with natural yeast for fermentation. The fermentation process is slow and cool, so as to retain the exceptional fruit flavour of the vintage. Three weeks after fermentation, the wine is filtered before bottling, ensuring the retention of pristine varietal character.
Notes from our buyer
"I'm very excited to be working with the iconic Australian wine producer that is Mt. Pleasant. Having access to museum Hunter Valley Semillon is a buyer's dream! I'm also looking forward to working with a new set of iconic wines with the Lovedale Semillon and the Maurice O'Shea Shiraz joining our already stellar line-up of Australian fine wines from Henschke, Glaetzer and d'Arenberg. Both the Cellar Aged Elizabeth Semillon and the Philip Shiraz have already become firm favourites of mine, offering fantastic value for money and brilliant food-friendly styles - my Sunday lunch roast chicken finally has its perfect partner! " Maggie Macpherson, Buyer for Australia
Notes on the producer
The vast Australian landscape provides a rich canvas of winemaking regions, but with its challenging climatic conditions and richness of unique sites, the Hunter Valley is one of the most characterful, celebrated and distinctive regions.
Mount Pleasant's legacy dates back to 1880, when English immigrant Charles King planted vines on rich, volcanic soil at the southern end of the Hunter Valley. In 1921, legendary winemaker Maurice O'Shea purchased and extended the property, naming it Mount Pleasant after the peak that rises behind the winery.
Today, the winery is one of the most awarded in Australia, and under the direction of winemaker Jim Chatto, who has been described as having a forensic palate, they continue to release wines of a consistently high calibre.