OTO - Trend Watch on Premium CBD
This is our first foray into CBD and the products have just landed in our warehouse!
OTO, an independent, UK-based wellness brand, curates the world's finest CBD (cannabidiol) experiences with its portfolio of high-strength premium drinks. From the world's first CBD Bitters to their 50mg CBD shots, each product is designed to give your customer the optimum level of CBD to experience the benefits of this amazing molecule. Renowned for its ability to help people feel more 'in the moment,' CBD is the must-have addition to any menu. It is little wonder that CBD is generating so much excitement across the drinks industry and with their OTOStrength™ guarantee, you can be assured that you too can deliver the finest CBD experiences for your clientele.
Crafted by world-leading food scientist, Dr Ketan Joshi, alongside a passionate team of drinks industry leaders, designers and anthropologists, OTO's products are all 0% ABV and completely natural. They each combine pure CBD with a range of health-boosting botanicals that enhance the benefits of the CBD.
A world first, OTO's CBD Bitters can be added to cocktails, coffees and juices, and are the perfect way to amplify your menu offering, either through a dedicated CBD-inspired drink or by simply adding it as a 'booster' to increase consumer spend and enhance their experience.
With its herbaceous and floral flavour profile, OTO's CBD Bitters is a wonderful flavour enhancer for cocktails and, thanks to it being 0% ABV, provides an exciting and functional alternative to alcohol. As people adopt a more balanced approach to drinking, OTO's CBD Bitters is the perfect bracer to help customers unwind and socialise. Adding OTO's CBD Bitters will help people to feel more 'in the moment' and 'find their space.' It's not about losing yourself, it's about connecting to the present, the experience and the people around you.
What's more, OTO's new collection of 50mg CBD shots are the most powerful CBD RTDs on the market. Each 60ml drink is blended with a broad range of natural botanical extracts, spices and purified water, which combine to enhance natural wellbeing and balance. The drinks can be enjoyed on their own, which makes them a perfect addition to any breakfast or brunch menu, or alternatively they can be used as a mixer in a low- or no-alcohol cocktail.
The collection features three distinct products, centred around OTO's pillars of FOCUS, AMPLIFY and BALANCE, which are designed to complement moments within the natural rhythm of the day. These three unique blends perfectly complement your customer's needs, from improving focus, to amplifying the present, and creating more balance in their everyday lives.
Glass: Coupette
Garnish: Mint sprig & rosemary sprig
20ml Everleaf
20ml Cucumber Syrup
20ml Lime Juice
3 large dashes OTO CBD Bitters
Top up with Kombucha
Method: Combine the Everleaf, cucumber syrup and lime, and shake with ice. Pour into a coupette glass, top with kombucha and add three dashes of OTO CBD bitters, Garnish with three mint leaves and a rosemary sprig.
What is CBD?
CBD is a molecule that is derived from the cannabis plant. There are two main component molecules in the cannabis plant – THC and CBD. THC is the component that you might usually associate with cannabis, as it is psychoactive and makes you feel 'high'. CBD, however, is non-psychoactive and is almost THC's direct counter-balancer. Crucially, CBD is non-addictive, totally legal in this country and physically impossible to overdose on. Your body is built to naturally regulate it, so similarly to a vitamin, you can't have too much of it and it doesn't have any negative effects on the body.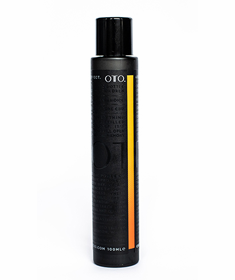 OTO CBD Bitters 10cl
This is the world's first CBD bitters, distilled using 2,500mg of pure CBD isolate, purified water and a spiced botanical blend. The rich blend of Himalayan botanical extracts, including bergamot, bitter orange, liquorice, lemongrass, cacao and cardamom, all have their respective health benefits and help the bio-availability of CBD into the body. With its rich aroma and layered flavour, this bitters creates a new floral dimension of flavour to a drink, whilst also have great function on the body.