Sekforde - Trend Watch on the world's first and only mixers crafted for specfic spirits
With all natural ingredients like prickly pear, cacao and Sicilian orange, these are some of the finest mixers on the market, and work equally well on their own as grown up soft drinks. We can't get enough of these low sugar, wholly delicious, fanatstically versatile drinks.
Sekforde was started by Talula White, as a result of her frustration with the lack of good mixers for her favourite spirits. Cola and Ginger Beer, while delicious, mask the taste of whisky and rum, contain high levels of sugar or artificial sweeteners and fail to do justice to the craft and unique flavours in spirits. So, Sekforde was born, designed for mixing, with delicate flavours that complement, instead of overpowering.
A tonic alternative was later created for gin or vodka and the range was completed with the addition of a mixer for tequila or mezcal, giving people a new way to discover and enjoy agave based spirits. 100% natural, and low in sugar, each 200ml serve is under 36 calories, and contains no artificial flavours, preservatives or sweeteners.
Their mission is to unlock spirits and champion a new way to discover and enjoy spirits. They honour the traditions and dedication which go into making spirits by pairing them with these dedicated mixers, crafted with the aim of enhancing, not overpowering the beautiful flavour profiles in the spirits we all love. We think it's quite the quartet!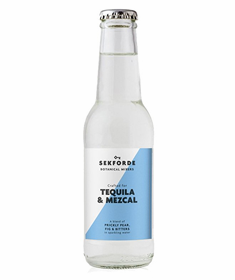 Sekforde Botanical Mixer - Tequila/Mezcal NRB 20cl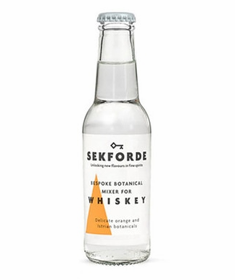 Sekforde Botanical Mixer - Whiskey NRB 20cl
The first flavour is sweet Sicilian orange. The heart of the whisky flavour should then fill the palate; lengthened and teased out with a hint of rosemary, you should find a complexity that can be rather hard to pick out in the neat spirit. Highlighted by our combination of crisp bitter notes, the whisky finish will last longer than usual and may surprise you, lifted with a subtle hint of mint - look for hidden dried fruit and spice notes.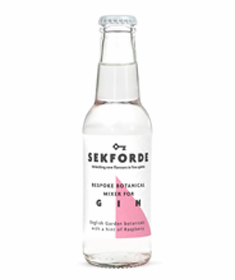 Sekforde Botanical Mixer - Gin NRB 20cl
We avoided the customary pairing of sugar and quinine to counterbalance the piney depth of the juniper in gin, instead using a soft sweetness from rose and raspberry extracts. These flavours offer an evocatively summery characteristic, also light and fresh enough to add refreshment to vodka's crystalline purity. The flavours from this initial combination merge seamlessly into the sage and other dry, leafy botanicals in the Sekforde, giving a cool and subtle backdrop to enjoy the long finish.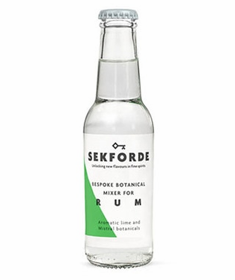 Sekforde Botanical Mixer - NRB Rum 20cl