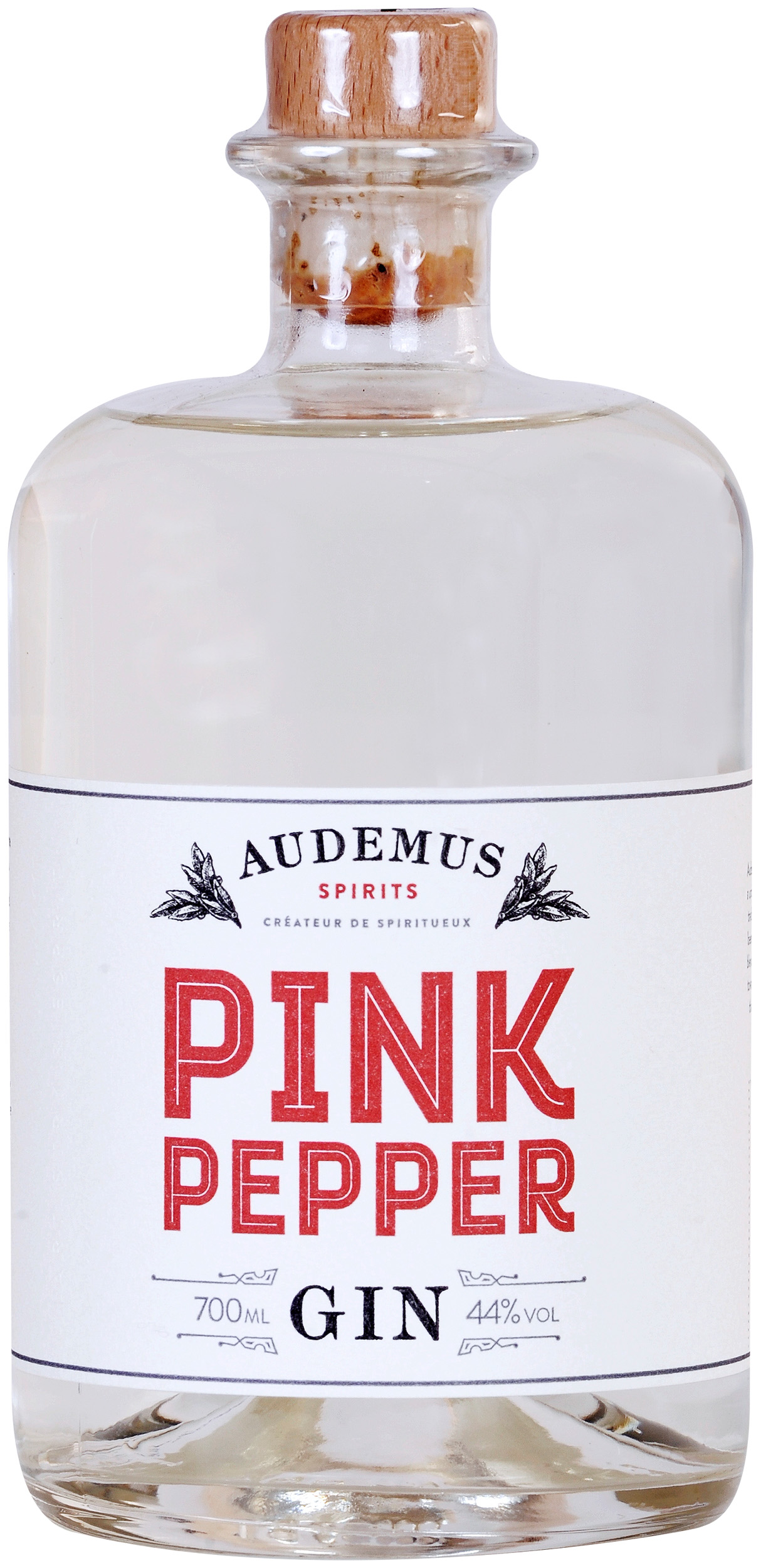 Pink Pepper Gin
---
The story of Audemus Spirits
Audemus Spirits draws inspiration from the distillation techniques of bygone years at their home in Cognac, France. They reinterpret traditional methods of spirit-creation and blend them with a modern artistry and a passion for innovation. With a small-batch production philosophy, coupled with an imaginative blend of ingredients, they thrive on experimentation to create unconventional spirits.
Founded in 2013, Audemus is the joint venture of Miko Abouaf and Ian Spink. Miko started distilling at a very young age with his family in Australia, and one of the first things he ever distilled were pink peppercorns from a tree growing in his Sydney neighbourhood. Pursuing this passion, he cut his teeth at Rémy Martin before deciding it was time to start up his own company. When Ian met Miko he caught wind of his enthusiasm and left his career in hospitality and then, as they say, the rest is history.
Interestingly, Audemus was originally created as a company that would create bespoke spirits for customers. Pink Pepper Gin was the example of what Miko would take to bars in Paris and London to give customers a taste for what he could make, but when people were simply asking for more Pink Pepper, he decided it was time to turn the venture into a commercial offering.

Pink Pepper Gin
Their first and flagship spirit, Pink Pepper Gin, quite unsurprisingly, takes its name from the punchy, crunchy pink peppercorn – a berry which is plucked from the Brazilian pepper tree at the height of its ripeness and which lends an exotic, light peppery taste. Pink Pepper is a unique, hand-crafted assemblage of nine botanicals, independently infused over a period of time in a pure, neutral grain alcohol.
The intensely aromatic and bold gin, is bright with notes of juniper, and balanced with the warmth of honey, tonka and vanilla. The gin is hand crafted and intricately designed to evolve over time, both in the glass and in the bottle, with each batch dedicated to family members, good friends and people who are part of the Audemus story. On the palate the gin is full bodied and intensely aromatic – thus it's perfect for sipping or for enjoying in cocktails.
The final recipe took months to perfect, and each batch of Pink Pepper Gin takes months to create – it's a true labour of love, resulting in a smooth and elegant gin.
In the words of…Spirits Specialist Ben Gibbins
When I first tried Pink Pepper I was really surprised. This isn't your standard juniper forward gin – the juniper is present but there is also a real complexity of flavour starting with the spice of pink peppercorns and finishing with a long sweet note of honey, vanilla and tonka bean. It's really versatile as a G&T with mixers such as Aromatic Tonic, but also pairs well in cocktails with more unusual flavours like Nonino's Amaro that has a hint of orange, and Kodakara's Umeshu Sake. In my opinion it should be a staple behind every bar as a great pre- and post-dinner gin!

Cocktail Club: Umeshu Sour
Ingredients: 25ml Pink Pepper Gin | 25ml Umeshu Sake | 15ml Lemon Juice | 10ml Sugar Syrup | Egg White
Method: Reverse Dry Shake | Strain into chilled coupe | Garnish with 3 drops Peychauds Bitters
Simply delicious. This will make you view sake in a whole new light.