Focus 50: Trip 21, Lurton (France)
To mark Enotria&Coe's 50th anniversary this year, we're shining a light on 50 outstanding producers who have been instrumental to our company history. As part of our celebrations, members of the E&C team took a trip to Bordeaux's Left Bank to experience the world of Focus 50 winemaker Lurton first hand – here, Charlie Carter, Training Manager, and Laura Bennett, Territory Manager, share their highlights.
Charlie: Our visit to the Lurton family's estates spanned three incredible days. We discovered the family's passion for sustainable wine production and biodynamic farming, and learned how they're helping to grow the movement throughout the region.
Claire Villars-Lurton of Château Haut-Bages Libéral in Pauillac talked about the vineyard and her drive to improve biodiversity. She has planted crops between the vines and 40 different species of trees at regular intervals throughout her vineyards. She manufactures biodynamic treatments and fertilisers and has established a community scheme to share them with neighbours.
The terroir here is unique, sitting on a limestone outcrop that's shared only by neighbouring Château Latour. She said the grapes from these plots contribute freshness and white truffle notes to her wines. She also has some custom-made concrete eggs for maturation. They have a unique shape, meaning no metal framing is needed to strengthen their structural integrity, contributing to her wines' purity of expression.
Laura: The most fascinating sight in such a historic winery was the use of amphorae, the large terracotta and porcelain pots that were traditionally used in winemaking. They've been employed here since 2018, and about 20% of the wines are now aged in amphorae.
Charlie: Trying Claire's wines, we certainly tasted the freshness, and the white truffle notes seemed to become more pronounced with age. Highlights were La Chapelle de Haut-Bages Libéral 2019 for the vibrancy and plushness of the fruit profile and structured but delicate tannins. The 2010 Haut-Bages Libéral was divine, showing how well her wines take on earthier, more savoury tones without losing freshness or fruit.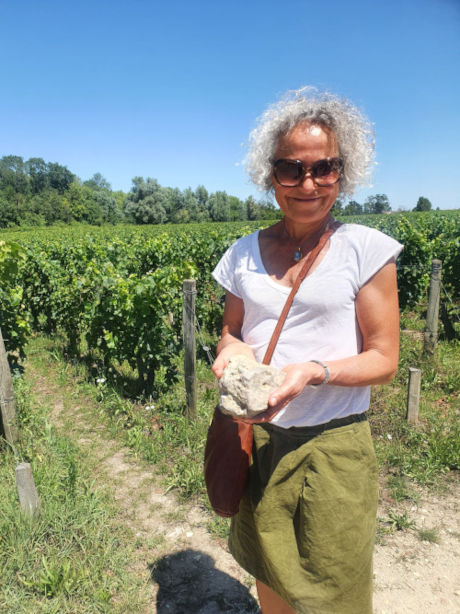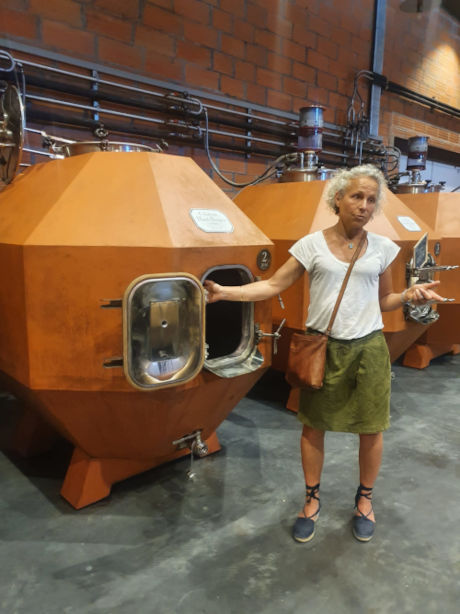 Laura: Soon it was off for lunch with Claire and her husband Gonzague, who incidentally runs Château Durfort-Vivens in Margaux, the next winery on our visit. Lunch was an Italian salad, fresh fish of the day and for dessert, incredibly ripe strawberries with our first canelé of many – no complaints here about this. It was accompanied by stunning wines from Claire and Gonzague's estates, even featuring one from Sonoma in the US.
Charlie: At Château Durfort-Vivens, Gonzague showed us around his production facilities. He discussed the rigours of producing wines in a biodynamic fashion: how fastidiously clean everything must be and how swiftly grapes must be handled in oxidative environments. Much lower amounts of sulphites are used in the winery than are allowed under conventional rules.
He talked about his discovery of Italian pot producer Tava, which makes terracotta pots by hand. Here, the firing temperature is a key detail, leaving the insides of the pots far less porous than normal ones. These vessels provided what Gonzague was looking for – gentle, slow maturation without too much influence on the pure fruit qualities that make Durfort-Vivens wines what they are. He showed us his terracotta army, hidden deep in his cellars, a huge room with row upon row of hand-crafted wonders.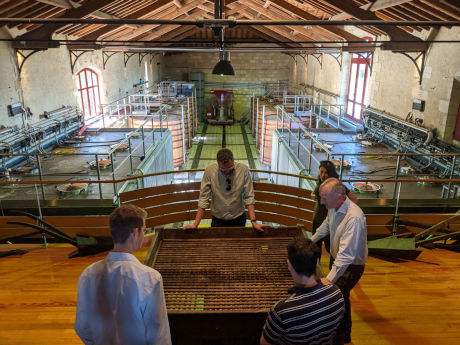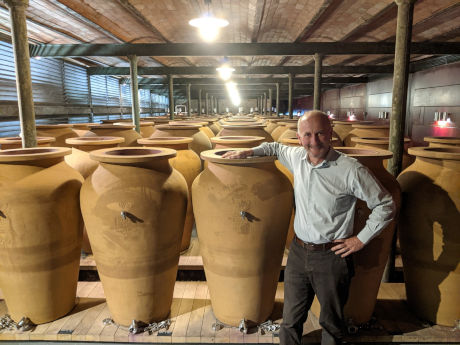 Laura: We headed next to Château de Villegeorge to meet Marie-Laure Lurton, situated in the commune of Avensan in the Haut-Médoc appellation, spanning 12.32 hectares. The Lurton family purchased the property in 1973, and Marie-Laure Lurton took over operations in 1992.
Charlie: We enjoyed a couple of delicious wine-based cocktails out on her veranda. The first was a refreshing 'Wine-jito', a twist on a Mojito and Sangria. I could have happily knocked them back all evening! The second was a red wine sour called 'Morning Slap' – headier than its predecessor, with a nice creamy texture. Rather than using egg white to achieve the frothy top, they used honey, which offset the sour citrus and complemented the structure of the red wine.
Laura: The drinks were quite an eye opener. We questioned hard to find out the recipes to no avail. We all vowed to try to recreate them at home, but I don't think we will come close.
Charlie: Over dinner, we were treated to a blind vertical tasting. We started with 2013, then moved to 2008, 2002 and 1984. I could not get over the purity the 1984 still possessed after almost 40 years of ageing. The main course consisted of a rich, gamy chicken dish which also complemented her wines to perfection! One of the best matches of the trip.
Day two saw us stopping off at Château Bouscaut in Pessac-Léognan, south of Bordeaux on the shores of the Garonne.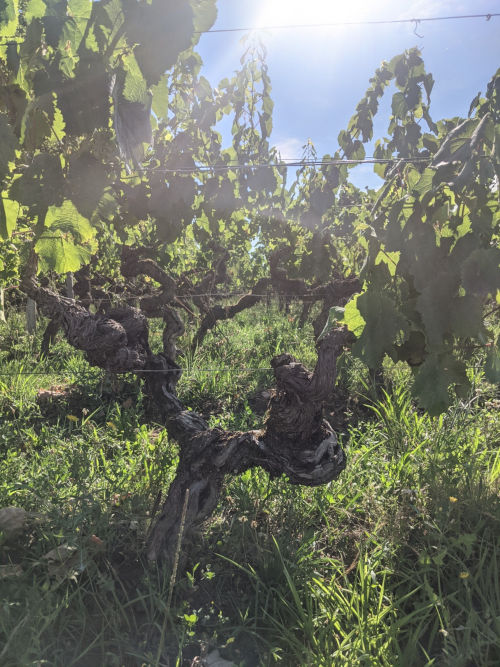 Laura: Château Bouscaut has been owned by the Lurton family for 43 years. In 1992, the estate was handed over to Sophie, her husband Laurent Cogombles and their son Armand. We tried four wines, starting with our first white of the trip – Château Bouscaut Blanc, a stunning Sémillon from 100-year-old ungrafted vines.
Charlie: All the whites here had a high proportion of Sémillon, lending herbaceous, grassy freshness to the vibrant aromatic qualities of Sauvignon Blanc. They had varying degrees of oak influence too, all incredibly well judged.
The reds we tried were among the most robust and structured we'd savoured so far. The estate has hung on to some old Malbec vines, which give the wines a dark, brooding quality with layers of menthol and liquorice to complement the fruitier counterparts of Merlot and Cabernet.
The final stop was Château Climens in the sweet wine region of Barsac (Sauternes), where we met Bernice Lurton, who took us on a tour of her botanical drying room. She had all manner of foraged botanicals laid out in open sacks and baskets, waiting to be composted and brewed as a tea to spray over her vines. Each botanical has its own healing qualities.
Bernice focuses purely on Sémillon, planted on a rare ferrous clay/limestone/sand outcrop. She said the soils help preserve freshness. Her vines are just the right distance away from rivers to benefit from autumn fogs that reliably lift by early afternoon, encouraging noble rot, a key component in sweet wine production, to form.
She has highly trained grape pickers and is strict with the grapes that are used for her wines, particularly the top wines of the estate. These aren't produced unless she is happy with their overall quality.
Laura: We then embarked on the most amazing tasting, trying Château Climens, a Premier Cru Classé from Barsac.
Charlie: I can't imagine anyone turning down a glass of Bernice's wine! Her second wine, Cypres de Climens, is pristine and vibrant, with a mineral sweetness that is beguiling and incredibly refreshing. An absolute delight to the senses.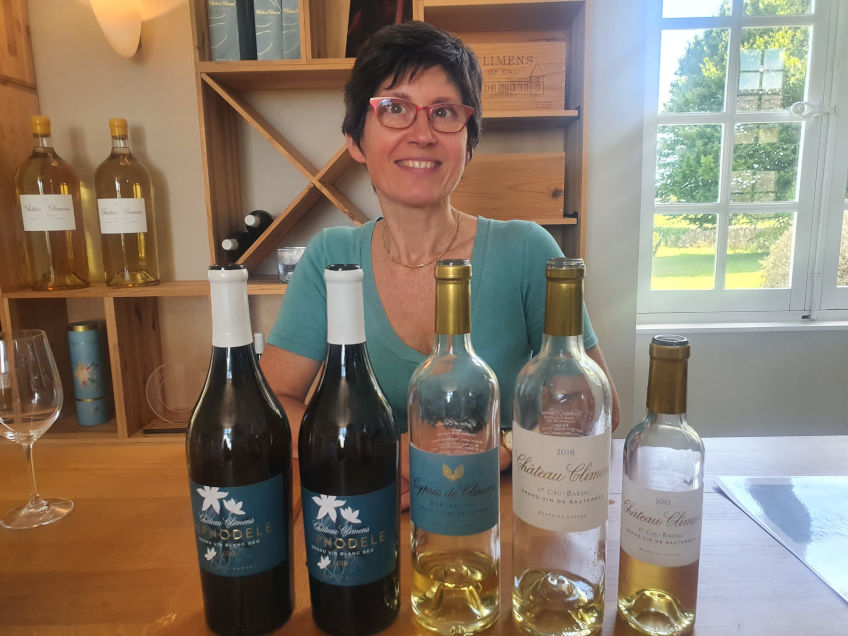 The team's top 3 wines
| | | |
| --- | --- | --- |
| | Château Haut-Bages Liberal 2010 | Dense dark-fruit aromas with floral inflections. Fruit-driven attack with leathery, ripe plum and damson fruit on the mid-palate. Tannins are finely structured and well integrated, with a backbone of refreshing acidity. Smoky, gamy white truffle and mineral notes on the long, complex finish. |
| | L'Étoile de Villegeorge 2019 | Fresh, fragrant nose with red fruit, herbs and green pepper. Delicate fruit on the palate, with red fruit and a hint of sour cherries. Tannins are soft and powdery, with a delicious acid structure providing lift and mineral nuance. Long, fruit-driven finish. |
| | Château Climens 2016 | Intense nose: floral with apricot and candied fruits. Marmalade and earthiness come through with time in glass. Beguiling palate, owing to the complex, tightly wound flavour profile and acidity. Doesn't necessarily distinguish the sweetness at first, despite plenty of residual sugar. Long, unctuous and pure finish, with mineral nuance and bitter marmalade to complement the sweet fruit. Versatile, and better suited to savoury foods, particularly Thai cuisine. |
Part of our 50 Year Anniversary Focus 50 Series