Focus 50: Trip 39, Conterno Fantino (Italy)
To mark Enotria&Coe's 50th anniversary this year, we're shining a light on 50 outstanding producers who have been instrumental to our company history. As part of our celebrations, members of the E&C team took a trip to Piedmont to experience the world of Focus 50 winemaker Conterno Fantino first hand – here, they share their highlights.
John Chalmers – Territory Manager
We were staying in Serralunga d'Alba, the main village of Barolo, but Conterno Fantino is in Monforte. To get there, you drive through a small village with really narrow streets. We were in a bus, and going up was quite tight! You rise above the town and get to the top of the hill where the winery is, and that's all there is. It's not a huge operation – it's a family-run business, a collaboration of two families who came together in the early '80s. The estate is small but it's very modern, especially inside. They have quite a futuristic cellar.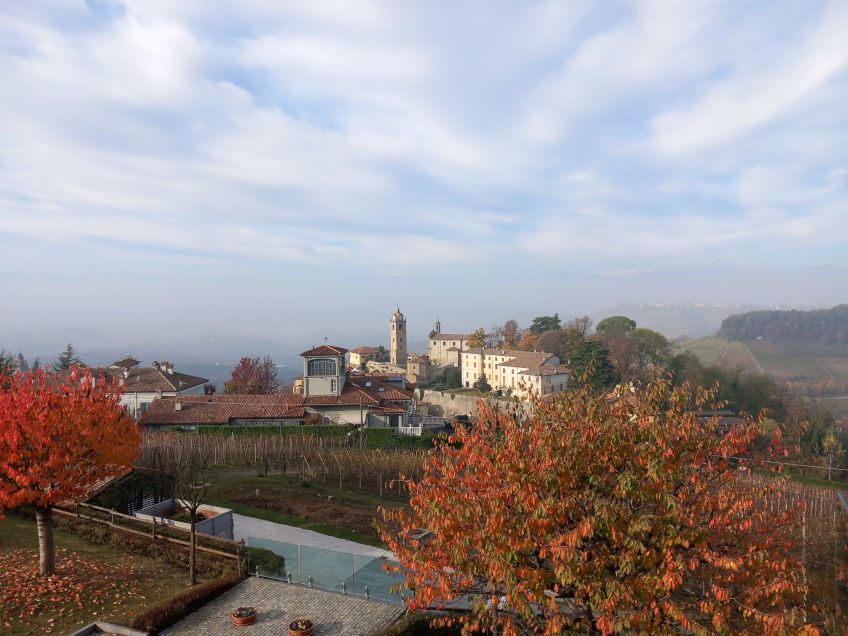 The elevation here is impressive – Conterno Fantino is at one of the highest positions in the Langhe hills, and they've built a viewing platform at the winery that you can step onto and look out to the Italian Alps. You've got this amazing view right down the valley that Torino is in. It's a very pleasing place to be.
We met Fabio Fantino, the winemaker and son of the founder. He took us through the winery, where we saw the bottling lines and underground cellars and wine storage. Bizarrely, the local police were also there on a big day out – a bus of 40 policemen were there having a tasting and a tour. Probably not something you'd see in the UK!
Then we came up for the tasting with Elisa, Fabio's sister. It was great getting to taste their range and the vintage that's about to be released, as well as some wines that we don't sell – we got to try their Chinato, for instance. Chinato is a fortified Barolo made with different botanicals and sugar, which was originally invented to help people take their quinine. It's a bit more alcoholic than Barolo, and we tried a vertical of three different vintages: 2004, 2006 and 2006.
I've been with Enotria for over 11 years, and it's always better when you're trying the wines there at the estate with the people who make them. That's particularly true of Barolo. It's often misunderstood because it's not one you drink as a beginner – you have to look underneath the surface to get the true character. It was also fascinating how different the single-vineyard wines were, even though they come from pretty much the same part of Barolo, just from different sites in Monforte d'Alba. You really notice the differences in terroir when you taste them altogether.
John Graves – Wine Development Director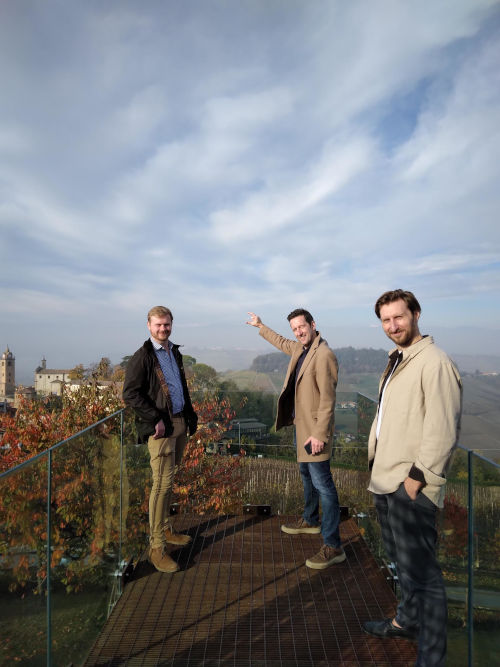 The very first thing you notice is how high up you are – you feel as though you're looking down on everybody. It was quite evocative, because it was a little bit misty and felt quite mysterious.
Another thing you notice is that they are very family-orientated here. Sitting in the tasting room, we met five or six different family members who came wandering in. I got the feeling that their approach is quite modern and that they're not willing to accept the status quo. Fabio just had a brand new baby, but he took the time to see us and show us around, which showed just how passionate he is – a real live wire, that guy. You can see he doesn't suffer fools, and it shows in the wine.
The winery was great. It's in really good condition. Like a lot of producers they're combining traditional methods and new techniques, and – again – it shows in their wines. We tried quite a few, including the new 2019 vintage of Barolo, which was considerably different from the 2018. I thought Conterno Fantino's wines were some of the most intense and highly structured of everything we tried on the trip to Piedmont, but the '18s were quite accessible for a four-year-old-wine. In the old days, we used to talk about not being able to touch a Barolo for 10-15 years, but the '18s were very easy to drink.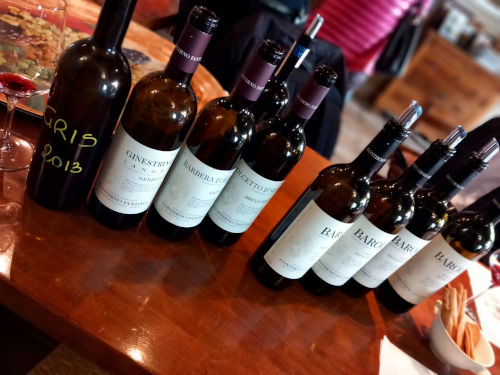 The '19s are going to be a different kettle of fish, and it's looking like a very interesting vintage – one for the wine geeks to get into.
In isolation, Barolo can seem a little bit austere, a little bit hard to get your head around. But when you're there and trying different vintages at different producers, you start to understand what a winery is all about. Barolo is for people who care very deeply about wine, and I got a lot out of this short visit.
Pete Franks – Territory Manager
It was very autumnal, with a lot of morning mist in the valley. On a clear day, you'd be able to see for miles to the Alps, but there was still that wow factor. One of the first things you see in terms of the Conterno Fantino building is this kind of balcony on the top – a glass walkway that oversees the whole valley and the mountains. Altitude is a key factor in the quality of wine, as we know, so you can tell right away that this is a pretty special vineyard.
I loved the candidness and openness and honesty of the family. When you're speaking to more firmly established producers that are not bottlers or playing into the masses as much,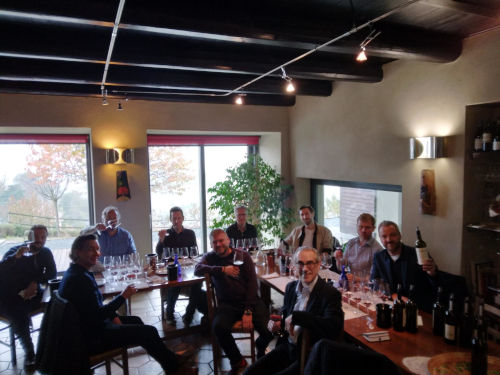 you delve more into the passion of the project and understand the area and what they're trying to achieve. That was certainly the case here.
We tried a lot of the 2019 vintage and it's delicious, though we realised that it's almost too early for us to sell it – it needs to have aged more first. And a real highlight was trying the 2004, 2005 and 2006 Barolo Chinato in succession. Being able to dip into the products we don't necessarily see that much of in the UK was quite an experience.
Tom Diment – Sales Operation Manager
Seeing Fabio's passion and his intensity was a highlight from a wine perspective. He took us on a tour, and it was amazing. He was a bundle of energy and enthusiasm about not just his wines, but about the whole region and the way it all works. He talked very openly about how the governing body for the region works, and some of the things that you're allowed to do as a producer under the rules of the governing body of Barolo. Although Conterno Fantino is a big supporter of the governing body, it isn't currently signed up to it because the family disagree with some points, like the fact that you can take the wine out of the region to bottle it. They really firmly believe you should bottle it there. It was interesting to hear that perspective – that there's more flexibility than you'd think, and that's why they've pulled away from closely aligning with the regulations.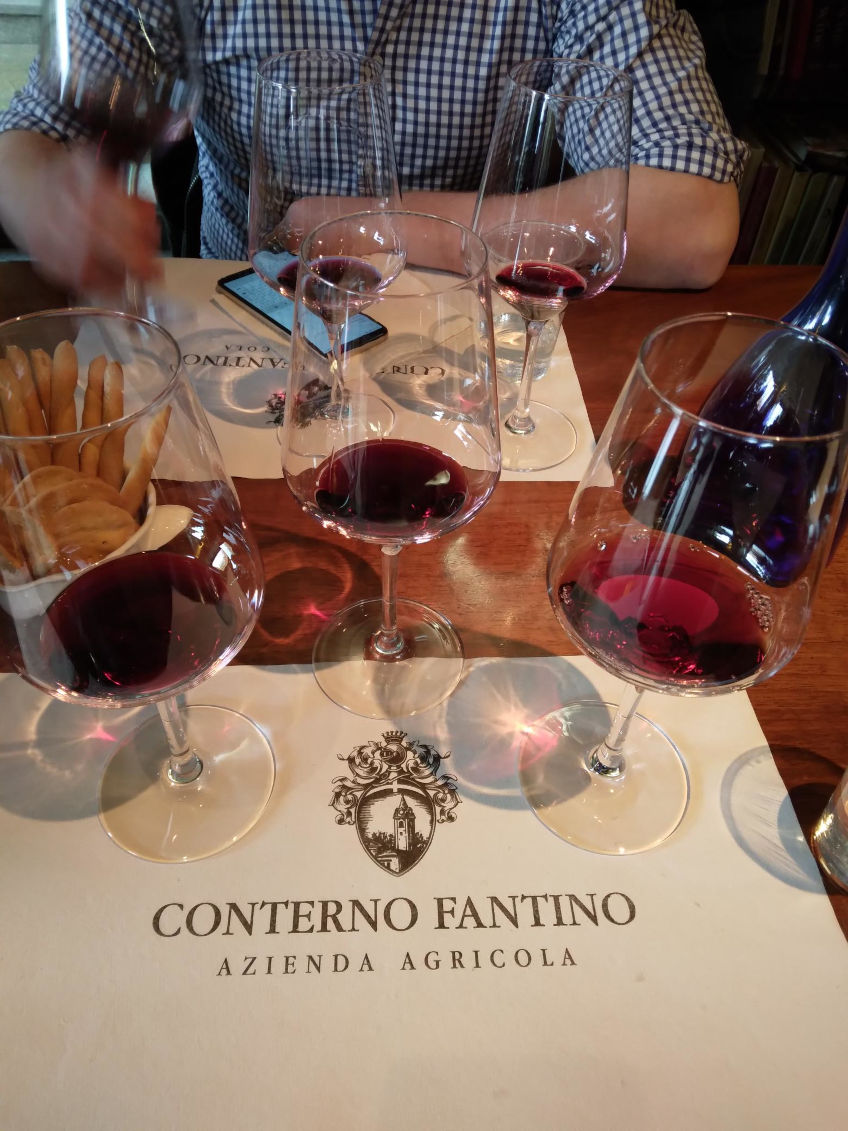 The tasting was impressive. Yes, Barolo is a lot for 10 o'clock in the morning – they're quite heavy wines – but we made the best of it, and there was some brilliant stuff there. I'd gone on the trip thinking I'm going to try some amazing wines, but there's not going to be a huge amount that's going to be at the price point I'd regularly buy at home. But trying bottles like their Dolcetto, which was a bit more accessible, I was actually really impressed. That's the stuff that's going on my shopping list.
Top 3 wines – by John Chalmers
| | | | |
| --- | --- | --- | --- |
| 1 | | Dolcetto d'Alba Bricco Bastia 2021 | A variety that is dwindling in popularity within the Barolo area, mainly due to the more profitable Nebbiolo grape. At Conterno Fantino, it's still given the attention it deserves. The name 'Dolcetto' perhaps gives a false impression that this is a sweet wine, which is definitely not the case. Juicy, pure fruit notes are backed up by a crisp acidity and firm but fine tannins. From a higher-altitude single vineyard ('Bricco' means 'peak'), this would be a great alternative to Pinot Noir with festive turkey and all the trimmings. |
| 2 | | Barolo Mosconi Vigna Ped 2019 | A sneak peak at a vintage that's not yet released – 2019s are not available until spring 2023. Perhaps the most celebrated single vineyard from Conterno Fantino is Sori Ginestra, which is amazing, but I really like the approachability of the Mosconi. The inviting nose features fragrant floral notes, elegant cherries and blueberries and a faint tarry, savoury note. The palate is opulent, the fruit really shows. The wine is young so the tannin is prominent, but it's not in the way, with a good balance of acidity and fruit. A great young Barolo from a good year with a long life ahead of it, though I'd be very happy to drink a glass of it right now, especially with a game dish like venison. |
| 3 | | Barolo Chinato 2004 | Back in antiquity, Chinato was used to ward off malaria by fortifying Barolo wine with alcohol, sugar and quinine ('chinino' in Italian – hence 'chinato'). To make the wine more drinkable, they added other botanicals too. The most famous example was from Zabaldano; this is Conterno Fantino's effort to capture the spirit of that version. Made in conjunction with local pharmacist Dr Giulio Perin, who comes up with the blend of 50-plus botanicals, this is heady, rich and indulgent, with an expressive nose. Intense, long-lasting palate with the structure and intensity of Barolo balanced by sweetness and herby, spicy botanical notes. I tasted this wine 11 years ago, and it immediately came back to me when I tasted it again. Unusual and made in tiny quantities, but well worth the effort to try. Pairs fantastically with chocolate – the darker the better. |
Part of our 50 Year Anniversary Focus 50 Series