Focus 50: Trip 40, E. Pira (Italy)
To mark Enotria&Coe's 50th anniversary this year, we're shining a light on 50 outstanding producers who have been instrumental to our company history. As part of our celebrations, members of the E&C team took a trip to Piedmont to experience the world of Focus 50 winemaker E. Pira first hand – here, they share their highlights.
John Chalmers – Territory Manager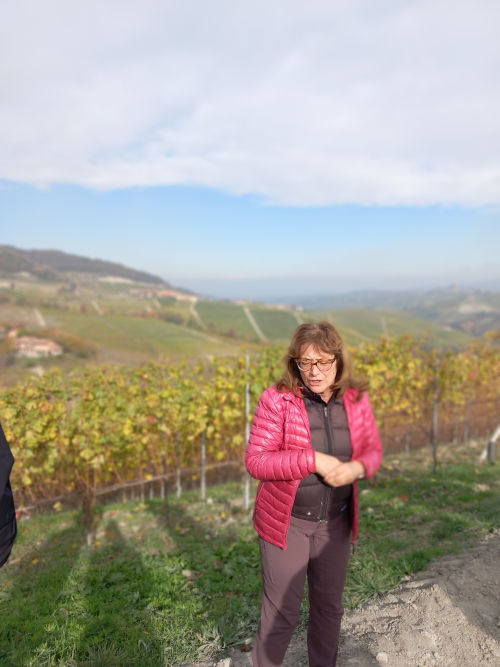 E. Pira is quite small with a very traditional feel, located in the centre of the town of Barolo itself. Until her brother Giorgio joined the business, Chiara Boschis was its only face, and she's a force of nature as far as her enthusiasm for the vineyards goes. Along with Conterno Fantino, she was at the forefront of the movement in the late '80s and early '90s to change the style of Barolo.
We went into the vineyards with her, and when you get into the vineyard it's not about technology – it's about working organically, almost in a biodynamic way but without the semi-religious part of it. She's increasing the biodiversity of the vineyards and keeps bees and grows crops between the rows, really going above and beyond and taking it as far as she can to keep her vineyards healthy not just now, but in the future.
Chiara also gave us a tour of the winery, which is historic. She was able to buy it from the family who used to own it, and she has pushed things forward. When you get into the winery itself there's not a lot of bells and whistles, because they've already got the best grapes they can get and they're trying not to muck that up. Her top wine is Cannubi, which is the top vineyard in Barolo. It's an amazing example, restrained with an elegance to it and not quite the same firm structure as others. She focuses less on barriques and barrels.
Chiara's niece, the assistant winemaker, cooked a five-course meal for us, and we had a tasting alongside lunch. She made all kinds of antipasti, like bruschetta, and homemade pasta with truffle from one of the wooded areas in the vineyards, which was nice. We had osso buco as the main course, and then cheese from their own dairy. They have a farm in the Italian Alps west of the Langhe owned in cooperation with Conterno Fantino, and they produce the cheese there. They set it up to not only make great cheese, but also to create more jobs to encourage people to stay in the area since depopulation is a big issue in Piemonte. We had about eight or nine different cheeses, from lighter ones to cheeses that were dark, strong and punchy. We finished with a chocolate dessert and a glass of Barolo Chinato – and that was all at a big table in the winery!
Sergio De Luca – Wine Buyer, Italy
E. Pira is the creation of a woman called Chiara Boschis, and I've known her for years. She started the company in the early '80s, and she had the temerity and the courage to take this company and run the vineyards and the cellar. When I say she had the courage, you have to understand what agriculture was like in Italy in those days – it was patriarchal, and women often weren't allowed to be in the fields. What I admire is that she was a revolutionary and she changed many people's views on the matter. Today, 40 years later, a lot of women have their own vineyards and cellars, but Chiara was one of the first.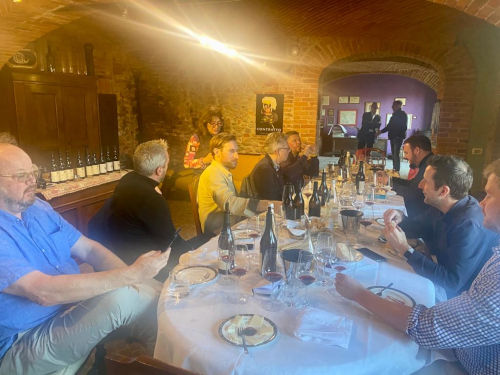 When we set up this visit, I wanted to give my colleagues at Enotria the chance to see various sides of the business. Some producers are quite large and nearly industrial, others are mid-sized and some are family-run. My exercise here, with Chiara's winery, was to show the independent side of things. She's very into organic wines and owns top vineyards in Cannubi. There are about 26 producers on that historical site in Barolo, and 20 years ago, she became the first to not use pesticides and chemicals there – and to convince other producers to get into organic practices. I wanted everyone on our trip to understand the family aspect of this producer, and it came across – for instance, we could've gone out to lunch, but instead Chiara and her family cooked and entertained us, and it was absolutely fantastic.
James Scrimgeour – Territory Manager
My favourite part of the E. Pira visit just has to be the welcome we received from the Boschis family. Sitting down and having lunch with Chiara and her niece was a highlight – it made you feel you were part of something. It was good home-cooked food, and the pasta was especially nice. It was this ball-shaped pasta, and despite the fact that we had another two courses to eat afterwards, everybody had a second helping! e.pira-dinner.jpg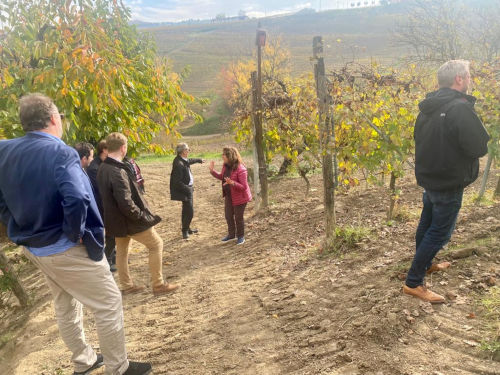 I didn't know a great deal about E. Pira, to be honest. I haven't been with the company all that long, and because they're quite high-end wines, you don't get a great deal of exposure to them day to day. So I didn't realise quite how small and tightly knit the family is, and it was interesting to see the effect that Chiara has had on the broader region. She was, ironically, part of the Barolo Boys group – the lone female figure in the movement – and she's been quite an innovator in terms of her production methods and sustainable, biodynamic practices. For instance, every row of vines had birdhouses at the end, so the birds could control the insect population. I didn't quite know how much emphasis there was on sustainability in that part of the world. She strongly believes in leaving the land better placed for the future.
Pete Franks – Territory Manager
Meeting Chiara, the winemaker and kind of owner, was a real highlight for me. She is a force of nature and a ball of energy. She took us down into the vineyards to explain their sustainable practices. Some of the stuff just happens to be organic and even biodynamic, but she was not pushing that as an agenda. This was very much about looking after the land and preserving it for future generations rather than trying to follow any particular wine trend. You really understood what they were trying to achieve – they're doing this because it makes a better product, it will preserve the land in the vineyards and it's better for the grapes. It was nice to cut through the BS that you end up reading about sulfites and organic and biodynamic wines and just understanding what it means to the winemaker.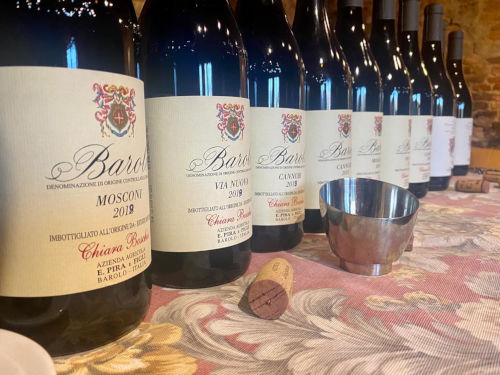 The winery itself is in a rustic style because we're talking about smaller production. Chiara blazed the trail with lower yields, which was going against the grain at a time when she started. Meeting her helped us understand so much more about the area and about her wines.
It was quite a special trip overall, because you very rarely get to be able to see that many producers in a short amount of time. Within a 40-minute radius of each other, we saw five producers of different sizes and scales, from cooperatives to bigger, more corporate-style operations, to independent wineries like Chiara's. So it was a great way to get to know the area.
Top 3 wines – by Sergio de Luca
| | | | |
| --- | --- | --- | --- |
| 1 | | Barbera d'Alba Superiore 2020 | Organic, from vineyards on the E. Pira estate. Usually put on the market about 18 months after harvest. The 2020 vintage shows a lively purple colour; on the nose it has a very fruity character that reminds me of wild red berries with a touch of sweet black cherry. Solid in structure but pretty ready to drink, with a great balance. |
| 2 | | Barolo Via Nuova 2019 | In the past, this came from a small single vineyard behind the cellar. With the restructuring of the single vineyards in DOCG Barolo, this little vineyard has become part of a bigger cru called Terlo. At that point, Chiara and Giorgio decided to go back to tradition, and this Barolo is now a blend from seven different vineyards. The 2019 will be available around February 2023. Elegant, possibly a touch young but with a great profile already: its leathery character promises a great future. |
| 3 | | Barolo Cannubi 2018 | Wow – one of the jewels of this trip! The vineyard Cannubi is one of the most famous crus in Barolo. Silky, with a beautiful leather aspect and supported by excellent fruit. It comes from a patchy vintage but the wine is just beautiful. A pleasure to drink. |
Part of our 50 Year Anniversary Focus 50 Series