Who is Paul Ainsworth?
He's an alumnus of Britain's culinary glitterati – think Gordon Ramsay, Gary Rhodes and Marcus Wareing – and has just been named GQ's 2018 Chef of the Year, but the longer we chat to Paul Ainsworth, we learn that none of this has gone to his head. Born into hospitality, Paul's trajectory into the kitchen was due to a romanticism about food, than with his industrious hardworking nature.
Now based in Cornwall, with three establishments on the go, it's an infectious passion for quality produce that unites everything he does. That, and a true appreciation for his customers, who for him, are king. We were lucky enough to sit down with Paul, to find out just what makes the talented chef and restaurateur tick.
How did you wind up working as a chef?
I was born into hospitality. My parents ran a 10-bedroom bed and breakfast, which was an incredible thing for our family because although the business was our home, we were always together as a family, mum and dad never had to work away, and we sat down as a family for meals. When I'd answer the phone I had to be professional, even though I was probably waiting for a mate to ring. All those little things I think played a part in why I followed the path into hospitality.
I'd always been a hard worker and had a good work ethic instilled in me by my dad, so it was about age 15 that I started to consider my life in the kitchen. When I did, my dad said to me: "Are you sure this is what you want to do? Chefs work very unsociable hours…when you're working your mates are going to be out. Are you sure this is what you want to do?" And I thought, yes this is it, I really want to do it. So, he then said if you're going to do it, do it properly and work for the best…that's when the journey started. Mind you, it's probably slightly more industrious than romantic. It wasn't necessarily that I had this love of ingredients at the age of nine years old. It was more this really great work ethic and I knew what it was to work hard.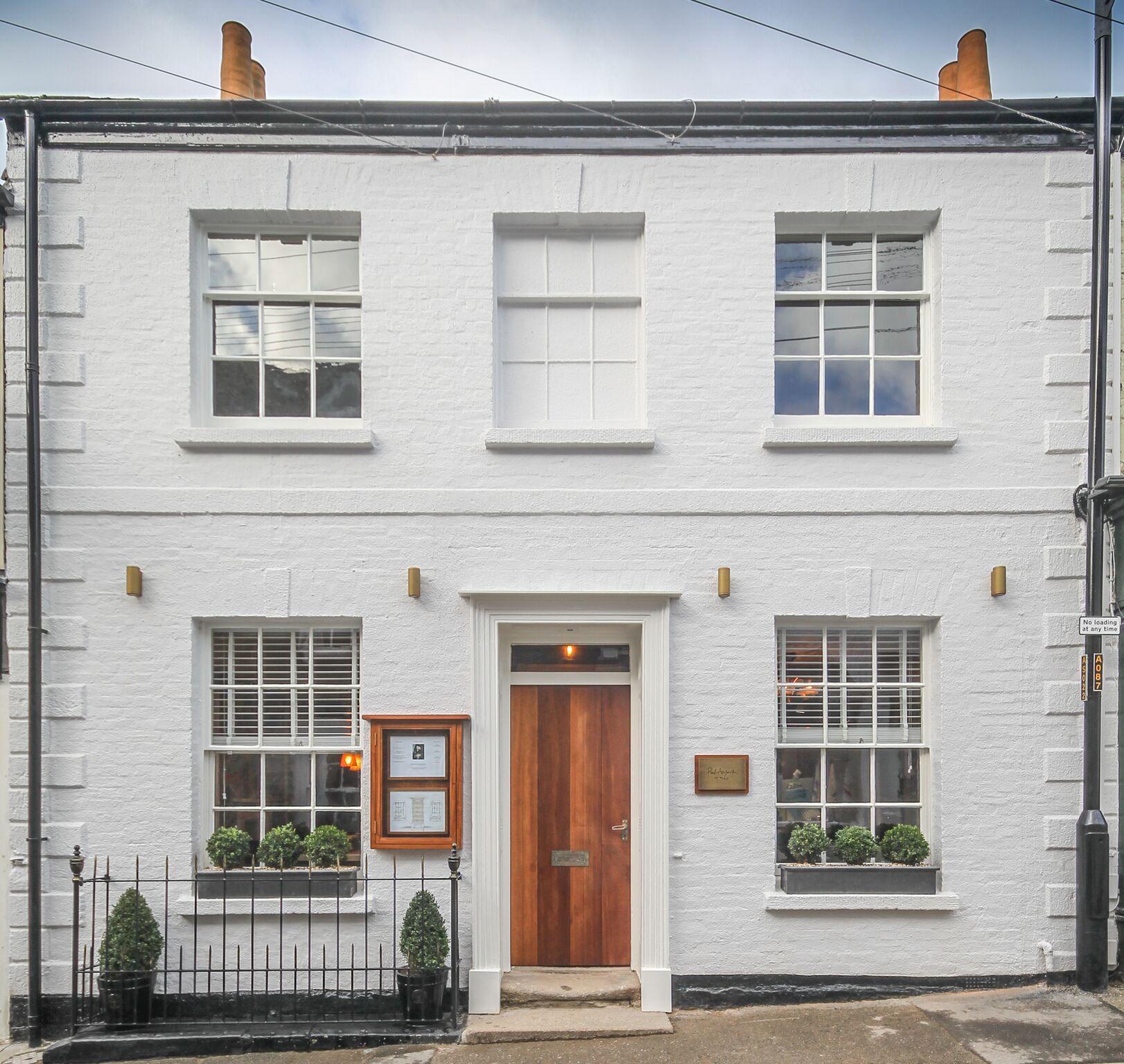 How did you end up in Cornwall?
It was a long road to Cornwall. I was born in Southampton, where I went to catering college and had a casual kitchen job. In 1998, I made the move down to London, where I had the opportunity to work for Gary Rhodes, which was my first in to a professional kitchen. Gary was an incredible mentor, and made my first step into the world of cooking much easier. Next, I took a position with Gordon Ramsay. This was at a time when Gordon wasn't what Gordon is now, so I had the best of him. He was there with you every day. It was a truly amazing time.
Looking back, Gary Rhodes, Gordon Ramsay and Marcus Wareing, have been three of the biggest inspirations along this cooking journey. They were all completely different, but all three gave me so much. Gary was all about British, seasonal, simplicity – very ahead of his time – all that's so normal now, but back in the late 90s he was a real crusader for the movement. Gordon was another level. The food was phenomenal, the discipline – it was the hardest thing I've ever done in my life, it was incredible. Marcus Wareing was a similar style to Gordon, but I picked up different things here too. But with all three, I learnt more than just cooking, I learnt how the businesses ran.
In 2005 I made the move to Cornwall. And as beautiful as Padstow is, that was never the driving factor for the move. It was an opportunity to have a platform to showcase what I wanted to do…what I can do.
That being said, it's hard running a business in somewhere like Padstow, because you're not in the London bubble. We have an amazing local following who have shown us so much support over the years, and we always make sure to take care of them, because they've helped us massively when the tourists have gone home. But really the business is made up of people who have made the decision to come on holiday, which means there's a lot more expectation riding on their experience. That's why I did a lot of the television and media work because it's become a huge part of my industry…I embrace it and enjoy it. I never went to drama school because I wanted to be on tele and be recognised. Not at all. I've always wanted to be the best I can be as a chef and now as a restaurateur, and television is a great voice.

What is the ethos behind your ventures in Cornwall?
Quality. That is it. It's not necessarily about a corporate logo or a brand. If you come to one of my establishments, we are working tirelessly every day to make sure we're the best we can be. You've chosen to spend your money with us, and we are grateful for that. There are a lot of establishments that get a bit lost with that and think the customer should be privileged to be there, whereas I want to make my guests feel special as we're privileged to have them join us. We're not about the big grand chef in the kitchen or the egotistical restaurant manager; it's about making people feel really special or welcome. Because for some people, especially when they go into those high-end sorts of places, it's intimidating. When you're walking into a restaurant that might have a famous name behind it, or might be quite fine dining, it can be quite a daunting experience for people. We want to remove all of that. I want to lead my team to knowing that customers are the most important thing.
Where do you find inspiration for your food?
Absolutely everywhere. An idea can be born in the strangest of situations. One of our latest chicken dishes came when I was doing a guest chef night, it had no relevance to the evening, we weren't doing chicken or anything, I was on a task and then I zoned out and then this dish started to come together in my mind. As soon as I'd finished service I was on the phone to my sous chef and said can you get this, this, this and this, and then we travelled home early in the morning, and I went straight to the restaurant and started cooking, and it came together on the chopping board.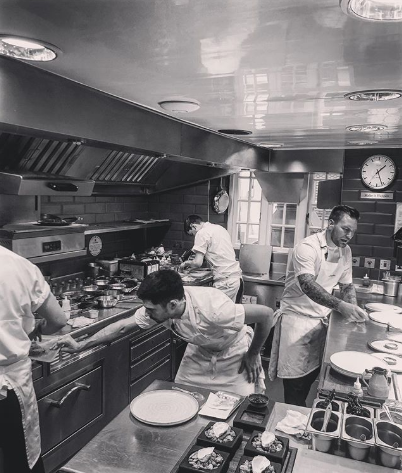 You've just won GQ Chef of the Year. What does this mean for you?
I was blown away, especially when I see the chefs who have won that award before me. I see that people that are in that magazine and on the cover, so just to be nominated was amazing – there were two 3-Michelin Star chefs in there. It was a special evening. When my name was read out by Tom Kerridge (one of my best mates), he just started smiling. On the same night Clare Smyth from Core won Best Restaurant, and we'd trained side by side 18 years ago working for Gordon as young chefs.
How do you keep up to date with a rapidly diverse scene?
You can't be so ignorant that you don't lift your head up to see what's going on around you; but don't be so silly as to follow and change every time a trend passes by. If you can just keep the balance, then you'll be fine.
Everything boils down to standards. People will always stick with you if you maintain quality. We're always questioning everything we do. We live by the mantra that there's no such thing as perfect. Never draw a line under anything, as it can always be improved and revisited. So that's how we stay relevant, all the while always trying to keep our own identity.
Does the food come first, then the wine/spirits selection?
The dish is born, and then Sarah and the team are given the dishes to taste, talk about, and develop. They then work backwards, looking at their wines and cocktails. We've just got on board with the real tea company (Kombucha), so we're looking at that because if you're not drinking, why shouldn't you still have an amazing experience? Everything boils down to flavour, wine and cocktails included. Everything we serve must be delicious. It can't just be all about the food.
Do you have a particularly memorable food moment?
One that really sticks out for me was when Tom Kerridge and I went to Stockholm with our wives and we ate with Björn Frantzén. It was very, very special. I love the ethos, I love the style. It's brilliant. It was a meal that blew us all away.
Your last meal – what would it be?
We're very meat-led at No. 6, which is surprising to some people given we're right by the coast with amazing seafood, but we wanted to tap into the world-class farming on our doorstep. You have Rick Stein and Nathan Outlaw who are doing a brilliant job with fish, so we wanted to really showcase the farm. We have that lovely salty sea air blowing across the land. We've been doing a lot of work on this rib of beef that we cut with the bone in, and it's just like nothing on earth. The marbling, it's aged for 50 days. So I'd have that, with some really nice proper homemade chips – crispy on the outside, fluffy on the inside – and really thick béarnaise sauce, with lots of chervil and tarragon through it. That would be it. Beautifully cooked over coals. And a nice glass of rich red wine.