By the glass
It's the age-old question: how do you remain relevant and engage with consumers, all the while turning over enough to keep the wheels turning?
If we can be certain of one thing, it's that change is the only constant. Trends will come and go, and consumers seem to grow even more fickle with every passing day, which is why it's more important than ever before for restaurants, bars and pubs to be agile and ready to respond to consumer demands.
Perhaps one of the most significant market trends of recent times is the sway towards premiumisation, with consumers drinking less but better. In this climate, experience is everything, and people are looking for quality, innovation and consistency.
Of course, there's no silver bullet solution in this environment, but one initiative that's proven successful is the (surprisingly simple) by the glass offer. We could sing the praises of by the glass offerings for eons, but we know you're all busy folk, so here are several of the best arguments for investing in a BTG programme.
Drinking better: People might be drinking less, but they're drinking better. While they might be less inclined to fork out for a super-premium high-quality bottle of wine, it's an extremely attractive proposition if it's available by the glass.
Experimentation: Consumers are curious and keen to expand their horizons with new varietals from established wine-producing countries, and classic grapes crafted into wine in emerging countries. Drinking by the glass means you can explore the expansive world of wine without the pressure of being committed to into a whole bottle.
Food friendly: Where once food and wine matching was relegated to the world of wine and restaurant critics, punters are now increasingly aware of the merits of matching drinks with their food. As it's rare that everyone will choose the same meal, ordering wine by the glass allows each punter to pair their food with their meal.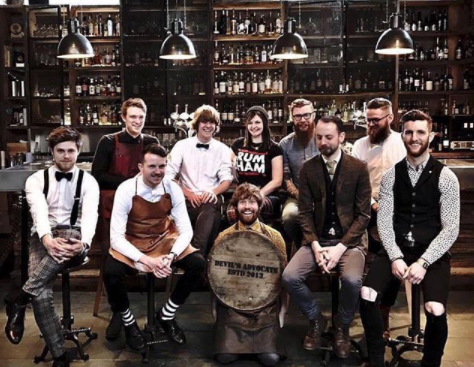 But don't just take it from us, here's why Ben Grieg, Operations Manager at Edinburgh's The Devil's Advocate lists all his wines by the glass as well as the bottle.
"Having every wine by the glass gives our customers the opportunity to try a variety of grapes without having to fork out for a bottle. It also allows us to offer slightly obscure and lesser-known varietals.
"For us, it's a very unique selling point in the City. We use a range of the best suppliers around, specially chosen by Old World, New World, region and varietal. The most important element in all of this is the value and accessibility to such a range. As for the customer, being spoilt for choice in terms of wine is a great situation to be in, especially when they are all by the glass at the valued price point."
The mechanics
The concept of offering wine by the glass has been made even more feasible thanks to systems such as Le Verre de Vin – a multi-bottle wine preservation system – and Coravin – a single-bottle preservation system, which allows you to pour the wine, while keeping the cork in place and protecting the liquid from oxidation.
Interestingly, research shows that across the UK, venues with a Verre de Vin installed list on average 17 wines by the glass, compared with just eight for those without the system. Typically, wines in the later outlets are entry level, with only a small number of mid-range options due to concerns over wastage.
For the team at Hakkasan, investing in the preservation system is all about maintaining quality: "We're not looking to increase our by the glass offering, we simply want to serve every glass of wine, whether still or sparkling, in good condition. We have installed a Verre de Vin machine in every restaurant we've ever opened, and will continue to do so," said Christine Parkinson, Group Wine Buyer.