Making Waves with Mezcal
'Para todo mal, mezcal, y para todo bien, también.'
'For everything bad, mezcal, and for everything good the same.'
Craft distillation and premium spirits are experiencing something of a golden age in today's market, and nowhere is this trend better exemplified than in the agave spirits category. Mezcal's rise seems unstoppable, as is the trend of consumer thirst for authentic, artisanal spirits. It may seem odd that spirits crafted for over 500 years are now being described as the hot topic of the moment, but mezcal producers certainly aren't deterred. Rather, rising to the challenge, they are reaching ever-further into their heritage and culture, bottling new types of agave spirit never before available to anyone outside their local Mexican communities.
So what is mezcal?

The short answer is a spirit crafted from the roasted hearts of the agave plant, indigenous to Mexico- the word mezcal literally translates from Nahuatl as 'baked agave'. The longer answer, and one which is resonant amongst all producers, is that mezcal is much more than a drink. Prior to Spanish settlement across Mexico, the agave plant was held as sacred, and the consumption of fermented juice harvested from its heart was closely linked to religious ritual. With the influx of Western colonisation came distillation techniques that led to the mezcal we know and love today, but the reverence for the sacred power of the plant never faltered. To this end, Mezcal producers continue to follow ancient techniques in their craftsmanship, creating an aura of romanticism around this elusive spirit that resonates of earthen ovens, processes handed down through generations, and above all, a respect for the history and status of agave itself.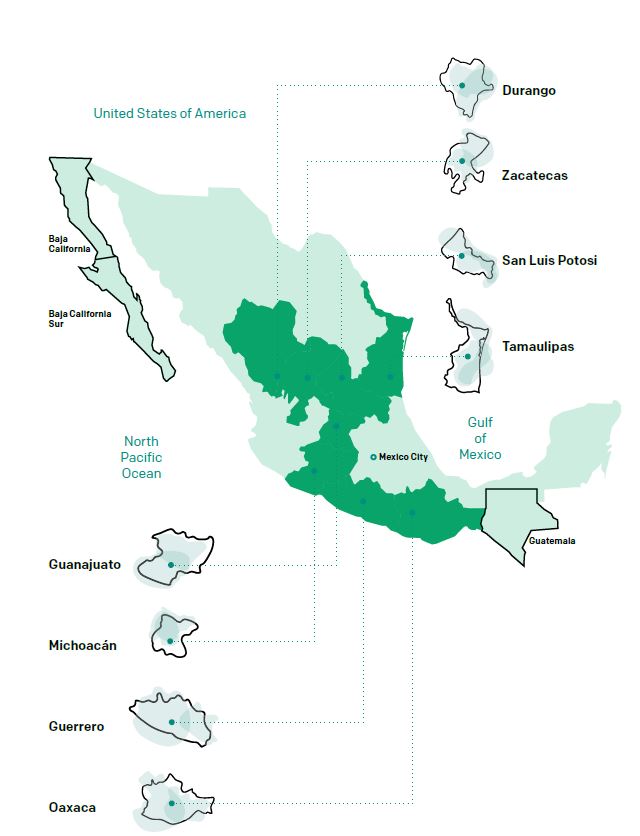 Mezcal Production: Not your average spirit

It's with good reason that many are comparing mezcal production to that of wine. Since 1994, a protected
denomination of origin has been granted for mezcal, with production limited to just eight of Mexico's states. The distinctive differences between mezcals produced in each of these, from the rich earthiness of the San Juan del Rio to the woody pine of the Santa Ana del Rio, may be enough to convince even the most hardened non-believer in the power of terroir.
Overcoming the fear of agave
It's a common saying in Mexico that mezcal is made to be 'kissed', rather than drunk as a shot – a direct contradiction to the classic perception of drinking agave spirits such as tequila. It's this long-held perception which has led to a general 'fear' of agave in the UK market. So how best to overcome this?
It's a question of education, in the eyes of Talulah White, creator of premium mixer brand Sekforde. 'One of the most interesting things about the agave spirits category is how misunderstood they are. I was scared of them – but I spent time in bars with people who explained the time, passion and skill that goes into making these. The key is overcoming people's fear – this is you should be focusing on the mixer, to open mezcal up to a much wider audience who want to enjoy their spirits in a way other than drinking them neat'.

The perfect serve
Mezcal hasn't yet been a stalwart of the market for long enough to have its own, dedicated list of cocktail serves. Increasingly, though, bartenders are opting to experiment with this unique and delicious spirit, substituting it into classic cocktails such as Margaritas, Palomas and even Negronis to add extra layers of deep, smoky complexity.
Our personal preference? We still believe mezcal is best served as it has been for centuries, sipped on its own. Hints of smoke, earth and caramel are layered with varietal notes of honey, mango and even the more obscure mint and marzipan. It's also immensely rewarding when paired with food, as restaurants such as Soho's Temper are realising, in their famed pairing of mezcal and smoked, barbecued meats.

It may have a while to go before it reaches the lofty heights of gin, but mezcal is just on the cusp of its time in the sun- and there's no denying it's here to stay. To find out more about this distinctive and delicious spirit, and how best to champion it, join us on Thursday 18th July for a very special panel discussion, where an all-start line-up of experts will be exploring all things agave.
Spaces are limited, so email [email protected] now to secure your spot!