A slice of Italy in Soho
Soho's original deli, Lina Stores, is an institution, and a purveyor of authentic Italian produce. Infectously passionate, they're also deadly serious about what they do. So much so, that it's taken them 75 years to open their first restaurant, around the corner on Greek Street. If you're going to do something, you may as well do it right. With signature pistachio-green interiors, plump, handmade pasta and a versatile drinks list galavanting through Italy's best regions, Lina Stores Restaurant is fast making a name for itself as one the top Italian eateries in W1. We caught up with Head Chef Masha Rener – whose relationship with Lina began when she was a homesick 19 year old, seeking out a slice of home in the big city – to chat all things Italian.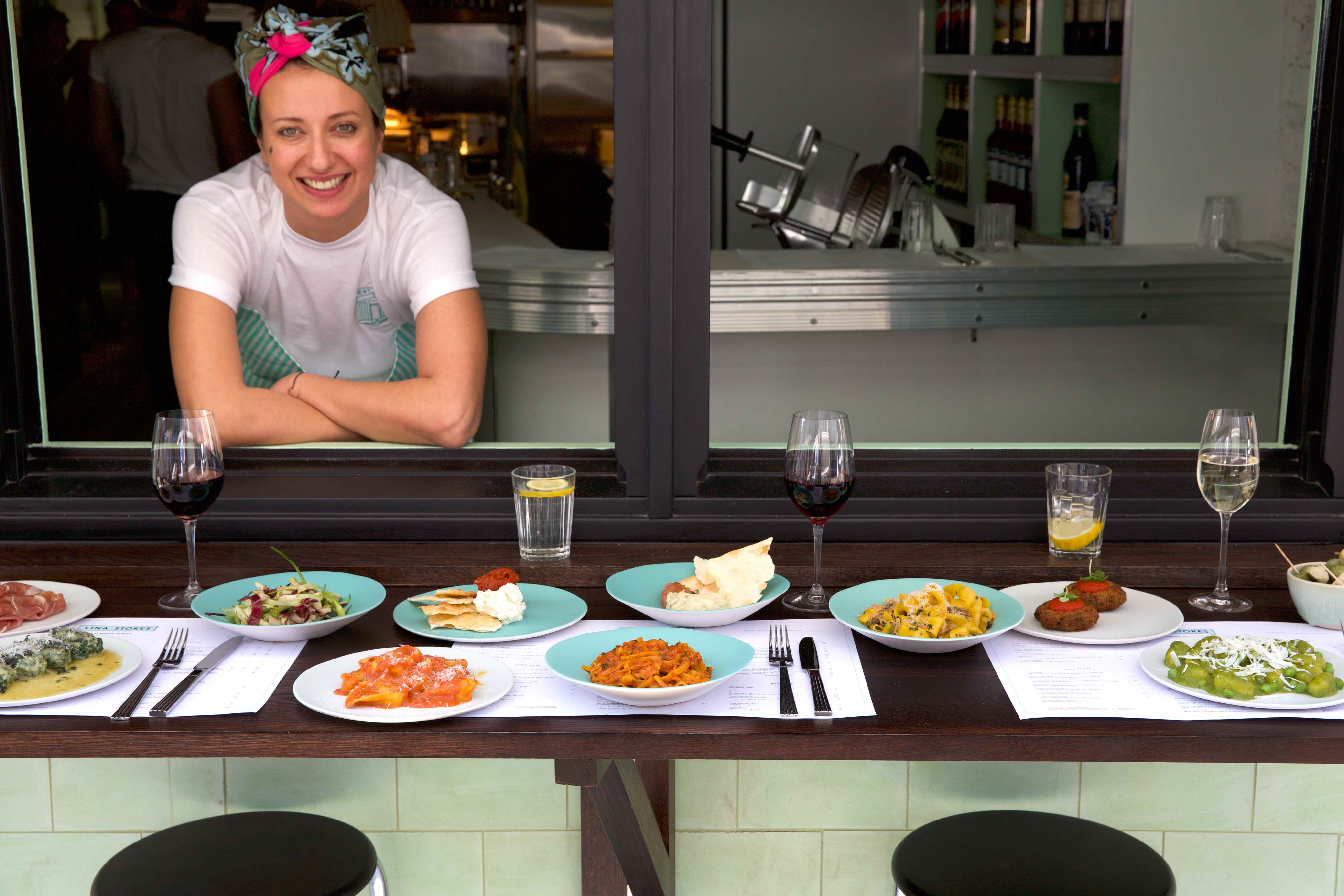 What was behind Lina Stores' decision to open a restaurant?
We've been playing with the idea for years really – 75 to be exact – but were waiting for the perfect time to do so. I had just sold my organic farm in Italy and had stayed in touch with the Lina Stores family throughout the years since my first visit in the 90s, and it just seemed the right time to do something together.

What is the key to making an Italian restaurant successful? Is it authenticity or innovation? How do you strike the perfect balance?
It is a balance of both. The Lina Stores brand is 75 years old so we wanted to make sure we respect that legacy and authentically represent it, and Italy as a whole. It helps that most of our staff are from Italy, myself included, so you automatically bring that authenticity forward, as we're all so passionate about home and want people to experience the real thing! Innovation, however, is just as important, as we want to introduce people to new dishes they might have never heard of before, like the herb and ricotta gnudi on our menu. Quality is at the heart of what we do. Our Italian cuisine, high-quality ingredients and presenting those in an atmosphere that's authentic, innovative and inviting, will set the restaurant apart.

Was it hard to open an Italian restaurant in a city that has had a long Italian influence?
It definitely wasn't easy and we wanted to get it right, which is why it took Lina Stores 75 years to open a restaurant in the first place! We wanted to open something that respects and embraces this long-standing Italian influence in the city, and continues it in a way that innovates and takes that history on board. At the same time, we wanted to make it our own, building on what we've achieved with the deli, which is one of the reasons we believe we're adding something new and exciting to Italian London.

How is the approach to store, restaurant and catering different? Are they managed in the same way?
We produce all our pastas daily and by hand in our development kitchen, ensuring we achieve consistency on recipes, product and people. Demands vary between the deli and restaurant, with certain pastas on the deli menu for years still featuring, along with some new recipes from the restaurant. The goal is to ensure a customer who visits both spaces understands the symbiotic relationship, and if you eat something you like at the restaurant, you can easily pick it up to take home from the deli.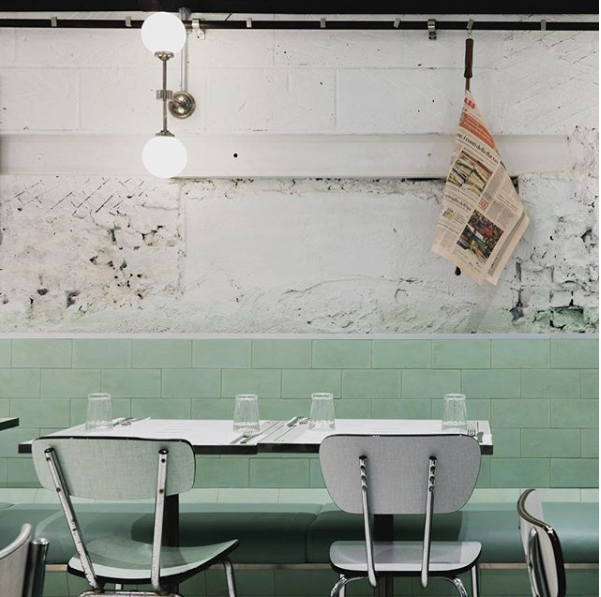 How did the deli shape the restaurant?
We took a lot of inspiration from the deli as it was very important for us to keep that connection to where it all began. We wanted a place that acts as an extension to the deli without deviating too far from the original, like the signature pistachio-green interiors or the vintage 1950s style. We wanted a space to sit in, feel comfortable and experience the same atmosphere and service as at the deli. We also wanted to keep it authentically Italian: bar seating, open theatre kitchen and aperitivo bar – that's how Italians like to eat and drink.
How does the restaurant influence the deli now?
Guests coming to the restaurant are always happy to hear that they can get a selection of dishes they've tried at the restaurant as products in the deli. For example, we've heard wonderful feedback about our prosciutto di parma, which is available in our shop. People also love our pasta, which can be bought in the deli. It really encourages guests to try different recipes at home and learn more about Italian cuisine in their own time.

What are the most important wines and spirits to drink with Italian cuisine?
We love a product called Italicus, founded on bergamot notes, with which we create a delicious sour. We feel all classic aperitivos on the menu represent the heart and soul of what Lina Stores is about. The wine list is regional, accessible and complements the menu very well in terms of versatility.

Do you create dishes to match your drinks list or vice versa?
Drinks to match the food usually, but you cannot underestimate the time and love spent in choosing the right drinks menu. Cocktails should be simple, delicious and accessible, so that everyone orders one. Wines should be well balanced and affordable. We want Lina Stores to be enjoyed by everyone.

What do you bring of yourself into the cooking? Your own traditions and memories? How has your childhood informed your cooking?
I was born in a remote valley on the border between Tuscany and Umbria, where my parents raised me on an organic farm, restaurant and hotel called La Chiusa. We farmed the land, grew crops and raised animals. I learned cooking very early on with my mother as we had this abundance of fresh ingredients straight from our farm. The respect that I have for seasonal ingredients specifically comes from exactly that time, as we cooked dishes from ingredients that were available – which could change every day at times!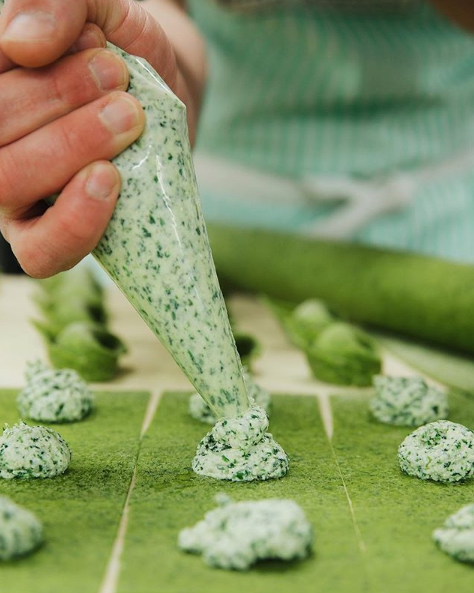 What importance does the produce play in your cooking?
In Italian cuisine, produce and ingredients are incredibly important. A lot of Italian recipes only use a handful of ingredients, which means the quality of them really makes the dish. This is why we put such importance on having only the best ingredients on our menu.

How do you balance produce from Italy and UK?
All ingredients are sourced through Lina Stores' trusted Italian suppliers and local purveyors here in the UK. Whenever it makes sense, and there is a superior product on the Italian market, we get it from Italy to keep things as authentic as possible. However, there are incredibly high-quality local suppliers which we love to work with too. Aside from our homemade pasta, we also make a lot of other ingredients in our kitchen. For example, we couldn't find a sausage we were happy with for our pici alla norcina dish, so we decided to source the ingredients locally and make it in our kitchen instead.

Is there still certain produce you can only get from Italy?
There is nothing like fresh vegetables from Italy! I especially love datterini tomatoes from Sicily, which we turn into a sauce to top our burrata-filled ravioli. They're incredibly flavoursome and a little sweet too.

Do you look towards a particular area in Italy to find inspiration?
Obviously Tuscany and Umbria have a special place in my heart as this is where I grew up, but I love discovering my own country over time as every time I visit somewhere new I pick up a skill or learn about a new dish or ingredient. This is what keeps me inspired and motivated in my own cooking.

What is your favourite ingredient?
In Italian cuisine nothing comes close to using a good quality olive oil; it can really elevate a dish and give it that extra freshness and kick. It's so versatile as well: I love using high-grade virgin olive oil to drizzle over finished pasta dishes and fresh salads, or use as a dip with a slice of crusty bread.

How has Italian food culture changed in London?
Italian restaurants have been around in London, and Soho specifically, for many, many years. It is still a very popular cuisine which has evolved and keeps evolving as people make it their own and specialise in one type of Italian dish like pasta, pizza, antipasti and so on.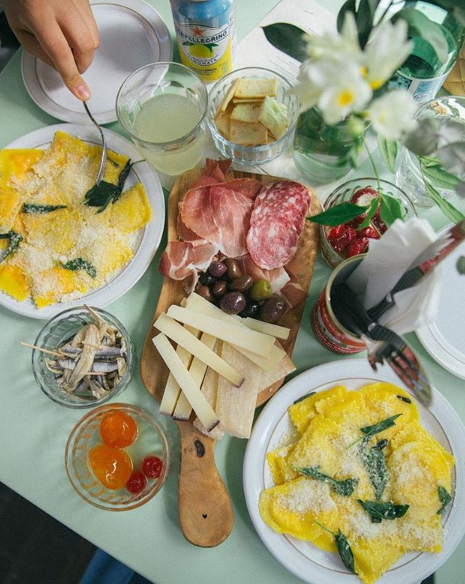 When did you come to London? How did you come to know Lina Stores?
When I first moved to London when I was 19, Lina Stores used to be where I went to get Italian products that I knew from back home. I used to be terribly homesick and Lina Stores was the perfect place for me to go to when I wanted to go somewhere familiar: a little piece of Italy in Soho.
How does the restaurant forge its own identity? Is its identity always intrinsically linked with the store?
We see the restaurant as an extension of the original deli on Brewer Street. We use many of the same products and ingredients from the deli in the recipes and dishes in the restaurant, and that link is very important to us. It gives guests an opportunity to enjoy high quality ingredients and both new and classic dishes in a setting that's new to Soho.

Your favourite spots in Soho?
I love Bar Italia for a drink outside on a warm summer's day, and Algerian Coffee Shop on Old Compton Street for a good cup of coffee. I'm a fan of the Palomar, which, like us, has an open theatre kitchen, in addition to Bocca di Lupo.