Thinking Pink With Gassier
It's been a long time since rosé wines were viewed as the sub-standard shelf fillers of the wine world. Today's market boasts an increasing number of quality offerings, the majority of which couldn't be further from the saccharine styles of old. It's now arguable that there's nothing that accompanies summer quite like a brilliant bottle of blush, and Château Gassier are producing some of the best this category has to offer.
Noble Roots and Provençal Perfection
Provence may be the rosé region of the moment, but its winemaking history is one of the oldest in France, stretching back over a thousand years. Rooted in this region with its myriad quaint historical villages, turquoise waters and breath-taking scenery stand the Gassier family, linked to Provençal nobility since 1421.
The Château Gassier vineyards lie deep within this picture-perfect region, situated to the east of Aix-en-Provence at the foot of the famed Sainte-Victoire mountains. The bright Provençal sunshine, the cleansing breezes of the mistral winds and a variety of rocky, clay-filled soils characterise this hub of quality winemaking. Upon the establishment of the Château Gassier estate in 1982, the Gassier family undertook a series of in-depth studies of the micro-climates within each vineyard. Following their findings, the landscape was restructured to create four distinctive terroirs, each planted with the grapes that would thrive most there.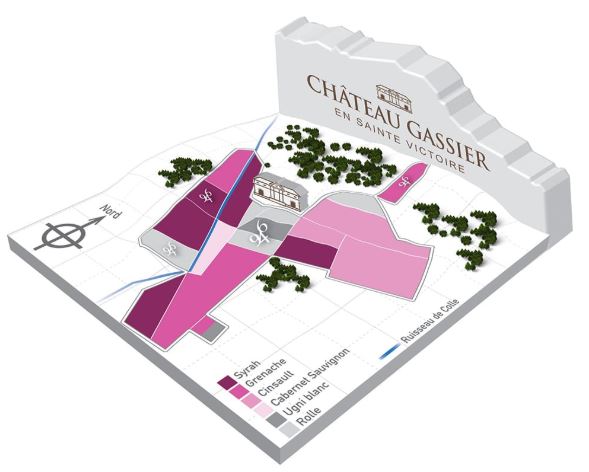 The Gassier Soils
North: Sandy, red-clay-rich and rocky soils covered with a layer of sandstone are optimal for growing Grenache
East: Deep, pebbly soils at the base of the Sainte-Victoire mountain are ideal for Cinsault grapes
South: Dry and rocky soils are the perfect base for Grenache and Rolle vines
West: A combination of sand and loam provide optimum conditions for Syrah grapes
A True Expression of Terroir
Ensuring a true expression of this carefully cultivated terroir in their wines is a driving philosophy of Château Gassier. The soils of the estate have been worked according to organic principles for years, obtaining official Organic Agriculture Certification in 2016. In line with Sainte-Victoire's recognition as a protected area and a 'Grande Site de France', Gassier also offer a 'sentier des vignes' educational wine trail, promoting the area's exceptional biodiversity and encouraging public awareness of environmentally friendly wine.

Passion and motivation have enabled this winery to achieve what they have in just a few decades, but in the years to come, Château Gassier's vision stretches beyond their positioning as just another organic vineyard. Their aim is to stand as pioneers of quality, generational Provence rosé , demonstrating to the world that rosé wine can express terroir and ancestral know-how in the same way as France's famed reds, as well as being a symbol of festivity, joy and conviviality.

"This approach to viticulture respects the terroir and gives the fruit its purity of flavour"

Georges Gassier
Our Picks of the Bunch
Tasting Note

Light pink, with aromas of passion fruit, lychee and pomelo. Excellent length on the palate with lingering notes of exotic fruits and small red fruits.

Food Pairing

Seared tuna with cracked black pepper, sushi and chicken tikka masala.

Unique Fact

'Pas du Moine' refers to a pathway running through the Sainte-Victoire appellation, formerly used by monks in times long past.

Tasting Note

A light pink hue, with notes of peach, combined with delicate aromas of white flowers, peach and raspberries and a palate characterised by expressive notes of citrus.


Food Pairing

Sea urchin risotto, linguine alle vongole or calamari a la plancha.

Unique Fact

Translated from French, 'Esprit' means spirit- in this case, referring to the constant presence of the Sainte-Victoire terroir in the wine.