Focus 50: Trip 46, Yealands (New Zealand)
To mark Enotria&Coe's 50th anniversary this year, we're shining a light on 50 outstanding producers who have been instrumental to our company history. As part of our celebrations, members of the E&C team took a trip to New Zealand to experience the world of Focus 50 winemaker Yealands first hand – here, they share their highlights.
Pierre Woodford – Territory Manager
We spent two amazing days at Yealands. The first day, Alan Neil, Yealands' sales manager, picked us up and we went on a boat trip through Marlborough Sounds to Furneaux Lodge. It was really lovely being out on a boat, then sitting and having lunch with the team. The views were incredible, the weather was nice and sunny and we even took a dip in the Sounds, which was quite refreshing.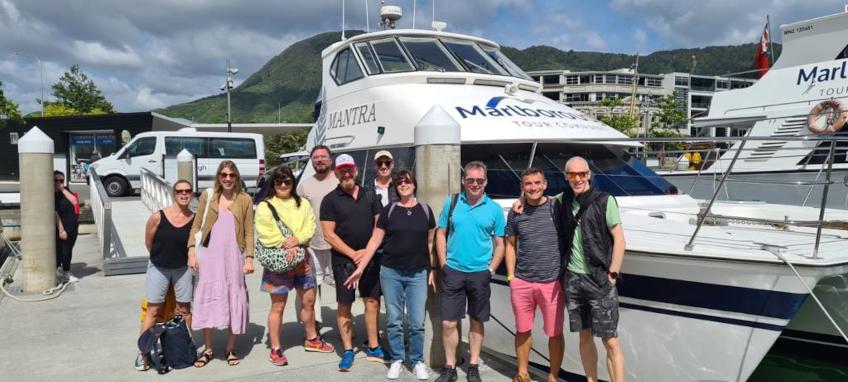 The next day we did a tasting and had a tour of the vineyards. We actually re-tasted some of the wines in the vineyards too. One of the most stunning sights was their Seaview vineyard. To be stood on some very blustery cliffs overlooking the sea, tasting some great wines at quite a high altitude, was amazing. It helps you understand the different flavour profiles in their wines, because of their different soils and levels of elevation.
Julia Wright – Regional Lead South-West
We had a lovely boat trip out to Furneaux Lodge with Natalie Christensen, the winemaker, and Alan, the export manager, which was absolutely beautiful. We had lunch there, and I managed to talk a couple of people into going for a dip in the Marlborough Sounds, which was really nice – quite chilly! And then we went out for dinner with them at a lovely Brazilian restaurant in the evening.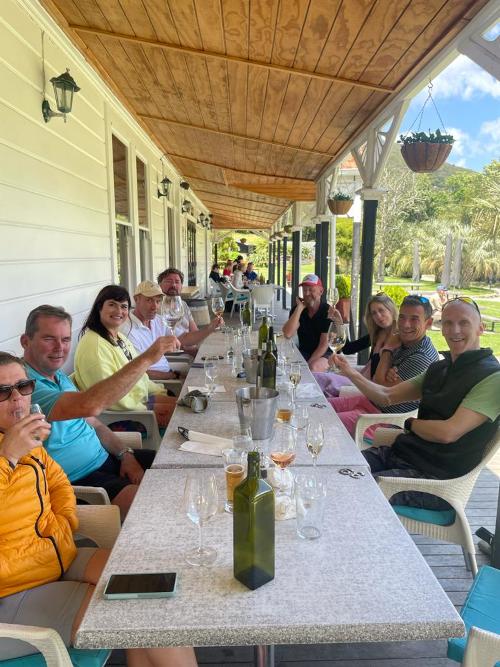 The following day we had a tour of the vineyards. It was fascinating to get a concept of how vast their land under vine is, and also to understand that while they're not registered organic, they do implement biodynamic and organic practices. It's not practical to use those methods completely, so they use a combination of both. It was quite interesting talking to their viticulturist, David Sheard, who explained that if organics were the way forward, chemicals would never have been invented in the first place. So it's about balancing everything.
They brought some wines in the van, so we drove around the vineyards carrying a glass and chatted with Natalie about the plots we were in, and then tasted the wine in the actual vineyard, which was lovely. Natalie did a lot of her oenology training in northern Spain in Galicia and was quite keen to produce an Albariño, so they've gone ahead and done it! We got to visit the Albariño vineyard and taste the wine there. We're taking the wine on and launching it in the UK in the new year, and it's going to be a great addition to our portfolio. Spain is low on Albariño volume, and to have an absolutely delicious version from New Zealand will be great.
Yealands also has a container above this beautiful location where they'd set up a buffet lunch. It was really relaxed, and we got to taste all the wines. It was so windy – you couldn't have put your wine glass down or it would have blown away! The whole experience was wonderful.
Ants Rixon – Managing Director
We spent the morning with Yealands' viticulturist, David Sheard, looking at where the vineyards are in relation to the whole of Marlborough and the whole of the South Island. They're set at the top of the Southern Alps, and you can see the mountain range right behind them. It's this incredibly rugged coastline with a beautiful turquoise-blue sea surrounding it – very windswept. It's a highly planted area, but very desolate. For me, David was really the star of the show. He's a farm boy and is all about growing grapes of the highest quality.
We had lunch in a refurbished container overlooking the Cook Strait. We were standing inside the container, a bit back from the wind, and people were saying, "Oh, it's not that windy". And then this really heavy table just blew along the deck! It was quite funny.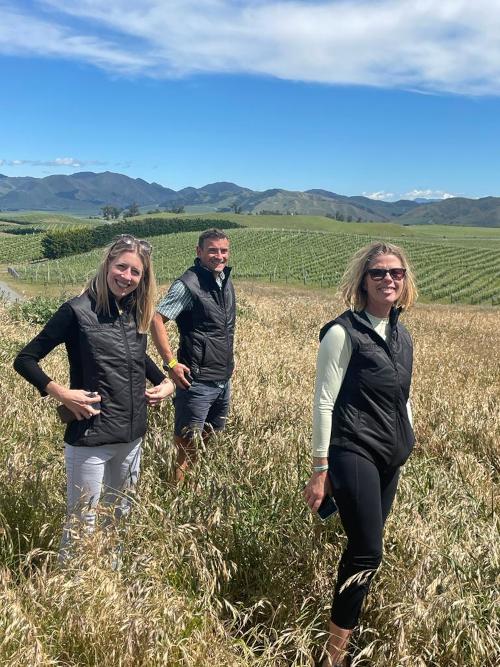 Yealands' sustainability programme was also interesting to see. They are really blazing a trail in New Zealand in terms of sustainable farming practices for medium- to large-sized businesses. Their composting area is huge, and they have solar panels and wind turbines. There were also these huge bales of vine cuttings which are burned in specially built furnaces to heat water and power other aspects of the winery. It's all circular.
In addition to seeing Man O'War, Seresin and Yealands on our trip to New Zealand, we also visited five other wineries – as we came down the island, we went to Squawking Magpie and Mission Estate in Hawke's Bay, and then Urlar in the Wairarapa before going down to Central Otago and visiting both Peregrine and Carrick. All of these producers put in so much time and effort into creating an amazing experience for us, which we're really grateful for. There was so much to do, and it was so much fun.
Kattie Rosser – Territory Manager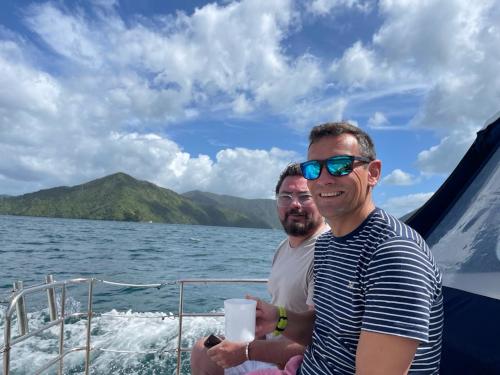 We obviously knew about Yealands' proximity to the sea, but when you visit you get a sense of what that means, which was a real highlight for me. They took us to the point where the vineyard stops. There's a cliff, and it looks like the ocean goes on forever. Yealands has a vineyard called Seaview, and it was so windy there. When you visit, you really understand the climatic influence and what makes the wine so aromatic.
It's a massive winery, and really well organised and staffed. Visiting gave me a sense of the business' scale and how much wine they actually make for their markets. We did a small tasting in the winery as well.
Along with the proximity to the sea, another highlight for me was Yealands' focus on unusual varietals. We tasted their Albariño, and it was stunning. A lot of people are interested in drinking Sauvignon Blanc, and this is a great alternative that's still reasonably priced.
Overall, it was really good fun. Wine trips are often not like that, but we really got to know the people and experience their genuine warmth.
Philip Johnson – Business Development Director
The scale of the winery is huge and the vineyards are absolutely colossal. We saw what they've done to protect the operation against earthquakes and the money they've put into everything. Especially in a winemaking country that is relatively small in what it offers, it's interesting to see such scale.
Yealands is a large corporate operation with beautiful vineyards, but what's really cool is that their winemaker, who's from Galicia, has convinced Yealands to bring in Albariño and plant it. They've just made their first Albariño vintage, and it's a beautiful wine. Getting a major wine company to do something like that is unique and really quite forward thinking.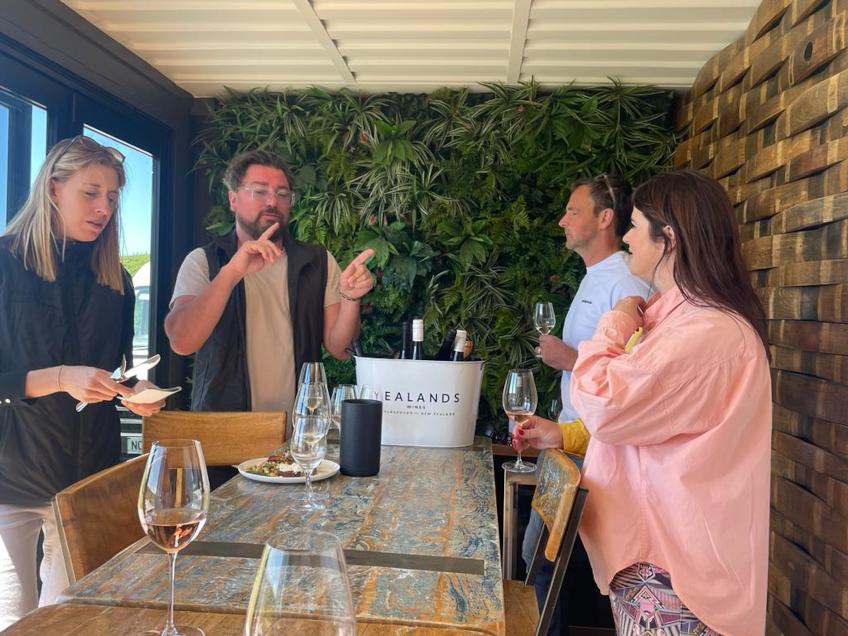 Part of our 50 Year Anniversary Focus 50 Series