Focus 50: Trip 44, Man O' War (New Zealand)
To mark Enotria&Coe's 50th anniversary this year, we're shining a light on 50 outstanding producers who have been instrumental to our company history. As part of our celebrations, members of the E&C team took a trip to New Zealand to experience the world of Focus 50 winemaker Man O' War first hand – here, they share their highlights.
Pierre Woodford – Territory Manager
We were in New Zealand for a total of nine days. It was such an idyllic setting, and going from Auckland, which is insanely busy, to the small island of Waiheke was amazing. Paul Franich, Man O' War's director of sales and hospitality, met us at the airport. He dropped us off at our accommodations to get settled, and then we headed to a beach house on the estate.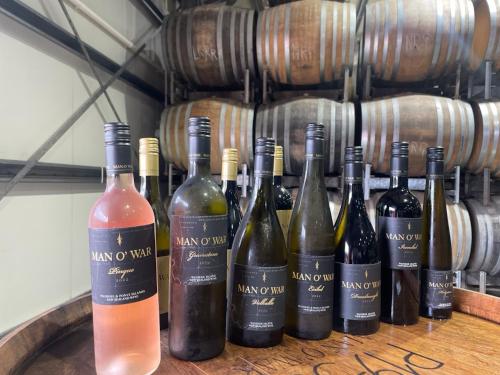 We met Duncan McTavish, the winemaker, and did a tasting. Then Man O' War's owner, Berridge, turned up in his helicopter mid-tasting. It was so cool to meet him and to taste some of the wines that we don't have in our portfolio – some are in limited production and are stunning. He offered us a tour of the vineyards in the helicopter, so we split into two groups and toured the island. Taking in the scenery from above was mind-blowing.
When we touched down, we had some drinks and dinner at the beach house. There was a roaring fire, and we took a dip in the sea and in the hot tub. It was quite relaxing – remember, this was all on the same day we arrived!
The highlight for me had to be getting the tour from Man O' War's owner himself. It was incredible getting the lay of the land from the air; it helps you understand the topography and puts everything into perspective.
Julia Wright – Regional Lead South-West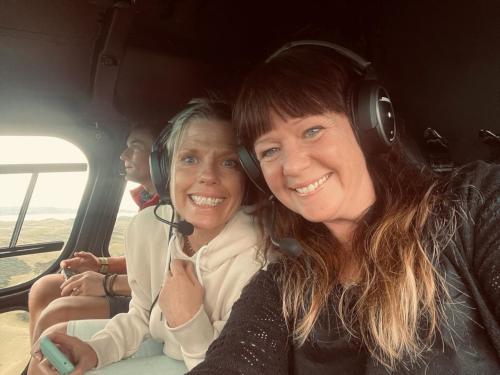 Man O' War was the first producer we visited upon arrival, so it was a bit of a whirlwind because we'd been travelling for two days. We were whisked off from the airport by van and ferry to Waiheke Island to the owner's beach batch for dinner, and then he landed in his helicopter and took us up three at a time for a tour of the island to see the vineyards from above. It was pretty unexpected and very spectacular. That evening, we ate outside in the dark in front of the fire with all their delicious wines, which was really good fun.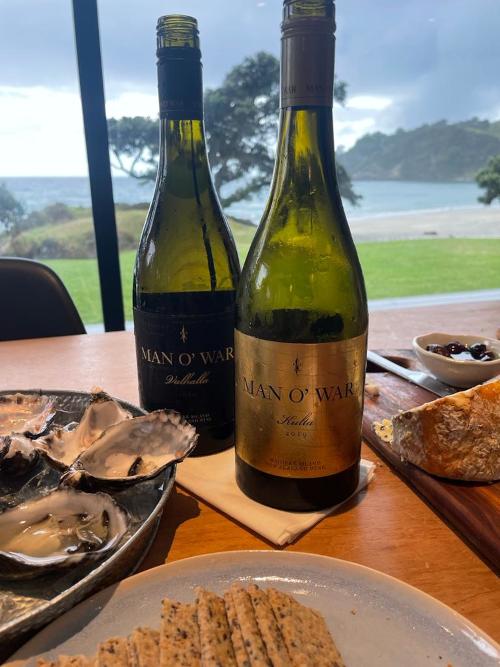 The following day, we had a lovely tour and tasting up at the new winery. We also got to be the first group to test out their new e-bike trail, so we had a little adventure on the electric bikes and made our way to Man O' War beach for lunch. It's quite hard to pick one highlight when the whole experience was just fantastic!
We were all big fans of the wines before, but it was interesting to learn about their new series. Their original range is named after old Viking ships, but this new series is going to be named after unsung heroes. We got to try a couple of new wines – they had a rosé that was really delicious that we don't currently take – as well as a couple of excellent new vintages of the wines we were already familiar with.
Ants Rixon – Managing Director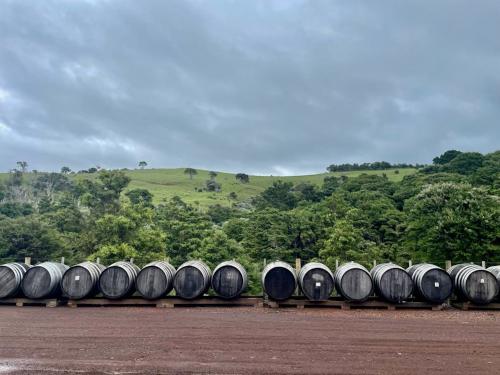 It was great doing the helicopter ride and the motorised mountain biking, but from my point of view one of the most special parts of the visit was meeting Duncan McTavish and seeing how he has something pretty special going on with his team. I think Man O'War's Chardonnay and Syrah blends could become a benchmark for Southern Hemisphere wines. We tasted them from the barrel in the winery – it's their own winery, which is important to highlight because a lot of producers don't actually have wineries, they just grow grapes on the island.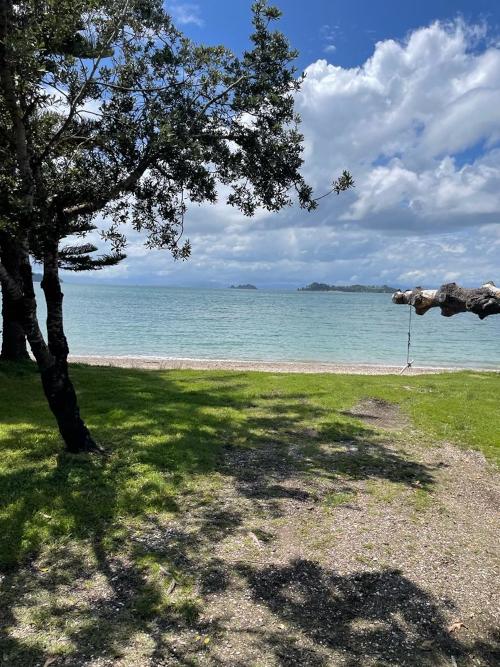 Another highlight here for me was seeing the land the family owns versus the amount that is planted. They own a vast proportion of the island but only have vineyards on a small part of it. It was also interesting learning more about their work in sustainability and how they're bringing attention to northern New Zealand winemaking. They're the market leader for anything north of Hawke's Bay, and they look for the toughest, most desolate areas on the island to plant grapes, since the struggle to stay alive will help to create a decent wine. I think it's something we should be shouting about.
They've also dedicated a lot of resources to tourism and getting people to see this unique part of New Zealand, which is pretty special. They're getting people out to the island because they own so much of it, and everyone else on the island benefits from their efforts.
Kattie Rosser – Territory Manager
Arriving on Waiheke was special. It's a magical place with beautiful scenery, and we received such a warm reception. We were close to the water, which was gorgeous – a serene shade of deep green. Getting off an aeroplane and arriving in paradise is really something else!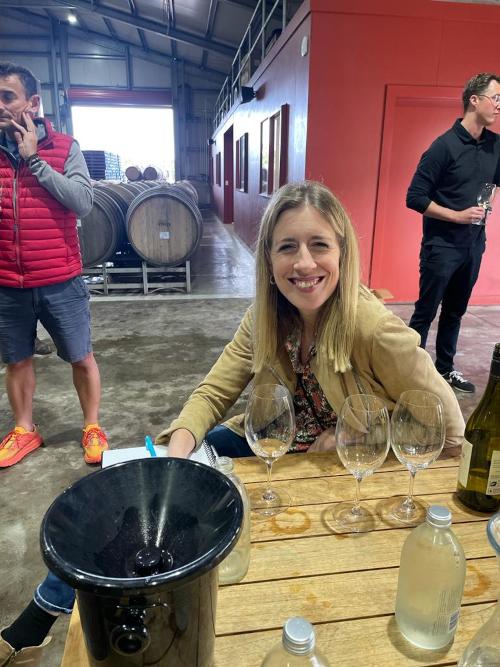 The helicopter ride was a very good way of getting a sense of the viticulture and taking in the scenery – it was incredible to see how immaculate the vineyards are, with every bit of space used very carefully. The island's shape was described to us as a piece of crumpled-up paper, and going over it in the air you could see why. We also had a visit to the winery and were guided through a structured tasting.
The dinner we had the next evening was lovely too. We had an incredible meal next to the beach and tasted through the wines. They're impeccable, flawless wines, each and every one of them. You don't need to go to New Zealand to discover that, but tasting them where they were made really just amplified how exceptional they are.
Danyel Harris – Director of National On-Trade Sales
Man O' War was incredible in the sense that we jumped in a car and were whisked straight down to the ferry to Waiheke. I used to sell their wines years ago in Oddbins, and it was great to see their development and attention to detail. Their new winery even has a small bottling line, so everything is taken care of, from the grapes coming in, to ageing in barrel, through to bottling. Going up in the helicopter and seeing the vineyards from above was impressive as well. They're very selective about where they're planting, considering they own so much of the land.
And then you see the tourism side. They have this amazing beach restaurant and are right on the bay, with people sailing in and skidooing across, then stopping by for lunch. The old winery has been turned into a shed for holding electric bicycles, so you can go and do cycling tours of the estate. They said they want to build a spa. Their hospitality is incredible and really paints the complete picture of what a producer can be.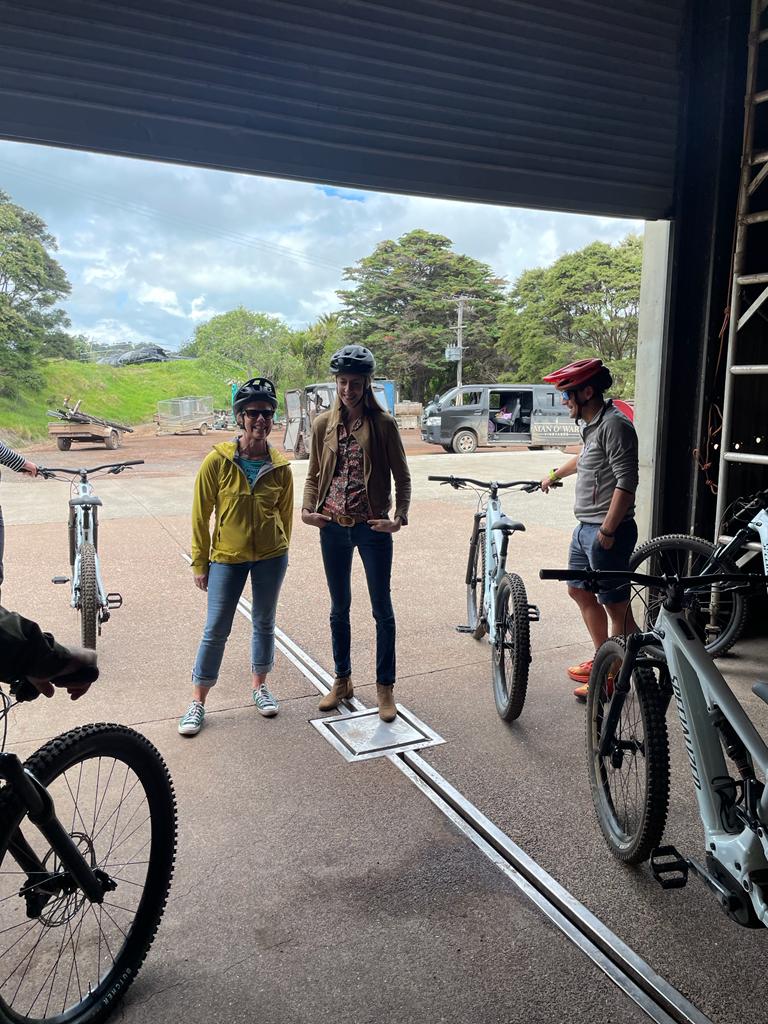 Of course, all of this doesn't mean anything if a producer doesn't have great wine, and you can really see the attention to detail that comes through in the glass, which is lovely.
Top 3 wines – by Pierre Woodford
| | | | |
| --- | --- | --- | --- |
| 1 | | Pinque Rosé | A classic strawberries and cream character, along with a hint of watermelon and a touch of Szechuan pepper. This has relatively low acidity, making for a very smashable wine! Especially good after a 30-hour flight. |
| 2 | | Mathilda Chardonnay 2019 | Beautiful floral oak aromatics with an herbaceous character, new-season white peach and freshly picked nectarine. Concentrated and crunchy palate, with a lift of acidity. Long, elegant, structured and harmonious, this has tremendous ageing potential. Like a Puligny on steroids. |
| 3 | | Dreadnought Syrah | Savoury, with blue and black fruits, crushed flowers, a touch of liquorice and an earthy, smoky lift. Medium- to full-bodied, with subtle tannins. Well balanced. A great example of a serious Syrah. Once you've had a few glasses you'll Dreadnought (fear nothing)! |
Part of our 50 Year Anniversary Focus 50 Series