Focus 50: Trip 43, Copenhagen Sparkling Tea (Denmark)
To mark Enotria&Coe's 50th anniversary this year, we're shining a light on 50 outstanding producers who have been instrumental to our company history. As part of our celebrations, members of the E&C team took a trip to Denmark to experience the world of Focus 50 producer Copenhagen Sparkling Tea first hand – here, they share their highlights.
Kathrine Larsen-Robert MS – Premium Wine Ambassador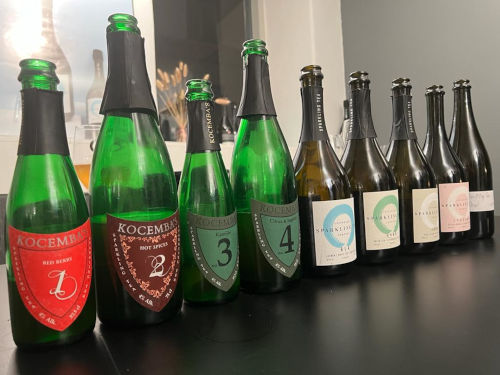 I'm Danish, and I lived in Copenhagen for many years before moving to London. It's such an amazing city and it was good to be back. When we arrived, we met co-founders Jacob Kocemba and Bo Sten Hansen. Jacob focuses on the production side and Bo works on sales, marketing and export. I actually used to work with Jacob on the sommelier scene of Copenhagen – he was one of Scandinavia's top sommeliers before he decided to start making sparkling tea.
We went to their offices in the city, which have a lovely, homey start-up vibe. Everything was really personal and cosy, and we did a tasting of all their different cuvées and finished by trying four or five of the first sparkling teas Jake ever produced, from the early 2010s. These had a good 10-12 years of age on them, and as much as they had all the freshness of the cuvées that are produced for immediate drinking, they also had really interesting complexity and depth. It was surprising to me how well the teas age, especially considering some of the cuvées have no alcohol in them.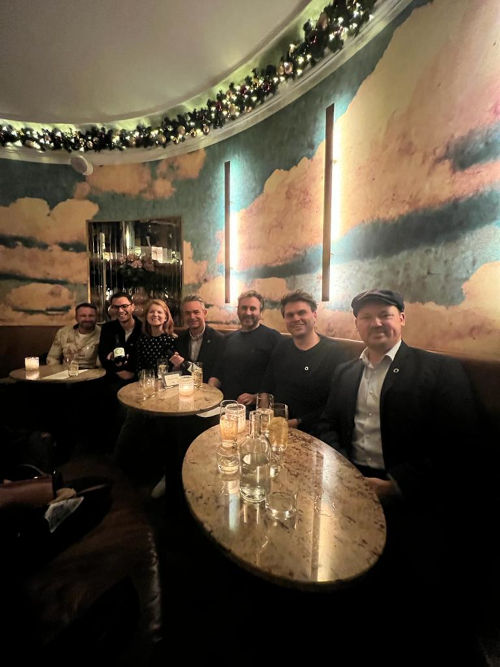 Then we went to a bar around the corner and had some lovely cocktails. We started out with one called Applesauce, with Copenhagen Sparkling Tea, gin, verjus and a few other ingredients. And then everyone ordered classic and contemporary cocktails from the list and got merry!
Next we went to a small restaurant nearby for dinner. The chef-proprietor is French, and there's a strong French influence on the menu, but also some Danish influences too. Funnily enough, the restaurant was located in the exact space where a two-star Michelin restaurant used to be – one where I worked for three years! We had a six-course menu, which Jacob paired with wines like a magnum of Bordeaux from the '80s, Blanc de Blancs Champagne with the starters, a Sauternes from '62 with the dessert, and sparkling tea, of course. They were so generous. Then we went to a bar nearby where we had a magnum of Champagne, and then they got us into one of Copenhagen's tiny, super-posh nightclubs and ordered more Champagne! We were there until four in the morning dancing.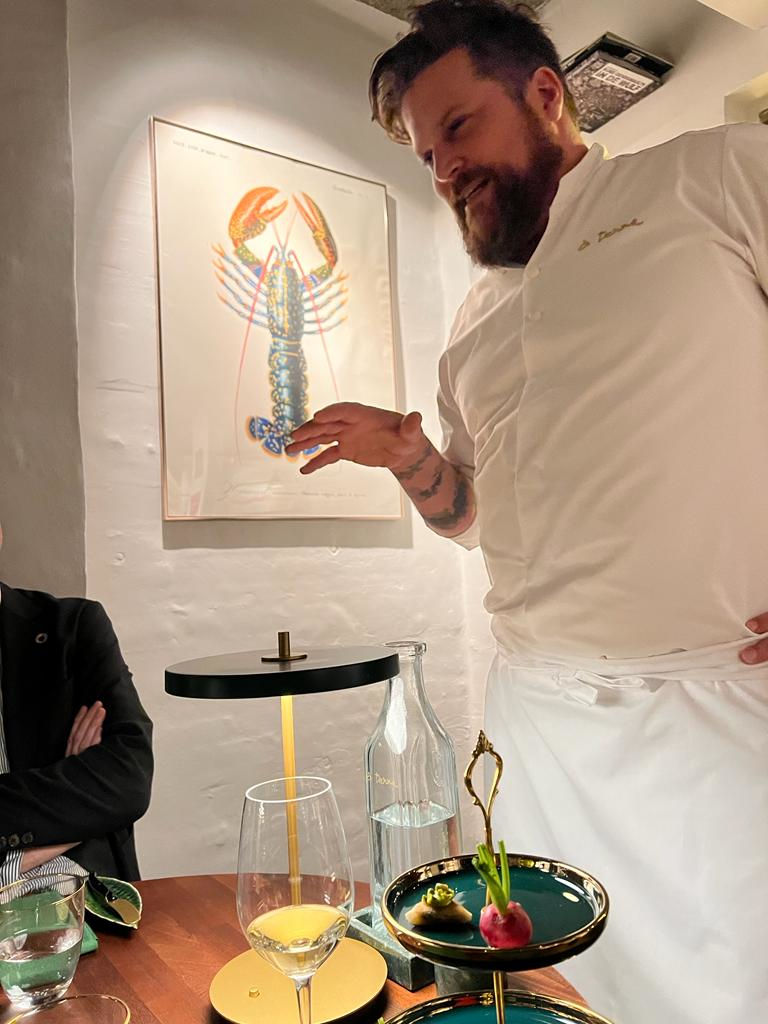 The day after, we had the morning off. I went out with a customer to walk around and see the sights in Copenhagen, and then we met for lunch before heading to the airport. It was a really good trip! I have a special relationship with the people and places there, and I think everyone had a great time – we all just gelled.
James Slater – Channel Expert
We turned up, checked into the hotel and then went to the Copenhagen Sparkling Tea offices for a small tasting, which was lovely. Trying the old vintage teas was amazing, seeing the way they've developed and aged in the bottle.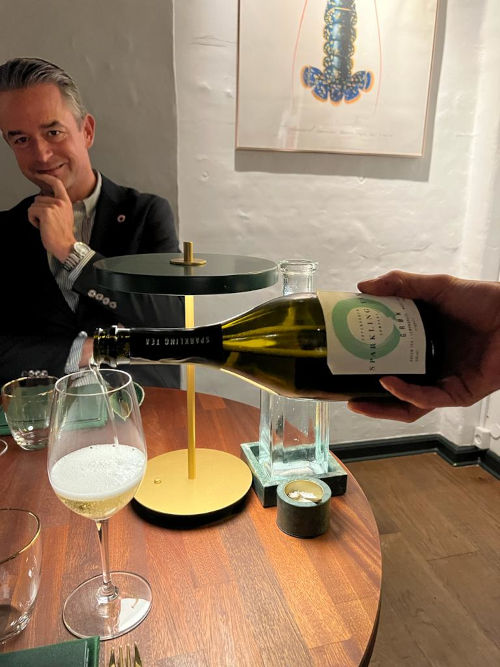 There are quite a few other sparkling tea producers popping up now, but Copenhagen was one of the first, and they've been doing it for so long. One of the bottles they pulled out, there were only about three of them left! It was some pretty rare stuff, and it was quite an eye opener to see how complex the teas become.
We went for cocktails after the tasting, and it was really interesting trying the sparkling tea in a cocktail. Then we went out for dinner, which was amazing. We went to a place called À Terre, run by a chef called Yves. It was a tasting menu of international cuisine with about six or seven courses – small plates – and the food was phenomenal: fresh fish, quality produce. And we were in really good company with ridiculously fine wines. The Copenhagen Sparkling Tea team pulled out all the stops, and their hospitality was amazing.
The next day we went out for lunch to a place that had these open-faced sandwiches on Danish rye bread with different toppings. Apparently it's very trendy in Copenhagen at the moment, and they were delicious. And then we ran back into the airport! It was a quick trip, but it was also one of the best trips I've been on – and there wasn't a vineyard in sight. It was nice to do something a bit different, and Copenhagen is beautiful.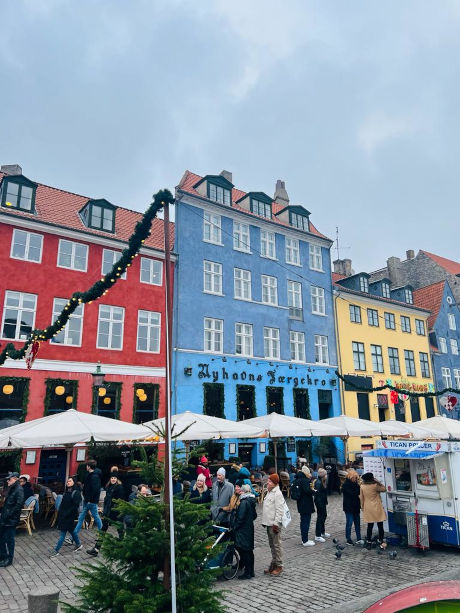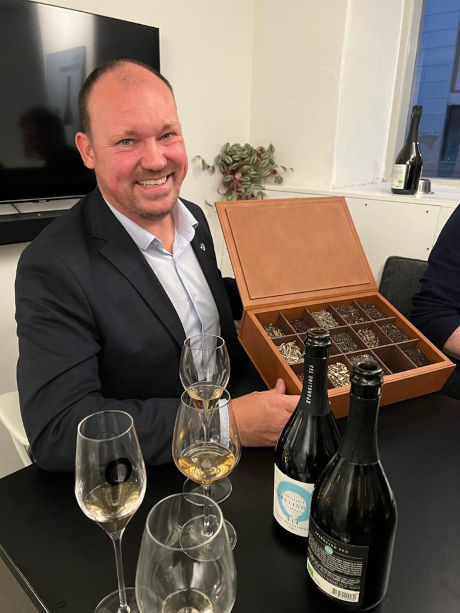 Top 3 bottles – by Kathrine Larsen-Robert MS
| | | | |
| --- | --- | --- | --- |
| 1 | | Blå | Zero-ABV, made from jasmine, white and Darjeeling teas. Would pair beautifully with sea bass ceviche with flavours of ginger, chilli and Szechuan pepper. |
| 2 | | Lyserød | Zero-ABV, made from silver needle, oolong and hibiscus teas; an alternative to sparkling rosé. Ideal with Darjeeling smoked salmon served with blinis and chive sour cream. |
| 3 | | Vinter | 5% ABV, with spiced flavours and made from chai, black and white teas. Would be delicious with a cheese board with cinnamon-and-red-onion chutney. |
Part of our 50 Year Anniversary Focus 50 Series