Focus 50: Trip 17, Brancaia (Italy)
To mark Enotria&Coe's 50th anniversary this year, we're shining a light on 50 outstanding producers who have been instrumental to our company history. As part of our celebrations, members of the E&C team took a trip to Tuscany to experience the world of Focus 50 winemaker Brancaia first hand – here, they share their highlights.
Benjamin Furst – Fine Wine Manager
Brancaia's location is very remote. The wines are brilliant, and it's very modern and very terroir-driven. The Widmer family founded the business in 1981 and built it up themselves, and all credit to what they've achieved – they're passionate and superbly friendly. I felt, even though they're modern in their outlook in terms of being a bit more international-thinking, aiming for reviews and scores, that there's an honesty to them and to their wines.
My favourite part of the visit overall was arriving at the winery – the drive up to it and then entering the estate. The views were absolutely stunning. There were just the Tuscan hills and a sea of vines as far as the eye could see.
Francesco Giardino – New Business Manager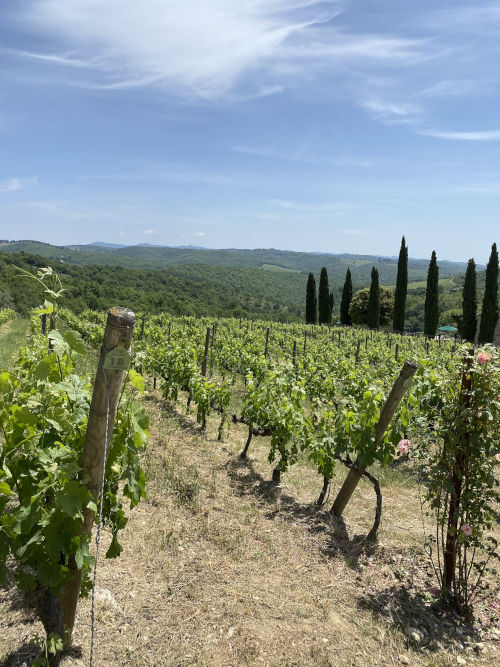 My top memory of Brancaia has to be arriving after half an hour of driving through unpaved roads. It was so beautiful. I've been to many wineries all over the world, but this place really has the wow factor. The estate is located at the top of the hill, surrounded by vineyards. It was amazing – one of the best places I've seen, for sure.
When we got there, we were greeted by a friendly, local team. We had a coffee in the bar of their restaurant, then were led on a tour by Lucia Borri, one of the hospitality team leaders. We walked through the vineyards and the winery, which was interesting. It's a modern winery in terms of some of their equipment, but it's also rustic. For example, they use traditional concrete vats for the wines, and that helps with freshness – in fact, their Chianti Classicos are really stunning, fresh and typical. So although Brancaia is a relatively modern winery, the wines are made in a proper and typical way. But for me, just walking through those stunning vineyards was really good!
Simon Higgins – Credit Controller
Walking around Brancaia, the estate seemed very modern and up to date – all new builds, designed specifically to have a low impact on the environment. The Widmer family's younger generation is learning the trade and is very forward-looking, retaining tradition but seeing where to innovate to reduce environmental impact and things like that.
Tuscany is obviously a big red wine area, and I can't drink red wine. But something I learned here is that many estates grow olive trees, generally around the edges of the vineyards and sometimes within them. All of the producers we visited in the region make their own olive oils in addition to wines, and it was interesting to see how they use the olive agriculture in line with the vineyards. The olive oils are very light and not very high on the floral characteristics, always with the kind of peppery flavour that you'd expect from Tuscany. Having tasted many olive oils on this trip, Brancaia's was the best. That was the highlight of the visit for me – I bought a bottle when I was there, and I'm halfway through it already!
Our wine pick
| | | |
| --- | --- | --- |
| | Brancaia Chianti Classico Riserva 2018 | Velvety and smooth, thanks to a touch of Merlot in the blend. |
Part of our 50 Year Anniversary Focus 50 Series