Focus 50: Trip 25, Sigalas (Greece)
To mark Enotria&Coe's 50th anniversary this year, we're shining a light on 50 outstanding producers who have been instrumental to our company history. As part of our celebrations, members of the E&C team took a trip to Santorini to experience the challenges of winemaking on this idyllic island. Here, Zippy Bakowska, Head of Marketing shares her highlights.
If you picture a trip to Greece, you will most likely immediately imagine scorching temperatures, heavy and perfumed air and sweating liberally. That would certainly be my immediate association, based on blissful memories of baking on a beach for hours on end like a lizard, basking in the sun to soak up the heat.
Not so in Santorini, which is buffeted relentlessly by the Meltemi from June to September (coinciding almost precisely with summer pruning, veraison and harvest). Technically, Meltemi affects most of the Aegan Sea, which lies to the east of the Greek mainland, between Greece and Turkey. That said, it is indisputably at its strongest in the Cyclades islands, which is the group of islands just north of Crete. These include Ermoupoli, Santorini, Mykonos, Naxos, Folegandros and Milos.
On our first day in Santorini, we make an early start to visit a few of the vineyards that supply grapes to Domaine Sigalas. I refuse to leave the hotel without a frappe coffee, which is infinitely superior to the bastardised Starbucks version that has stolen this name. But as soon as we get out of the car to start clambering over the vines, the cup is all but blown out of my hands by the vicious Meltemi so I have to give up. No matter, as the Meltemi will more than adequately blow away any stubborn cobwebs.
Our guide on Santorini is Lambros Papadimitriou, the General Manager of Sigalas. We are joined by Stratos Xirafis, who is the Agronomist. We spend the morning visiting different vineyards around Santorini, to experience how Meltemi affects them differently, and to understand the incredible pruning systems that have been developed on Santorini over the years to deal with this unique challenge. In addition to pests and diseases that grapegrowers the world over have to contend with, on Santorini there is a significant risk of grapes being clean blown off the vines by this wind at the precise point in their growing cycle when they are most vulnerable, and when their loss would be most catastrophic for yields.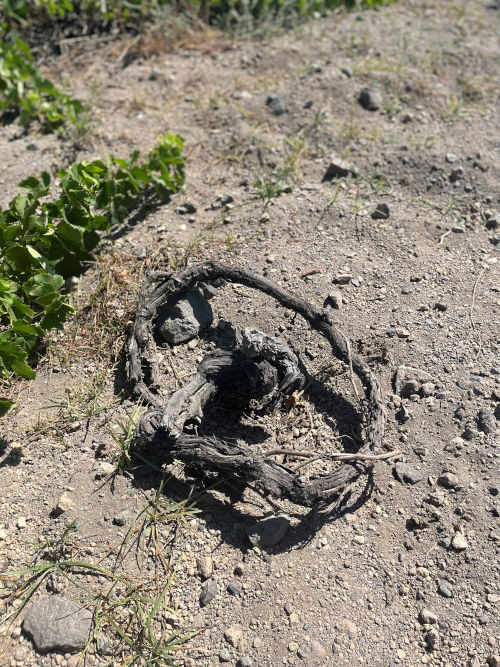 Stratos shows us a few textbook examples of Santorini's two characteristic pruning systems which both rely on the trunk being kept as short as possible, and the cordons being trained into a low, circular basket shape. The best way of understanding the architecture of this is a vine that Stratos finds without either leaves or grapes. Each of these vines is planted in a little trough, so that low-hanging fruit suffers from as little exposure to the wind as possible. Additional protection is afforded by foliage, which is trained around the grapes. This system, known as kouloura, rarely yields more than eight bunches of grapes per vine which all have to be picked by hand, owing to the shape of the baskets.
The kouloura system is well-suited to the island's pumice soils, occasionally with bright red, iron-rich volcanic stones. However, some sites are characterised instead by large, black volcanic stones which reflect significant amounts of heat. On these soils, the basket has to be trained to sit slightly higher off the ground, so that the reflected heat doesn't roast low-hanging fruit. This second system is called klaveftiko.
Another fascinating feature of how vines are trained on Santorini is how vines are arranged in the vineyard. Contrary to the immaculate parallel rows of vines we are accustomed to seeing around the world, vines on Santorini are more sporadically spread out. This is largely a function of how new vines are created. When an old vine begins to become less productive, the grower will bury either the whole vine or a single cane in an underground trench, with either one cane poking out or just the tip respectively. The 'mother plant' is killed, and in two years' time the regenerated cane will begin to yield its own grapes. Both these techniques (called klafiskia and katavolathi) result in a huge range of vine ages within a single vineyard. A grower is usually able to say that a particular vineyard contains vines up to a certain age, and can make an educated guess as to the average age of vines in a certain vineyard. But it is not unusual for a 100-year-old vine to be planted adjacent to a 20-year-old one. For this reason, it is typical on Santorini to hear reference to a "100-year-old" vineyard, rather than 100-year-old vines.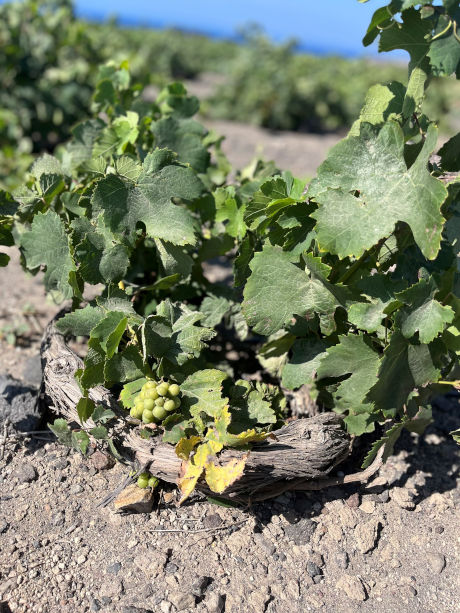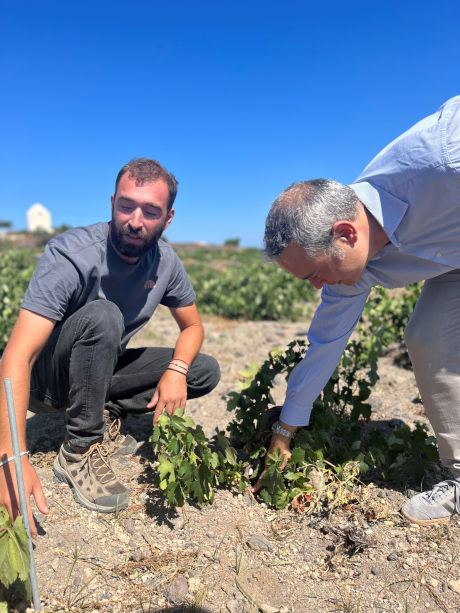 These techniques are as ancient as winemaking on Santorini itself, and yet they feel incredibly well-aligned with the sustainable zeitgeist of the 21st century. While winemakers around the world believe they are ahead of the curve if they are engaging in conversations about regeneration of soils, Santorini's growers have been proactively practising regeneration of the vines themselves for thousands of years. But Domaine Sigalas is not showy about its sustainable credentials. In their eyes, there is no other way of growing healthy grapes or of making wine. Resources on Santorini are scarce, so islanders have never had the luxury of being lazy, cutting corners or falling into bad habits. In order to maximise what they can get out of the land, they have always had to understand its challenges, and respect it.
"Yes, I suppose that sustainability does run through everything we do," says Lambros. "But it isn't something that we consciously discuss. It certainly isn't a buzzword for us."
Meltemi is perhaps the most noticeable environmental challenge faced by growers on Santorini. But the searing temperatures should not be underestimated. The Sigalas winery is located in the north of Santorini on the plain of Oia. The lower altitude here means that vines are less exposed to the wind, and it is here that Sigalas have planted one of their own vineyards of the indigenous Mavrotagano grape. This thinner-skinned varietal needs more aeration, and is it is a sturdy vine it is planted in more traditional rows, affording it better aeration than it would receive from basket pruning. As we are standing in this vineyard at the end of June, temperatures in between the rows of vines rocket to 50.4C, which is a thoroughly inhospitable environment for the clean character Sigalas looks for in its grapes.
However, Stratos eagerly pulls out his phone to show us his latest experiment, combining biodiversity with reducing vineyard temperatures. He has planted barley and wheat in between some rows of vines, and has left the remainder unsown as a control. He has installed thermo-regulatory equipment throughout the vineyard to monitor temperature differences and enthusiastically shows us that the rows planted with barley and wheat are only experiencing temperatures of 26.5C. This has almost slashed the air temperature in half, which is a staggering feat. Stratos tells us they are still experimenting with the protection this provides in vineyards against wind speed and sandblasting.
Yet again, Sigalas demonstrate how they live and breathe sustainability because it is what the land demands of them.
You can read more about Stratos' research in his published articles on the International Viticulture and Enology Society and on Oeno One.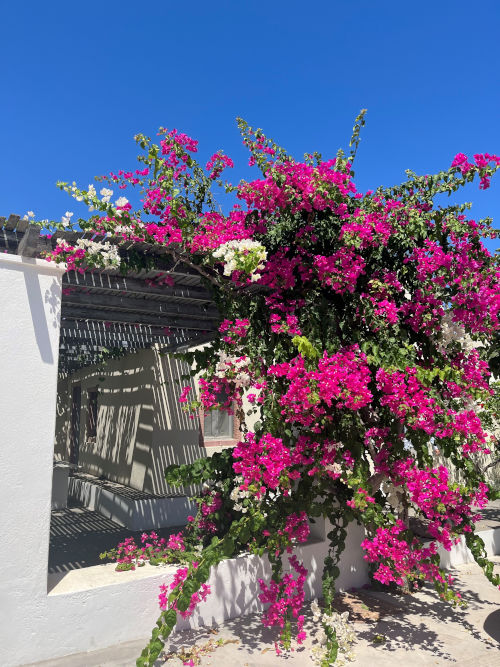 The winery in Oia is also home to a stunning outdoor tasting room. The setting couldn't be more idyllic: fuchsia bougainvillea sprawls languorously over a pristinely white-washed entrance, while bunches of grapes poke through a pergola that shields us from the blazing sun as we sit down to lunch. Spyros Lemanis is the Hospitality Manager, and he presides over a rejuvenating lunch.
As I sit down to my first lunch in Greece on this trip, I am decidedly craving the classics of Greek cuisine, and am promptly appeased as a plate of perfectly formed dolmades accompanies a glass of the 2020 Aidani. Highly reminiscent of Viognier, this eccentric grape is overshadowed by Assyrtiko, even in Greece. It was traditionally used for Vinsanto, and has only been vinified as a dry wine in the last 20 years.
After such a crowd-pleasing start, the rest of our lunch has clearly been calculated to defy (and exceed) expectations. Our jaws drop at the most exquisitely executed pair of ceviche dishes, and we are told that the 'deconstructed moussaka' is the Chef's special. All the same, the crowning glory of the lunch, which we are all still raving about as we sit in the departures lounge the next day, is a sumptuous and outrageously rich chocolate mousse with whipped caramel. We heatedly debate whether this pairs better with the 2016 Vinsanto, or the 2015 Apiliotis (vinified in the same method as the Vinsanto, but made exclusively from the red grape Mandilaria). There is no debate as to the quality of the wines we have enjoyed, or the warmth of the Sigalas team's hospitality; we are unanimously delighted to represent these sensational wines, and are incredibly proud to be working with one of the best wineries in Greece today.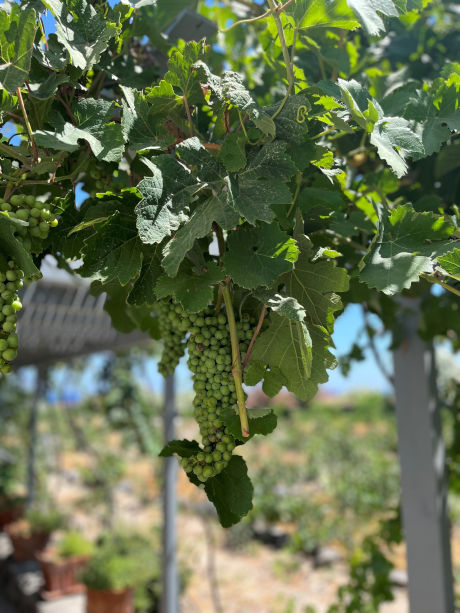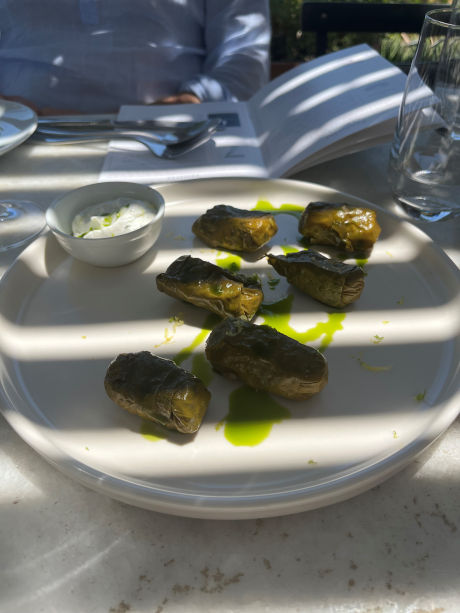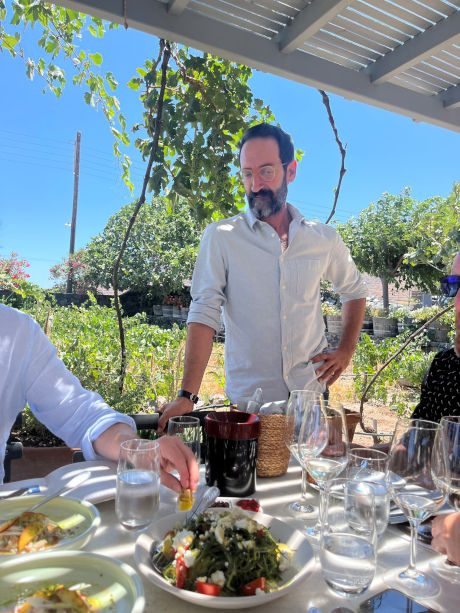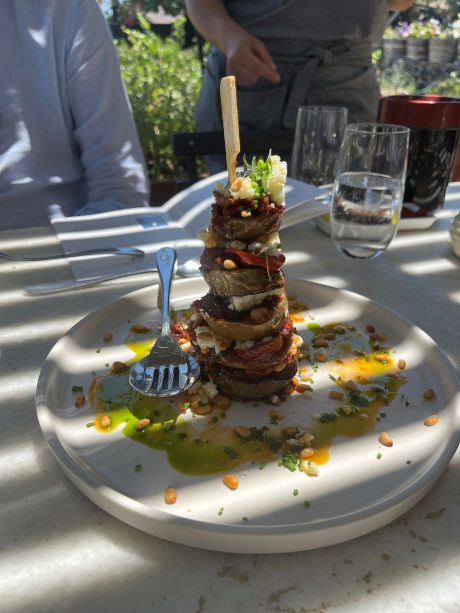 Part of our 50 Year Anniversary Focus 50 Series