Focus 50: Trip 32, Martín Códax (Spain)
To mark Enotria&Coe's 50th anniversary this year, we're shining a light on 50 outstanding producers who have been instrumental to our company history. As part of our celebrations, members of the E&C team took a trip to Rías Baixas to experience the world of Focus 50 winemaker Bodegas Martín Códax first hand – here, they share their highlights.
Craig Evans – Business Development Manager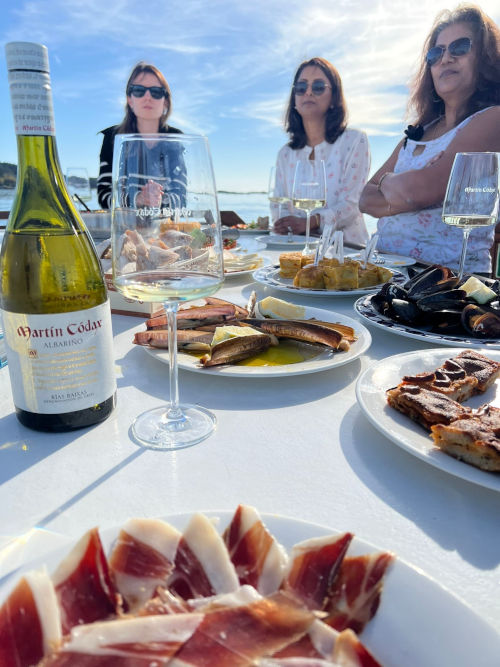 We were travelling from Portugal to Spain and were taken directly onto a boat in the bay. We had dinner and wine on a two and a half hour trip on this lovely old boat with a brand ambassador from Códax. It was a great way to introduce us to the culture. In the bay, there are hundreds of mussel pontoons, and we ate fresh mussels which were perfect with the wines. We saw the dolphins as well!
The next day we went straight into the vineyard. What I noticed was how old the vineyards were, and how they were managed. It was quite impressive in the way that they're laid out. Then we quickly went to the winery. I'd never been there before, and I know Códax is a cooperative, so I was expecting it to be like other cooperatives. Instead, it felt very boutiquey and small – even though it was big. I think they're trying to achieve that boutique feel, so well done to them for doing it. It certainly made an impression on me because I've been to many cooperatives before, and they're typically like big warehouses, big factories. This felt different.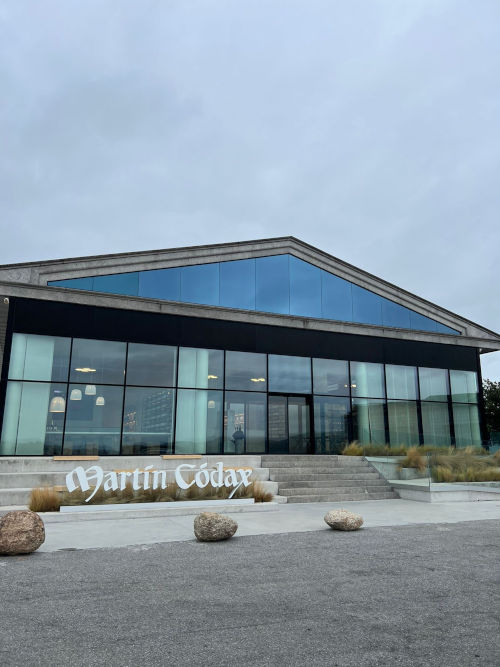 When we were at the winery, we had a tasting with the winemaker, who was very interesting and engaging. The wines, from entry-level point all the way up to the expensive stuff, were super top quality. That day, we could also see how rapidly the weather was changing around us, which is unique to that region. It went from extremely foggy and damp to extremely sunny in minutes, and it was fascinating.
Códax, for me, was quite special. They've been making wine there for a long, long time, but the appellation is relatively new, only since the '80s. It's interesting to see what they've done with their expertise in a short space of time. They are modern but also interlinking very traditional values.
Vanita Kabariya – Purchase Ledger Clerk
They treated us to a boat trip, which was quite nice. I'd never done anything like it before! But the highlight of Códax for me was the tasting. They took us into the offices to try some wines, and the winemaker was very good at explaining each one. We were also taken to the vineyard and farms, and one of the growers there explained how they worked. I loved the whole experience.
Sharda Hirani – Assistant Accountant
At Martin Códax, the boat trip was a break from our busy schedule, but we still learned a lot. Selena and Paula from Códax were explaining how the grapes are grown right up into the coastal area, and that the grapes grown inland will have different flavours from the ones grown right on the coast. They served 8-10 dishes of seafood on the boat. Of the five of us on the trip, three were vegetarian, but the non-vegetarians were in heaven! And the vegetarian food was really good too. We had a tasty vegetable paella with the Alma Atlántica Sangría – refreshing and easy-drinking, which is my kind of drink.
When we got to Codax, they weren't sure whether we would be able to go sailing because of the weather down there. This time of the year, it's not great – apparently it just rains. But we had a good four or five hours on the boat, and it was nice and sunny. Then the next day it was misty, humid and rainy, and then cloudy, and then it was sunny again. Literally every hour the weather kept changing. Overall, I loved seeing the way the grapes were grown and contrasting it with our visit to Quinta do Crasto and seeing how the climate affects the different types of wine that people can make.
Mateusz Kowalczyk – Business Development Manager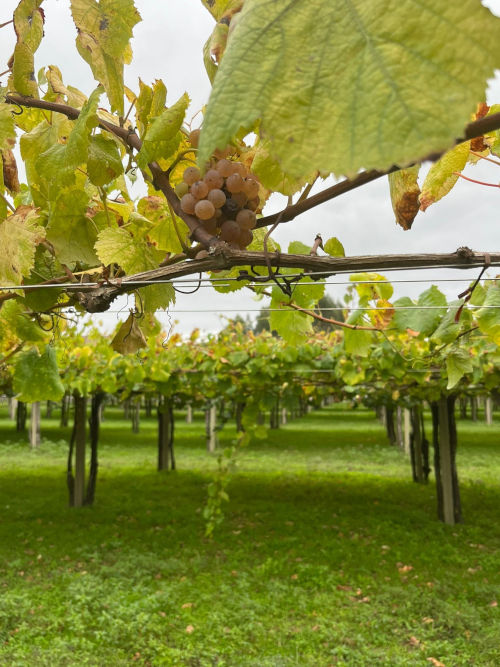 Arriving to Galicia, where Martin Códax's vineyards are located, the first thing you notice is coast, seawater, breeze, fresh air, wonderful sun and this picturesque view. We got super lucky in terms of weather on the day we arrived, and we were able to spend a really nice couple of hours on the sea, seeing the land where the vines grow from the sea perspective. It helps you to understand what makes those wines different, and it tells you a lot about where the freshness of Rías Baixas wines comes from: that lovely cooling, moderating effect of the sea and also from quite a lot of rainfall during the average year.
They use a pergola system to keep the grapes away from the from the surface of the land. The grape bunches are actually hanging from the pergola downwards, around one and a half metres away from the ground, which retains humidity and would keep them moist – an invitation for bacteria and fungi to affect the quality. That's one of one of the methods they've incorporated to make sure the grapes are of high quality.
Rías Baixas Albariño seems to be becoming a new big thing after the Pinot Grigio boom and the popularity of Picpoul. It's a strong challenger to those really popular wines, but actually it remains a tiny winemaking region – we're talking about a couple of thousands of hectares worth of vines. Rías Baixas is relatively a young winemaking region that still has a long way ahead in terms of growth, so I'd say if you have a chance, drink a bottle and buy a case now, because towards the end of the year, we might be forced to wait for the next vintage. It's delicious.
You can tell that Martin Códax pay a lot of attention to where the grapes come from, which is normally not something you'd see from many cooperatives. They have a vision for the future; they have a plan. They are adjusting to the increase in demand but also they're not losing their identity.
My first sommelier job, we had 110 wines by the glass, and the Albariño we had was the Martin Códax. It was my first time trying Albariño. I remember reading about it being a cooperative, and at the time, I was like, okay, so it's a big producer. But now after seeing it, I'm like, on the contrary, it happens to be a cooperative, but it's a boutique vineyard. It involves combining the grapes from local producers, but they're being incentivised by the cooperative to make better wines, be more sustainable, use less chemicals in grape growing, and this is something that really stands out. They look for quality, but they also look to the future and say, we need to make a better wine each year, and we need to make sure we're not doing it at the cost of the ecosystem. Again, you don't see that in many cooperatives.
Bhavik Parikh – Head of Applications & Technology
My favourite part of the Códax visit was the boat ride. We tasted quite a few wines and had seafood with them, and it was a major highlight. The next morning, they picked us up and we went to see the wineries. They took us to a few fields where they were planting,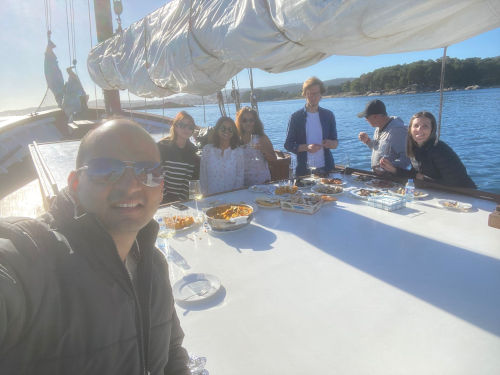 and then we went to their offices, which are very nice: they're made from glass, and the view was amazing from there.
We also went to Santiago de Compostela, where they had hired a guide to take us through the city. He walked us around and explained a little bit of the history of the place. We rounded off the trip with a nice lunch with one of the managing directors from Códax, and then it was back to the airport! For me, being there for the first time and managing to cover this many things in a couple of days was an achievement.
Top 3 wines - by Craig Evans
| | | | |
| --- | --- | --- | --- |
| 1 | | Mara Martín Godello 2021 | An amazing value wine. This is a real crowd pleaser, with aromatic stone fruit on the nose and the palate. It has a soft, comfy mouthfeel, good acidity and a zippy mineral edge. Fabulous length, and although it doesn't have masses of nerdy complexity, who cares? That ain't a bad thing, as it's an unadulterated glugger! Definitely one for a warm summer's day on an old boat served with locally caught seafood. |
| 2 | | Cuatro Pasos Black Mencía 2019 | Made exclusively with the Mencía grape variety, taken from 80-year-old vines on slopes of slate soils which are ploughed without any horrible herbicides. The wine is inky black in the glass so you think you're in for a tough, aggressive, tannic glug, but looks are deceiving. It's moreish and mellow, with intense morello cherry flavours, lovely red-fruit notes, toasted spice and smoky hints. Very tasty, full-bodied and really well balanced. Best drunk with the winemaker sat next to you. |
| 3 | | Gallaecia Albarino 2018 | Oh, I do love a sweet wine, as long as it's well made – and this wine is bang on point. A late-harvest noble rot wine that over delivers on price, this is bright golden in colour. It has an intense perfume of raisins, dried fruits, yummy honey and bitter orange marmalade hints, with a subtle whiff of botrytis. The nose is classic Albariño, which also comes through on the palate. There's just a touch of sweetness in what is essentially a dry, albeit rich wine. It has fantastic acidity at the finish, which tells me this is a keeper. |
Part of our 50 Year Anniversary Focus 50 Series