Focus 50: Trip 47, d'Arenberg (Australia)
To mark Enotria&Coe's 50th anniversary this year, we're shining a light on 50 outstanding producers who have been instrumental to our company history. As part of our celebrations, members of the E&C team took a trip to Australia to experience the world of Focus 50 winemaker d'Arenberg first hand – here, they share their highlights.
Michael Steen – Sales and Development Manager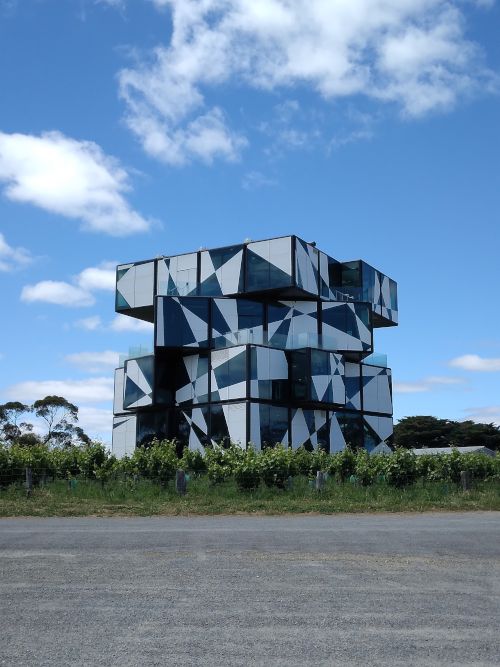 Spending two days with Chester Osborn was really special. He's the fourth-generation winemaker at d'Arenberg and is really wild – the estate is a reflection of his personality. He designed and built this iconic building called the Cube, and it's essentially a giant Rubik's Cube. It's kind of nuts and also amazing. We spent a lot of time with him in the vineyards and the winery, getting to know him as a winemaker and as the guy who grew up on the estate. He can reel off facts about every single vintage, what they were looking for, how the harvest went, anything you want to know about the region.
The estate is the Willy Wonka and the Chocolate Factory of wine, with a Dali museum, little statues and pieces of art everywhere, a 360-degree experience in the Cube and restaurants with really diverse influences. The ground floor is all about the story of his wines and the vineyards – where their names come from, the artistic feeling behind the bottles and more. Then sitting behind that just 50 metres away is a massively commercial winery, simply built. It's quite an interesting contrast, where you can see the artistic side of the business.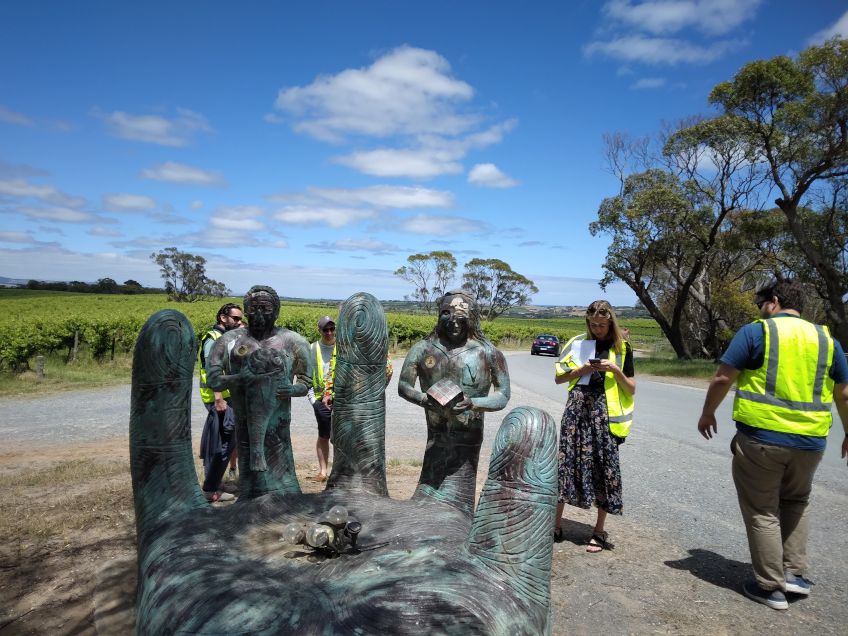 The lunch on our second day was the highlight for me. It was at d'Arry's, a restaurant on the grounds named after Chester's dad. We were with Chester and the d'Arenberg team, sitting and looking out over the vineyards. By that point, we'd spent a day and half together, so we'd gotten to know each other and were just appreciating the time we had.
My main takeaway is that McLaren Vale is a really interesting region, and that there's a story that goes missing about d'Arenberg – the thought that goes into every single bottle, and how canny they have to be to succeed.
Emma Robinson – Wine Buyer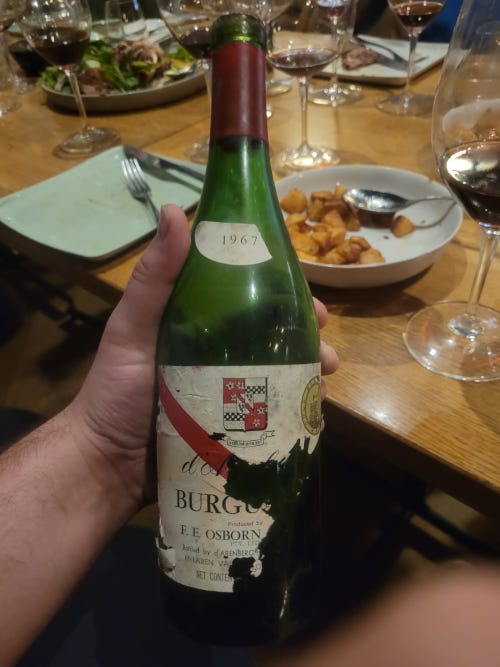 This visit was incredible! They make so many wines that we had to split them into lots of different tastings. The real highlight was that Chester was there the whole time. He's a real character with interesting stories about the wines, and it was great learning everything from him. He makes a range of wines called Amazing Sites. It's made from separate vineyards that usually get blended into icon wines, but he bottles each vineyard separately for the range. It's quite interesting.
Chester is also pioneering some Mediterranean varieties in Australia as well, growing Mencía, Nero d'Avola, Montepulciano and Fiano, so we got to taste some alternative varieties you wouldn't normally associate with McLaren Vale. We're looking at bringing one or two of those on.
We went paddleboarding too, which was quite fun. It was my first time, but it was actually pretty easy! It was also my first time trying kangaroo. They have a restaurant at the Cube called Singapore Circus, which is all Asian fusion. We had a kangaroo noodle dish that was delicious.
Something I didn't realise until we visited was how big they are on organics and biodynamics. It's a key part of their culture and philosophy, so it was interesting to hear Chester talk about it.
Simon Calverley – National Account Manager, Grocers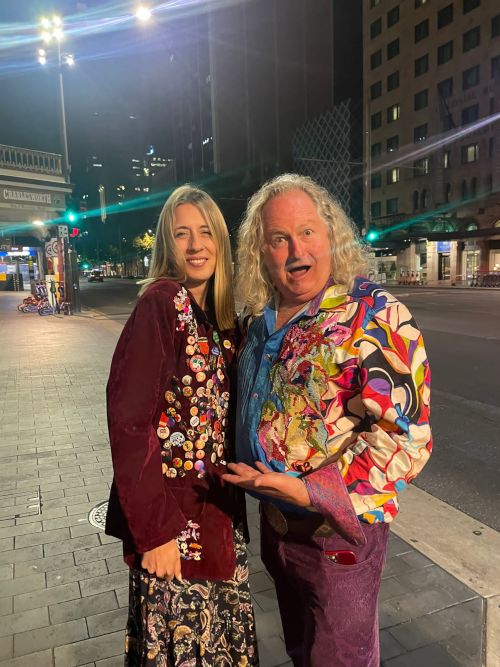 One highlight was the paddleboarding – d'Arenberg hired an instructor and we did an hour of paddle boarding on a river that led out to the sea, which was really cool. It was also the first day the sun came out properly, so that was great. Meeting Chester was a high point, of course. It was amazing that he gave us two days of his time. He told us all about his business and his wines, and it was quite special.
I loved touring the Cube and getting to try all of d'Arenberg's wines. All the food and wine we had was brilliant. We went to a really cool roof terrace in the middle of Adelaide for drinks, then went to a dodgy club that had a very good DJ and listened to some '80s classics. Chester had this burgundy velvet coat with about 200 badges on it that weighed 10 tonnes, and we took some pictures wearing it as well. It was a fun one.
Igor Vieyra – Sales Operations Executive
Chester himself was really the highlight of the visit to d'Arenberg! He's great at marketing because he's very extravagant, but at the same time he's very genuine and knowledgeable. Spending two whole days with him, just having conversations, hearing his crazy stories – it was a unique experience.
The whole site is extremely impressive. He's got a museum, which is nuts! Of everything on the site, the Cube was a real standout for me. It attracts loads of tourists, and it's been arranged to shock people. I know it's all marketing, but it really matches Chester's personality and is just genius.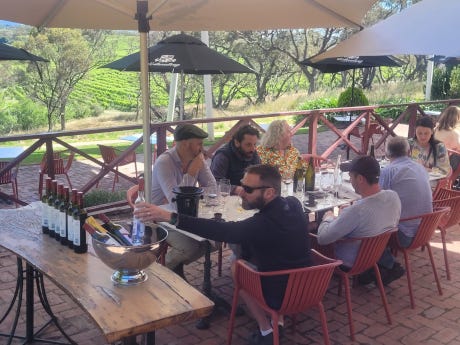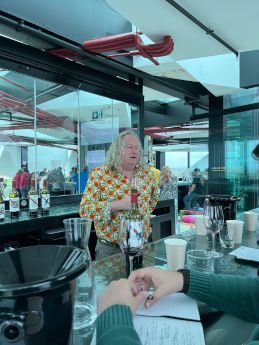 Top 3 wines by Emma Robinson
| | | | |
| --- | --- | --- | --- |
| 1 | | 2021 The Feral Fox, d'Arenberg | Sourced from the cooler region of Adelaide Hills, the pale colour and gentle haze makes this wine an anomaly amongst the other typically heavier d'Arenberg reds. The Pinot Noir fruit is expressive and lively on the nose with flavours of wild strawberry, rhubarb and raspberry, mingled together with some savoury mushroom, forest floor and spice. The wild yeast ferment adds an extra level of complexity and the mid-palate texture makes this wine very pleasurable to drink. A seductive and inviting wine. |
| 2 | | 2018 The Conscious Biosphere, d'Arenberg | A rather atypical blend made from Petit Syrah (74%) and Aglianico (26%). The name reflects Chester drive towards planting sustainable grape varieties that are more suited to the warmer climes of Australia, given the climate change ahead. This wine is made in the usual d'Arenberg style, with open fermenters, foot treading and a basket press – and it packs a punch. Dark purple and inky in colour, it has layers and layers of flavour, including mulberries, plums, dark chocolate and dried fruits. It has the unique ability to be rich and densely packed, yet vibrant and mouth-puckering at the same time. |
| 3 | | 2013 McLaren Sand Hills 'Amazing Sites' Grenache, d'Arenberg | Grenache is something that d'Arenberg do very well and this grape is the rising star of Australia at the moment. Chester has a huge passion for the unique terroirs of the McLaren Vale wine region, which he showcases though his single vineyard project called 'Amazing Sites'. We tasted a flight of three single vineyard Grenache from the 2013 vintage – Blewitt Sands, McLaren Sand Hills and The Beautiful View, of which he makes only 100-200 cases a year. They were all stand out wines, but the McLaren Sand Hills was certainly a favourite. It was powerful yet pretty, with polished and silky tannins. It had really benefitted from some bottle age, providing a perfect medley of sweet fleshy primary fruit and tertiary characters seamlessly intertwined. |
Part of our 50 Year Anniversary Focus 50 Series