Introducing Christine Rethman, Area Sales Manager
Hi Christine! You're one of the longest-serving Enotrians; how long have you been with the business?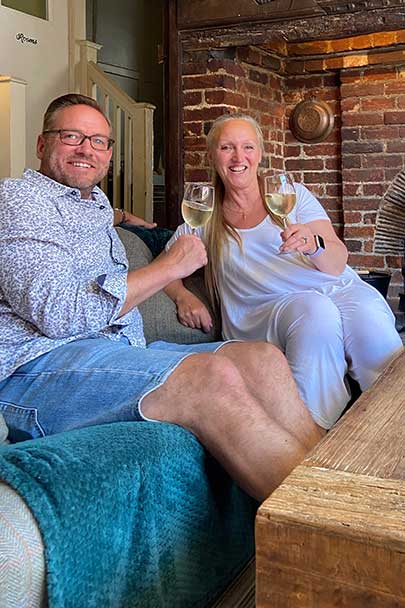 This is my 30th year and I am proud to say I still have the same passion for good wine that I had when I first started. The only difference I would say is my taste in wine has definitely changed. I used to be a fruity Sauvignon girl but now I am definitely a Bordeaux Cab Blend girl, my favourite tipple at the moment is Morgenster's Lourens River.
How did you get into the wine trade?
My parents have always loved wine and my father would allow us a glass of wine at meal times. One year he organised a trip to France with clients to collect Beaujolais Nouveau for his company and he took me along. We had a great time and I thought, "Yep, I want to do this for a living."
What was your first impression of Enotria, and why did you apply?
Enotria has it all really. When I joined, Remo was still involved in the business. He had such enthusiasm and passion for the business even though he had taken a slight step back. But what really swung it for me was the portfolio. Having so many iconic producers, combined with great depth and range allows me to create individual wine lists for every customer.
Tell us about your journey with Enotria: what teams have you worked on?
I have always worked in the Central Team, and my area has always been Essex, Suffolk and North London. I love this area: it's close enough to London to be quite cosmopolitan but still has a countryside feel. The people are so warm and many of my customers are now my friends.
How did the merger with Coe Vintners affect you?
Hugely, but in a good way. Before we merged with Coe Vintners, I am rather embarrassed to say I had never tried spirits outside of the odd cocktail. Now, I have a passion for sipping spirits. My favourites are Aran 10-year-old Malt, Cotswolds Distillery Single Malt Whisky and Don Papa Rum.
How has a day in the life of a salesperson changed over the years as we've welcomed new technologies, and also expanded as a business?
I am more self-sufficient these days. Going from writing everything down in my little notebook and then relying on some poor soul who couldn't read my handwriting to do everything for me, I now manage data and information myself, as well as place orders and design wine lists. My laptop is my best friend, and everything can be done instantly while I'm with my customers, which saves so much time. Compared to when I started out, I can send emails to customers and colleagues without anyone spending 10 minutes trying to decipher my writing!
You must have been on some incredible winery visits in your time; what are your top 3 and why?
Yes, I have been fortunate enough to travel to quite a few places with Enotria. My favourites trips would have to be:
South Africa. I am married to a South African and have been on many vineyard tours with family and friends, but what was so special about this trip was that we got to go behind the scenes. All the producers we visited - Ken Forrester, Thelema, Sutherland, Meinert, Morgenster, Kleinood - were so different but the common theme was the winemakers' passion for their heritage, the wines, the country and the people. In fact, Ken Forrester just picked up Best Wine in Show at the 2022 Decanter World Wine Awards for his Old Vine Chenin Blanc. When I think back to 30 years ago, Chenin was very much thought of as a house wine. It's incredible what Ken has done to elevate it to world-class status.
Washington State and California. Same country but two regions that could not be more different if they tried. Washington State was a real eye-opener for me. Whenever I used to think of wines from America they would always be the wines from California, of which Stag's Leap is one of the best in the world and I very much enjoyed tasting some sensational back vintages with them. But then Chateau Sainte Michelle had the most amazing wineries in Washington State. The very stark surroundings made me imagine how tough the winters must be, but I fell in love with how dramatic it is. Nothing fancy, but real passion for the region. My favourite winery was 14 Hands, so-called because that is the average height of the wild horses that roam the neighbouring countryside.
My third but certainly not least choice is my visit to Piedmont in Italy, where I stayed with Matteo Ascheri at his wonderful hotel in Bra. For me, his wines are some of the best in Italy and his larger-than-life personality shines through in his wines. Bra is the home of the Slow Food movement and Matteo's sister has a restaurant on-site which specialises in this style of cooking. I can't think of another trip on which I have eaten so well. Then for a real contrast we visited Fontanafredda: the estate is steeped in history and the wines are some of the most recognisable in the world, and rightly so! The vines are planted in a natural bowl-like dip, with its own unique microclimate.
Tell us about your customer base: where are they, what channels do they sit in and what is their product mix?
My customer base is Suffolk, Essex and Norfolk and ranges from hotels and restaurants to gastro-pubs.
Even these areas outside of London have seen noticeable growth recently. For example, Colchester was originally famous as one of Britain's oldest recorded market towns butbut today is never far behind London trends. I have a diverse mix of customers representing virtually every possible cuisines, which has to be one of my favourite parts of life in the UK. My newest restaurant group, Urban Fresh, specialises in South American cuisine and I loved working with the team there on putting together a wine list sourced exclusively from the Americas.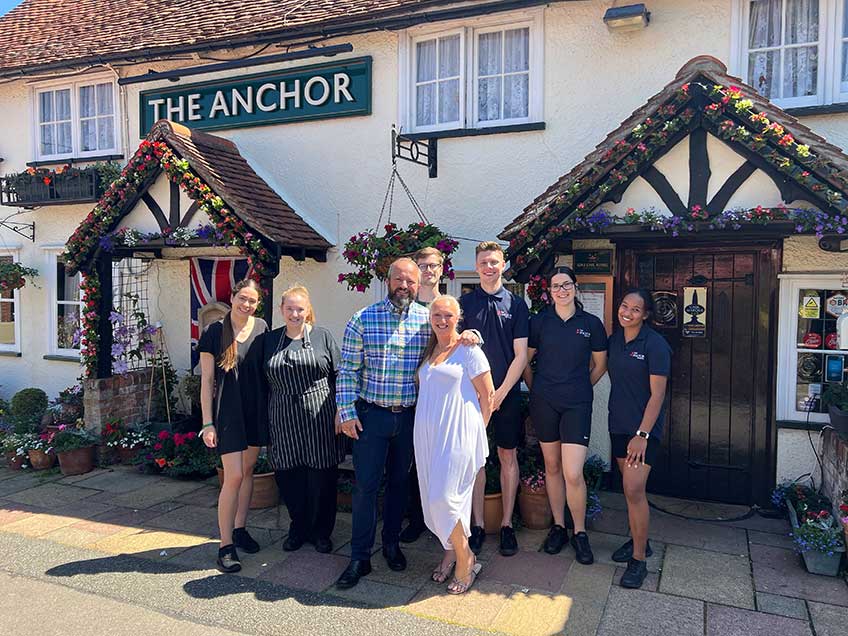 Who is your longest-standing customer?
My longest-standing customer is the wonderful Anchor in Danbury. I have known them now for almost three decades. Originally owned by Malcolm and Shirley Freund, I now work closely with their daughter Lou and their son in-law Neil. I love this place as it is a proper family-run restaurant with an ever-changing menu. They cook seasonal dishes and there are at least ten daily specials on the board. The wine list has developed over the years and again changes regularly depending on what Lou, Neil and Char have tasted at events. It is dog-friendly too.
The person I have known the longest is a lovely chap called Andy Dean, who has continued to work with me as he's moved around from The Peldon Rose, to The Crown at Stoke by Nayland, then the North Hill Hotel (both in Colchester), to Lucca in Manningtree and finally to the Marlborough in Dedham where he has settled.
As a salesperson, what product category do you find triggers the most interesting conversations with your customers right now?
Cocktails: my area has gone mad for cocktails. But they are time-consuming to make, especially on busy Friday and Saturday nights, so bartenders are always interested in ideas for long drinks. For that market, Sekforde mixers are a good value proposition as they tick so many boxes and allow bartenders to offer an interesting and exciting alternative to complex cocktails.
What hidden gem of a drink do you enjoy sharing with friends and family?
I am a bit naughty as I like to play games with my friends, especially wine friends (after 30 years, I have many). I like giving them wines blind and having them guess what it is. Ken Forrester's FMC is a good one; most people think they are drinking a good Burgundian white as it is so rich. My new favourite is The Italian Job from Meinert. It's a white Merlot and no one I've shown it to has guessed correctly yet. It keeps me entertained!
If you had to pick one favourite food and wine pairing, what would it be?
I really love skate, and when I have it I am very careful with my wine choices. So far, my best pairing has been Mar de Frades Albariño - a simply stunning wine. The blue bottle is also striking and has a fun design: when the glass is really cold, a ship appears on the waves that have been painted on the bottle.How did you get into the wine trade?