Focus 50: Trip 48, Pikes (Australia)
To mark Enotria&Coe's 50th anniversary this year, we're shining a light on 50 outstanding producers who have been instrumental to our company history. As part of our celebrations, members of the E&C team took a trip to Australia to experience the world of Focus 50 winemaker Pikes first hand – here, they share their highlights.
Emma Robinson – Wine Buyer
I had been to Clare Valley before, and I'm pretty familiar with Pikes. They are a benchmark Clare Valley producer and make a consistent style of Riesling every year. It's one that can age but is also quite drinkable in its youth, so it's quite appealing to lots of people. Their traditional Riesling is the biggest-selling Riesling in Australia, but they don't just focus on Riesling – they've also been experimenting with Italian grapes like Sangiovese and Fiano as well. So there's a breadth to what they do, despite being known as a Riesling specialist.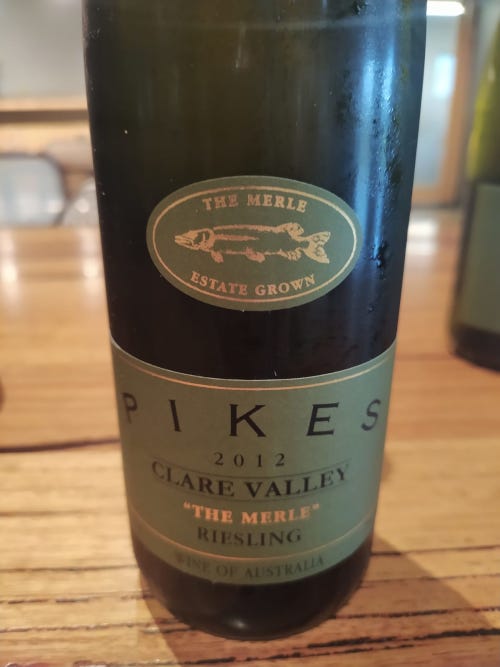 The Pikes family actually started as brewers, and there's a brewery on site. We got to meet Andrew and Cathy Pike, the founders, and learn about the history of the business. They've also got a really lovely restaurant, which we ate in one night. They hosted us in the Pruner's Hut for lunch as well – it's a little hut in the middle of the vineyard that was originally used by vineyard workers, but they converted it into a dining area. We ate with Pete Bentley, the export manager, and Steve Baraglia, the winemaker, and it was great chatting with them.
One of the highlights for me was during dinner when we did a back vintage tasting of The Merle, which is their top Riesling that can age for decades. We tasted the current vintage and then two back vintages and had it with some oysters as well.
Reds from Clare Valley are not as well known, but they're really interesting. They're much lighter in style than some other Australian reds. Pikes' Shiraz and other reds are much more medium-bodied, fresh and easy-drinking. People don't expect that.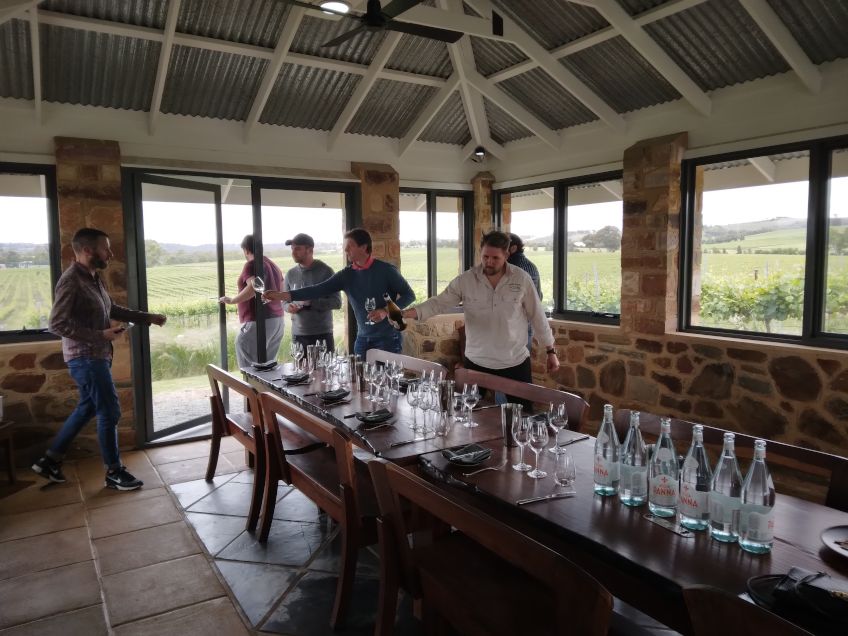 Michael Steen – Sales and Development Manager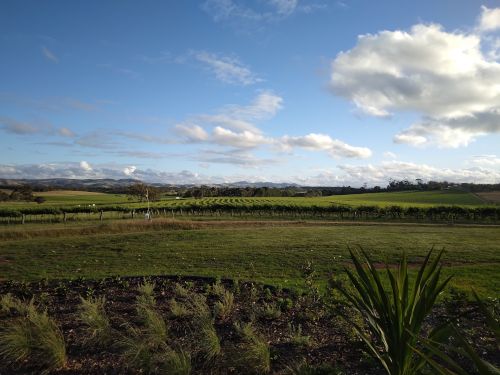 The Pikes estate sits within Polish Hill River in the Clare Valley, which has all these lovely rolling fields and is very cool and luscious. It was a wet vintage when we went out there, so everything was very green. We tried some really interesting wines. Riesling is at the centre of what they do, and they also produce a lot of Italian varietals which require that sort of nice, gentle valley. They have really put a lot of effort into developing the region over the last 30 years.
We got to meet the winemakers, who were very interesting. They both had their own vineyards. Clare Valley is all about expressing the vineyard in the wine, and you can tell the winemakers are very connected to the wines, as opposed to producers who just bring their grapes in from elsewhere.
My favourite memory would have to be the lovely lunch we had in the vineyard. We were just sitting out, drinking some great wines and having a barbecue, looking at the kangaroos. The ambience was special.
Simon Calverley – National Account Manager, Grocers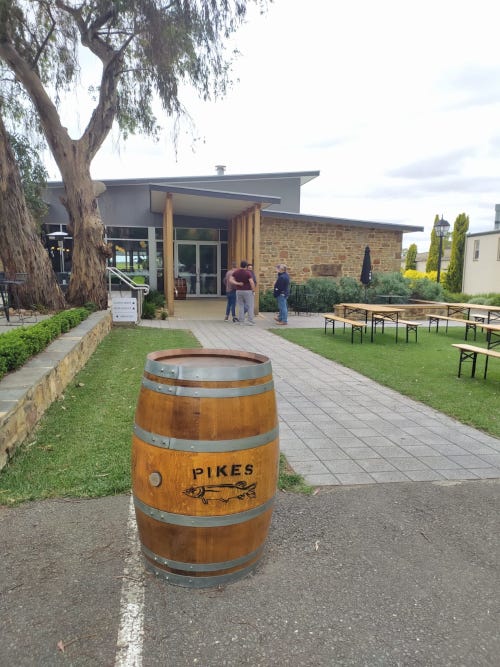 The landscape and scenery at Pikes was different from what I imagined it would be – it was kind of European, with blocks of vineyards. I thought it would be a vast expanse, but it's actually very intricate, with multiple microclimates that result in different styles of wine. They produce a broad range of reds in different styles, so learning how they're able to do that was really interesting – you don't quite get it until you're there.
We were absolutely spoiled rotten here, with four courses for both lunch and dinner. The food was superb, and it all matched really well with the wines. Everybody was in heaven because we had loads of oysters and scallops, which go extremely well with white wine. Then after dinner we went back to the motel, drank more wine and beer and passed around a phone. Everybody picked a song to play, and it was quite cool to get an insight into everyone's music taste, just getting to know people better. There was a social aspect to this trip that was really fun.
Igor Vieyra – Sales Operations Executive
Everyone at Pikes was very friendly and laid back. We did a tour of the vineyards, and the winemakers who gave us the tour had an incredible knowledge of the land. It was really impressive. They took us to lunch overlooking the vineyards, and we did a tasting there as well.
But the absolute highlight was when we were driving along during the tour and suddenly saw these kangaroos jumping around in the vineyards. I had never seen a kangaroo before in my life, and it was very special! The whole day was great.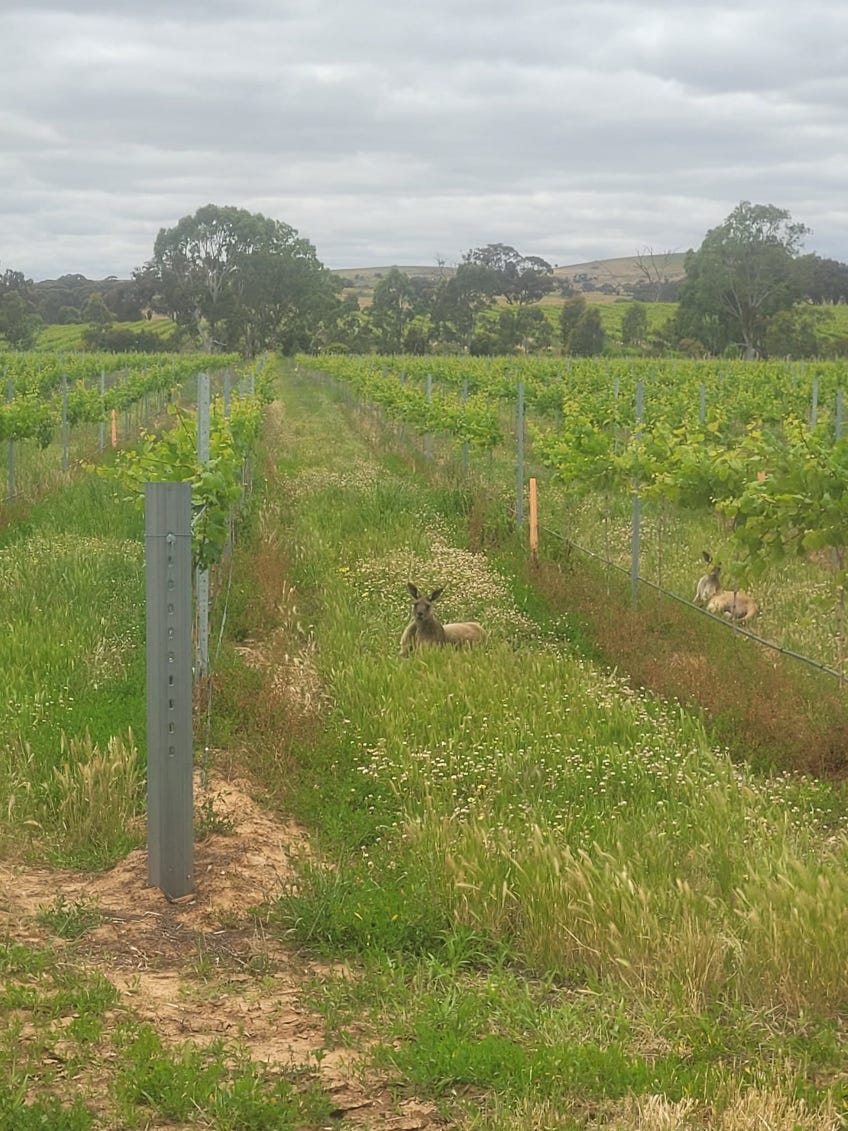 The team's top 3 wines
| | | | |
| --- | --- | --- | --- |
| 1 | | Hills and Valley Riesling | A beautifully crisp and refreshing Riesling that balances sweetness and acidity perfectly. Lemon sherbet, lime and apple aromas make this a perfect palate cleanser. Alternatively, match with a gently spiced fish dish. |
| 2 | | Luccio Sangiovese | Made from vines that were planted in the 90s, this cool climate and approachable Sangiovese is a great contrast to the Italian wines we're all used to. Remarkably fresh and approachable with delicate cherry and red apple flavours make this the ideal wine to accompany lighter meat dishes. |
| 3 | | Merle Riesling | A wine that truly represents the Clare Valley and its potential. Piercing acidity that has rich flavour of lemon, lime and generous minerality make this a benchmark Riesling with the potential to age or enjoy now. |
Part of our 50 Year Anniversary Focus 50 Series