Focus 50: Trip 38, Louis Michel (France)
To mark Enotria&Coe's 50th anniversary this year, we're shining a light on 50 outstanding producers who have been instrumental to our company history. As part of our celebrations, members of the E&C team took a trip to Chablis to experience the world of Focus 50 winemaker Louis Michel first hand – here, they share their highlights.
Joanna Grande – Key Account Manager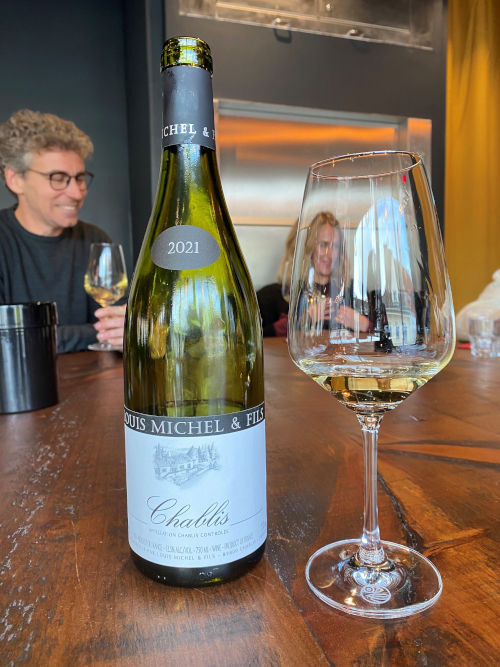 Quite a few people from our group have been in the wine trade for many years, but for most of us it was our first time in Burgundy, which was interesting. It was amazing to actually see the places on the labels, like the town of Chablis. It was beautiful and very quiet, and Louis Michel itself felt very intimate and family run.
Guillaume Michel was incredibly lovely and very friendly. He's the nephew of the previous owner. As a young man he left the village and went to Paris, where he had a very successful career as a web designer. The time came when his uncle was thinking about retiring, which coincided with Guillaume thinking, 'Actually, I'd quite like to come back to Chablis and get involved in the business'. So he moved back and he's now in charge of this family-owned winery.
We started off with a quick tour of the winery, which is very small. There's a very boutique feel about it, and there aren't that many people running it. He took us around the winery and the cellar and told us a lot about Chablis in general, his way of making Chablis and how he works during the harvest. Going there just felt like coming into someone's family home and having a very special experience. We all wished we had more time there.
Then we headed over to the restaurant, where we did a tasting. Some people tried this big sausage made with offal. I had already tried it before, so I know it's not my thing! For me, the highlight was the absolutely incredible escargot – beautiful with Chablis. I've just joined Enotria and am still learning about the portfolio, so this was my first encounter with these wines. I was really quite impressed and taken with them. Guillaume is a great communicator as well – very concise. He basically brought in most of his Premier Crus and Grands Crus, so we tried a great lineup of wines. I truly learned so much from that little lunch and tasting.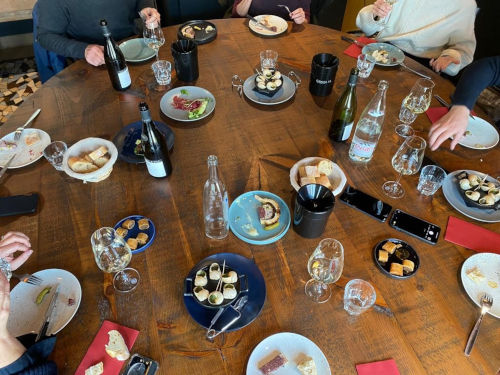 Katy Rickards – National Account Manager
My first impressions were of total cleanliness – an ordered, beautiful winery. And the other one was of Guillaume. My first impressions of him were his love of the product and his attention to detail.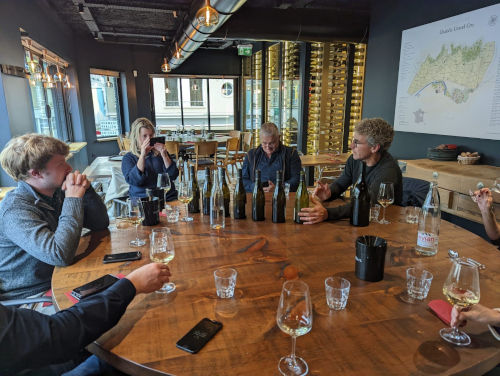 It was great to see the winery, but the highlight for me has to be the food and the wines. We had a really lovely lunch and they brought out lots of wines, including a magnum of 2017 – Les Clos. I think we tasted as many as 10 different wines, from his Chablis through the range of Premier Cru, right up to the Grand Cru and finishing with the magnum. We had a lovely lunch in a local restaurant. There was lots of nice local cuisine, and Guillaume took us through all the wines. He makes lots of different Chablis, and he went through each one and explained the differences. They're quite subtle in terms of descriptors, but actually the wines are amazingly different even though some of them are grown just 10 metres just up the slope from the others. The only way you get to experience those comparisons is to taste a load of wines in one go, which you don't often get to do. Sometimes you do vertical vintage tastings and you get to see the difference that age and vintage makes, but this was all about site and soil – why a wine from Les Clos is different from Montée de Tonnerre, for instance. So it was pretty mind blowing.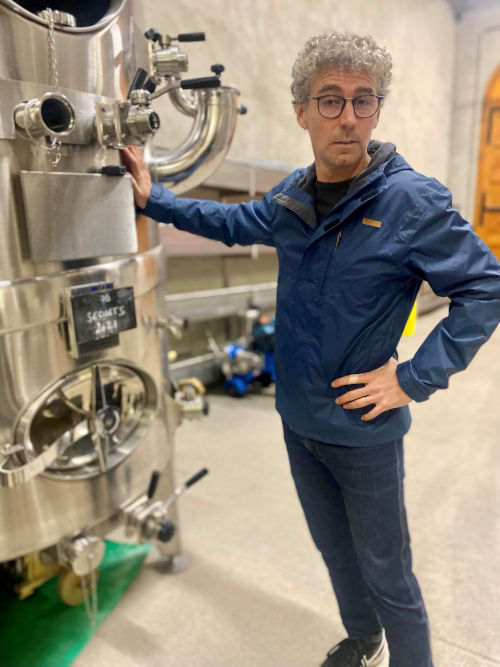 The way Guillaume does everything himself was amazing to see. Everything is done on site in Chablis village, in the same location where they've been since they set up two generations ago. And he is very hands off – it's all about what happens in the vineyard. Once the grapes come to the winery, he does very little; his only intervention really is to temperature control the fermentation to preserve the fruit. Lots of winemakers talk about a hands-off approach, but you really saw it at Louis Michel. Guillaume is also fastidious about quality. When you talk about handcrafted, these really are handcrafted wines.
Michael Edwards – National Account Executive
It was my first time visiting Chablis, which is a really beautiful little town, smaller than I thought. Since we had passed through Paris and come from Beaune, Chablis seemed really quiet. And when we pulled up to the winery, it was very unassuming from the outside. But inside it was amazing how much equipment there was – it's always quite something to see how they can make so many different wines in such a small place. There was no production going on when we were there, so it was quiet and clean.
Guillaume showed us around the full facility. The nice thing about the Louis Michel winery is that Guillaume does everything – he obviously makes the wine, but he also bottles, labels, packages – everything. It means he's got an overview of quality from top to bottom.
And then we had an enjoyable lunch. We were very much surrounded by the local community in the restaurant and were able to try some lovely French food paired with these really amazing wines. We were talked through the range and we had the opportunity to also taste some older vintages, which was a real treat.
I was the newest member of the Enotria team on the trip. I've been lucky enough to go to France a number of times before, but I've never been to Chablis. It really opened my eyes to how to enjoy these wines at their best. It was a really lovely few hours to visit an iconic winemaking region, a really magical place. If you're a wine lover, this is one of those fantastic places you need to tick off the list.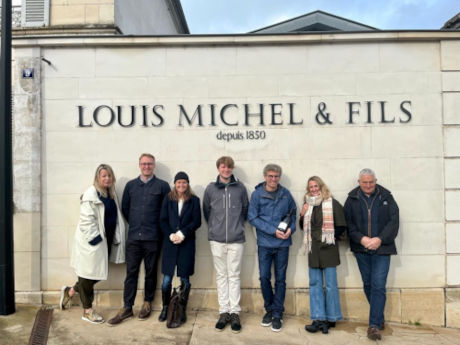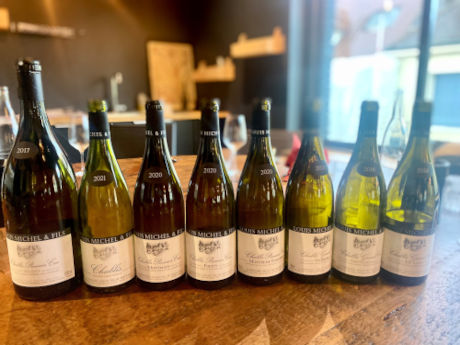 The team's top wines
| | | |
| --- | --- | --- |
| | Chablis Premier Cru Montée de Tonnerre, 2020 | Tonnerre is the most prestigious and sought-after of the Chablis Premier Crus. The terroir is nearly identical to the Grands Crus, and no other Premier Cru boasts its topography. With racy acidity, iodine and mineral notes and nuances of flint, this is lively and has superb fullness. The long saline finish lingers effortlessly on the palate. An expressive, layered and totally sophisticated wine. By Michelle Cartwright |
| | Chablis Grand Cru Grenouilles 2018 | The Grenouilles vineyard is legendary and rare, it is one of the smallest Grand Crus in Chablis. Michel's parcel is located in the upper reaches of the appellation's hillside and is wonderfully intense, with notes of kiwi, white pear and apple, balanced by razor sharp acidity and a striking mineral core. Full-bodied, concentrated, with a seamless intense long finish. By Michelle Cartwright |
| | Chablis 2021 | My 'house pour' (before the cost of living crisis!). Chablis as it should be – lean, crisp and refreshing, with long-lasting mineral richness. By Katy Rickards |
| | Chablis Grand Cru Vaudésir 2020 | Like all of Louis Michel's wines, the Vaudésir is crisp and precise. But coming from the lower slopes of Chablis, this wine also shows great juicy citrus fruit with a tangy, salty edge. Elegant yet complex. By Katy Rickards |
Part of our 50 Year Anniversary Focus 50 Series