Focus 50: Trip 28, Tesch (Germany)
To mark Enotria&Coe's 50th anniversary this year, we're shining a light on 50 outstanding producers who have been instrumental to our company history. As part of our celebrations, members of the E&C team took a trip to the Nahe to experience the world of Focus 50 winemaker Tesch first hand – here, they share their highlights.
Rob Ward – Digital Acquisition & Partnerships: We got to Frankfurt having left London at God-knows-what o'clock in the morning, powered purely by coffee and camaraderie. We took the train, which was a wonderful idea as we really had time to get to know everyone in the group properly.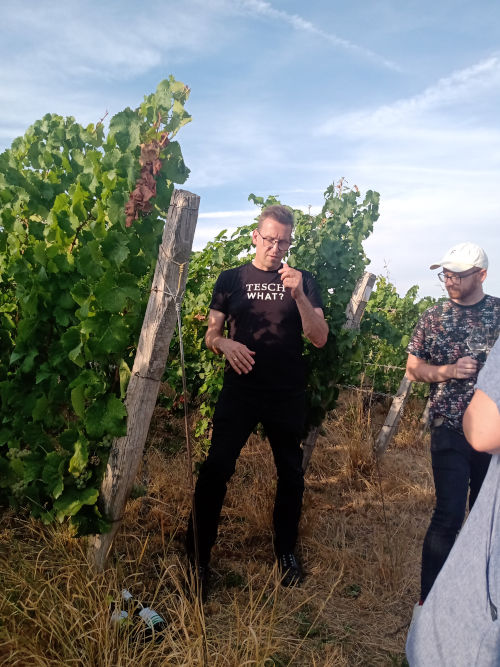 Edward Mercer – Business Manager, The Great Wine Co: We were asking ourselves how we would recognise our host in the vast station when the six-foot-plus Dr Martin Tesch bounded down the platform, dressed in his trademark black with a 'Tesch, What?' t-shirt. Martin is a biochemist, environmentalist, radical viticulturist, metalhead and the unconventional custodian of 300-year-old winery Weingut Tesch. He was about to give us a crash course in his robust and very persuasive Riesling philosophy, and he began by taking us to Nahe to experience the rolling slope of the Krone vineyard.
EJ Bailey – Head of Events: I'd never been to Germany before this trip. We'd only just arrived, and we had to kill a bit of time. We were standing there, and I just sort of found myself looking out across this incredible landscape. I was just thinking, 'What a wonderful life'. It was incredible.
Richard Lewis – Buyer: The first thing I noticed when we got to the vineyards was how calm everything was. It was a landscape of rolling hills, and there's this contrast between how calm and peaceful the vineyards are and how intense Martin Tesch is. He's very opinionated, and always thinking about what he's doing and whether or not it's the right thing – but then he'll be very forcefully saying that it is the right thing. It looks like a very peaceful landscape, but he's really analysing it in so much detail, and he's very keen to get that across.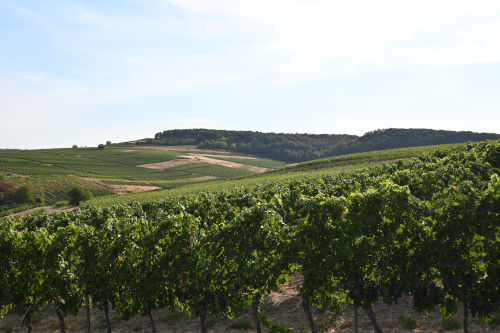 Edward: The Krone vineyard is conventional enough at first glance, but unlike all his neighbours' vines, Martin's new rows face south to limit the growing exposure of the grapes to the increasingly hot summer sun. The vines are left to grow high above the trellis to allow one row to shade the next on hot days. We also learned of the Tesch obsession with water maintenance in the parched vineyards and the quest for very high environmental standards without organic or biodynamic certification. Clever thinking, you might imagine, but as a common theme, many of Martin's fellow winemakers think he is crazy.
Richard: He has this fiercely independent mindset, and he's gone against the trends. Whether it's leaving the Verband Deutscher Prädikatsweingüter (VDP), the prestigious national winemakers' association, or changing his wines to a much drier style before that was really trendy, or using really bright colours on his bottles rather than traditional German look, or moving to screw caps for all of his wines, he's quite ahead of his time.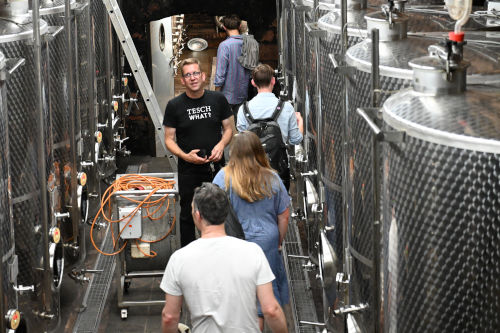 Edward: Our tasting of the first wines in the vineyard was a joy. The rounded fruit of the Krone Riesling was freshened dramatically with searingly dry and taut acidity, while the Queen of Whites Riesling was slightly off-dry style and also delicious.
Rob: A little later on, we went to the old family winery in the middle of the town. Upstairs is a sort of hyper-modern tasting room, which has Martin's collection of metal memorabilia on the walls. Music and wine are his two biggest passions, and they collided in this room. He's a super cool guy.
EJ: I knew that Martin had been a roadie and that he had connections to rock music, but I hadn't realised the scale of it. As we walked into this tasting room, which not everybody's allowed to go into, we saw the range and volume of his music paraphernalia and pictures of him with all these like incredibly famous rock stars.
Richard: My favourite part was the tasting. We were sitting around the table surrounded by these pictures of Martin with the rock band Kiss, and he just kept on bringing older and older vintages out of a fridge, which was like a Mary Poppins handbag. So gradually the table started filling up with lots of different vintages, and for me the incredible thing was just how well the wines age beyond what you maybe would expect. They were absolutely superb.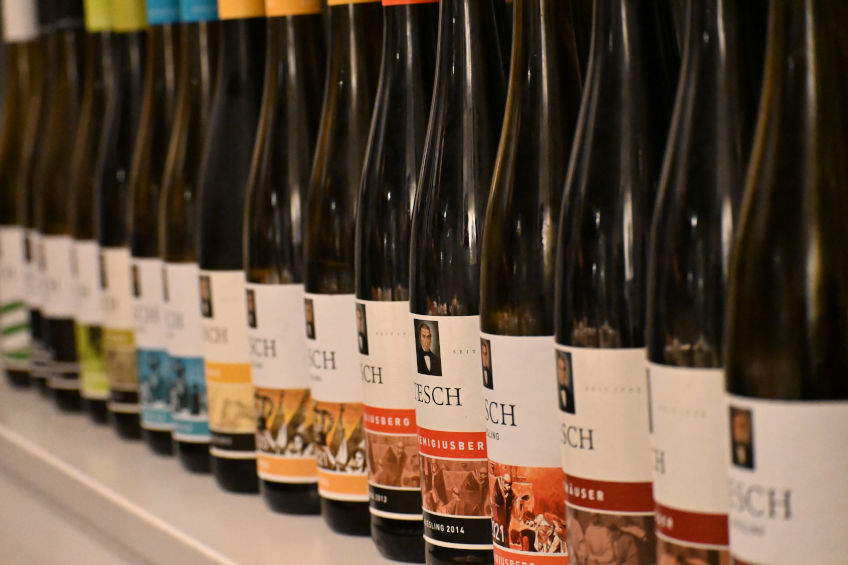 Edward: We tasted all the current vintages before moving onto a host of outstanding older bottles from the cellar. To accompany the wines, we enjoyed local cold meats, cheeses and real sauerkraut (delicious, by the way). This moment was the first of many on this trip that prompted the exclamation 'I bloody love Riesling!' from a member of our group.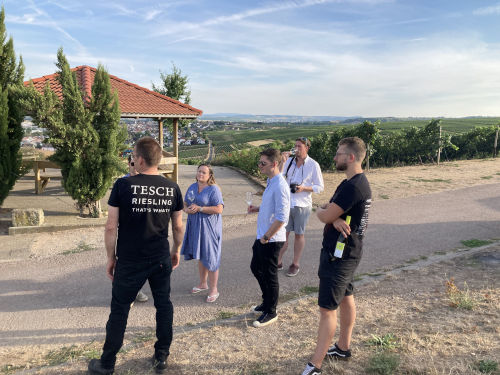 Rob: I think meeting Martin was the highlight of the trip for me. He's such a character. Although he's come from a historic winemaking family, he's lived his own life, and he's got that founder's mentality as well – that kind of irascible, irrepressible drive to survive. He's had some knocks throughout the history of the business, but he's put in a lot of innovation and he's come out on top. It was really fantastic to sit there in the man's lair beneath his collection of heavy metal memorabilia and just hear him hold court.
Edward: Tesch is socially conscious, something Martin was very animated about, but even in this his approach is unusual. For more than two years, the winery has partnered with a charity to employ disabled people. Despite difficult day-to-day winery work, the mental health benefits to those attending the charity, the winery staff and even the nurses has been so great the project will be continued. The business also supports an eastern European village where many of its grape pickers come from.
Summing up Tesch's wines is easy; they are exceptionally complex, dry, age-worthy, consistent and progressive Rieslings that deserve a high profile in the UK. Summing up their creator is much harder – but highly driven and utterly passionate is a very good start.
The team's top wines
Karthäuser Riesling 2013

A testament to the age-worthiness of even reasonably priced Riesling. A refined harmony of florals and mineral notes, with a touch of petrol and a long, lingering finish. Rob Ward

Pronounced aromas that leap out of the glass, showing waxy lime citrus but with a powerful earthy character that carries through to the super-long finish. Very concentrated and fine at a beautiful stage of maturity. Richard Lewis

Krone Riesling 2021
Bold grapefruit aromas with an appetising bitter lemon character on the palate. Gorgeous rounded fruit with juicy acidity. Really good, even at this very young stage. Richard Lewis
Part of our 50 Year Anniversary Focus 50 Series