Focus 50: Trip 34, VSPT (Chile)
To mark Enotria&Coe's 50th anniversary this year, we're shining a light on 50 outstanding producers who have been instrumental to our company history. As part of our celebrations, members of the E&C team took a trip to Chile to experience the world of Focus 50 winemaker VSPT first hand – here, they share their highlights.
Alistair Bankier – National Account Manager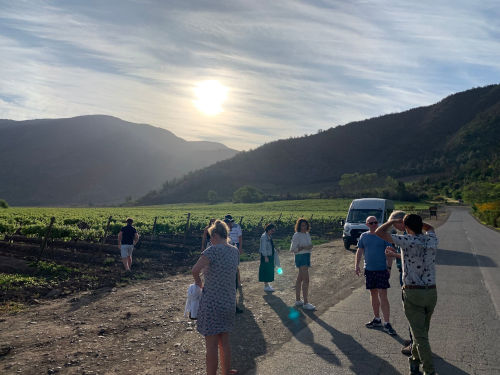 It was a very long flight to Chile, with a layover in Madrid. We were met by the export director from VSPT, Marcela Burgos. VSPT has a handful of Chilean wine brands, two of which we work with. Marcela drove us about an hour to Tarapacá, where we stayed. It's inland and cool, and you could see a glimpse of the Andes in the background. They were still snow covered, though the snow would be gone in about two weeks. It was starting to get hot there when we visited. We stayed in an Italian-style villa with a pool, where we could chill out for most of that day. We went for a swim – it was freezing – and had some beers.
Then we had a tasting with Juan, the head winemaker at Tarapacá. They make varieties like Cabernet Sauvignon, Merlot, Sauvignon Blanc and Chardonnay. We also tasted their Carménère – they thought it was a Merlot for about 20 years, which was a great story. For dinner, we had ceviche, which was really nice, and they also had a big grill and cooked lamb over the coals.
It was freezing the next day at Viña Leyda. We met the winemaker, and he took us through the vineyards. We had a really good lunch in the tents there and tried some of their wines. In coastal Chile, they do Chardonnay and Pinot Noir, going for that Burgundian style. They say they're trying to get away from oak influence and a lot of manipulation, aiming for terroir and purity of fruit. These wines are really good for the price – very site driven, with lots of single vineyard stuff. Then we took a wee bus trip down to the coast to a smart town and went to a bar right by the sea for a Pisco Sour. That was a big highlight for me, I liked being on the beach. From a wine perspective, I thought Leyda was really impressive. I liked their attention to the vines and the soil, how enthusiastic they are about their location and climate, and how optimistic they are, always learning and improving.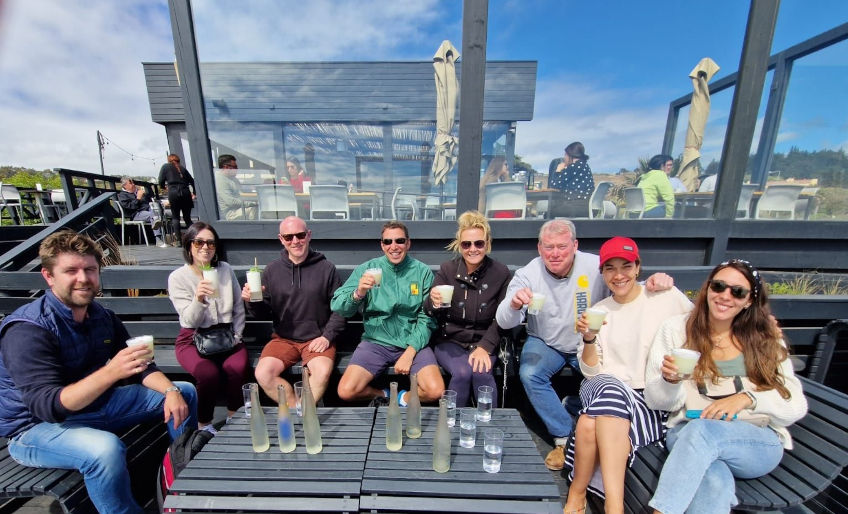 Daniela McMahon – Supply Chain Manager
We were collected from the airport in Santiago and went straight to Tarapacá. They've got a country house in the middle of the vineyards – it looked like the setting of a beautiful wedding. Because we'd been travelling, they gave us a few hours to chill by the pool, drink wine and get to know each other. We had a tasting and toured the vineyard, which brought the wine to life a bit more. We also had an incredible barbecue dinner on the terrace and played some music. It was very chilled. Getting to know Marcela, the export manager, was incredible. I've worked with VSPT for a few years across a few roles, and it was really nice to put it in context, meet everyone in person and see the setting.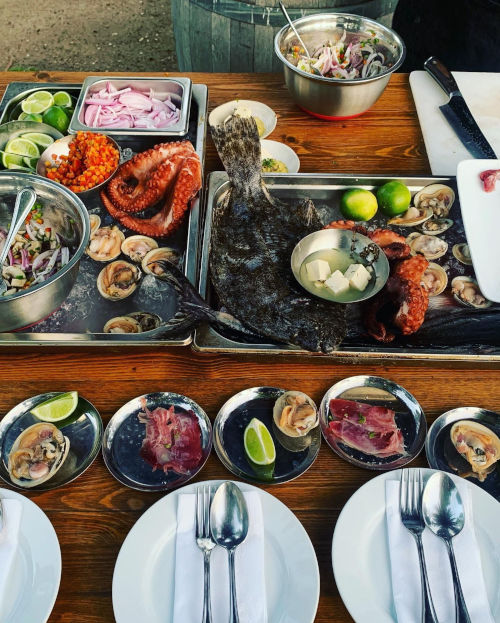 At Leyda, they homed in on terroir as a unique selling point for their wines. It was clear they have worked hard to do a lot for the environment, including building corridors for wildlife to be able to go through the vineyards. Seeing that was one of my favourite things, and so was taking in the vast expanse – you see miles and miles of perfectly planted vines. The sheer volume they have to look after is amazing.
While everyone was taking notes on wine, I was taking photos of the food! We had octopus and lamb on the barbecue on the first evening, which was absolutely incredible. And at Leyda, they set up the tent in the middle of the vineyards and gave us a lovely meal. To start, we had strawberries with salt and crumbly cheese on a flat crouton, and I thought it was a really interesting combination. I loved it.
Troy Christensen – Chief Executive Officer
We got the sense that Tarapacá is an actual winery – I think sometimes at entry level, there is a lack of recognition of the heritage of the brand. There are a lot of virtual brands at entry level, particularly from Chile, but actually seeing Tarapacá's vineyards and having a tasting there brought home its story. It's very helpful to go there and take it all in for yourself, so you can communicate it to customers.
We always talk about Leyda and how it differs from other parts of Chile, but actually visiting and seeing how they have invested significantly in irrigation was a special experience. They have built a cool-climate winegrowing region, but they wouldn't be growing anything if it weren't for all that irrigation. I think Chile in particular struggles with expanding beyond good, inexpensive entry level. A lot of producers have tried to premiumise. Seeing what Leyda is doing in that cool climate, I think there's a story there that can help Chile break away from the global perception of its wines.
Tom Bacon – Senior Sales Manager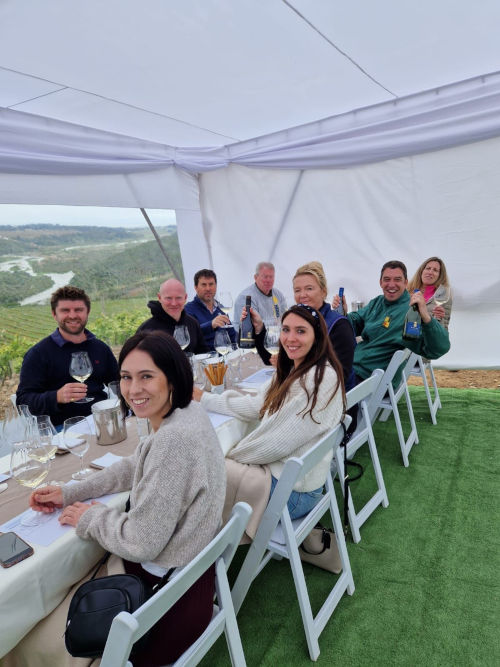 We had a great lunch when we arrived at Tarapacá and went for a swim in the pool – it was basically the coldest swimming pool I've ever been in, almost like run-off water from the Andes! They also gave us loads of different kinds of seafood. Everyone expects steak, steak, steak when you go to South America, but we had the most amazing polpo, octopus, which was incredible – it was cooked with really nice sauces. And we had steak at Tarapacá too, of course. As you'd expect, it was really nicely seasoned and paired well with the wines. When I do staff trainings, I always say it's no accident that wines and food from a particular country go hand in hand, because they've grown up together.
But the highlight of the trip for me was going to Leyda. We had a great tasting in the vineyards, right on the coast overlooking the Pacific. That was incredible, sitting in a tent in the middle of the vineyard trying their wines. It was such a lovely day.
I didn't realise that VSPT has such a focus on sustainability. They've been rewilding their environment and are creating land bridges for animals from the mountains to get down to the river. There was a huge push for that. We were kind of given a PowerPoint presentation, and it was really interesting to see how much they've been doing from a biodiversity point of view – they've even hired someone as a sustainability champion in the vineyards.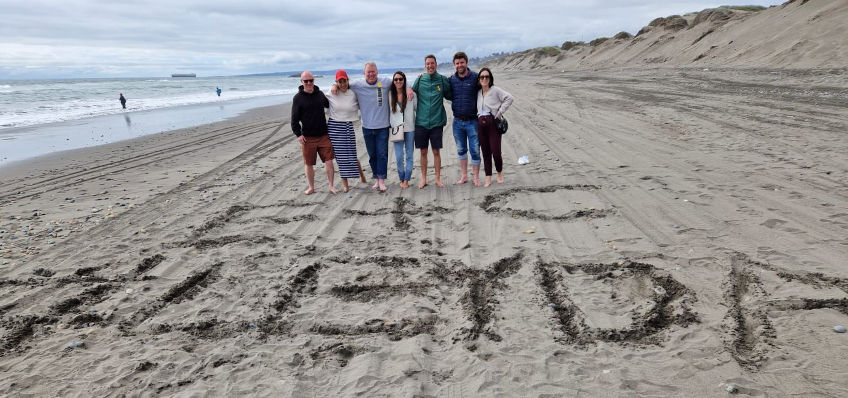 Top 3 wines – by Tom Bacon
| | | | |
| --- | --- | --- | --- |
| 1 | | Viña Leyda Origine White Label Pinot Noir | Leyda's cool-climate version of a Côte de Beaune. Origine is clean and fresh on the nose, but displays more depth and complexity on the palate. Tasted in a tent in the vineyard overlooking the Pacific Ocean, soft tannins encased our mouths like velveteen red berry nectar. The silky finish led some to muse that this particular Pinot Noir had performed a cueca on their senses. That's a good thing, by the way. Others, clearly stunned into verbal paralysis, said it went down nicely. |
| 2 | | Viña Leyda Garuma Sauvignon Blanc | If Robert Parker can dish out Parker points, then Tom Bacon and a panel of esteemed fellow judges see fit to dish out 'Porker' points. The first recipient of this new 'prestigious' and (maybe?!) industry-leading award, gaining over 8 Porkers out of 10, is Leyda's single-vineyard Garuma Sauvignon. This is a cool-climate answer to New Zealand Marlborough Sauvignon Blanc, but it's more than just an answer – it's a witty retort of such verbal dexterity, it would make Russell Brand cower in inferiority. It has zip and citrusy zest, and its fruit, acidity and alcohol meld together in perfect balance. The cooler climate unveils subtler flavours of cut grass, blackcurrant leaf and a hint of green bell pepper. |
| 3 | | Tarapacá Black Label Gran Reserva 2021 | Carménère is a dark-skinned grape variety originally found in the vineyards of Bordeaux, but it's made its spiritual home in Chile. This wine is one such success story. We were amazed by its elegant perfumed aromas of black fruit, with fine tannins and more black fruit, spice and chocolate on the palate. Twelve months in French oak gives it extra complexity and balance. 'One to look out for' when back home was the unanimous verdict, uttered quickly between enthusiastic slurps. |
Part of our 50 Year Anniversary Focus 50 Series