Focus 50: Trip 20, Planeta (Italy)
To mark Enotria&Coe's 50th anniversary this year, we're shining a light on 50 outstanding producers who have been instrumental to our company history. As part of our celebrations, members of the E&C team took a trip to Sicily to experience the world of Focus 50 winemaker Planeta first hand – here, they share their highlights.
Rosalinda Zagaria – Brand Manager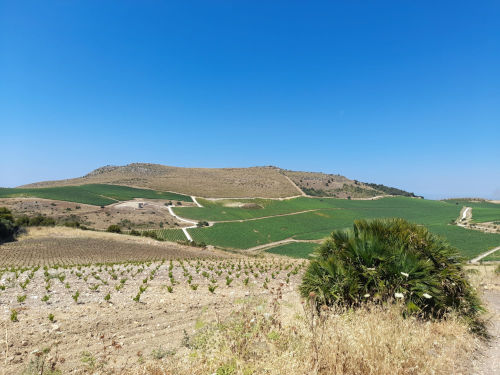 I organised several trips to visit our producers this year, and the trip to Sicily was a voyage of discovery: not only in getting to know my travel companions, members of the E&C team, but also in learning about Planeta, which operates like a big family. The team at Planeta are dedicated to making excellent wines that communicate the values of their land.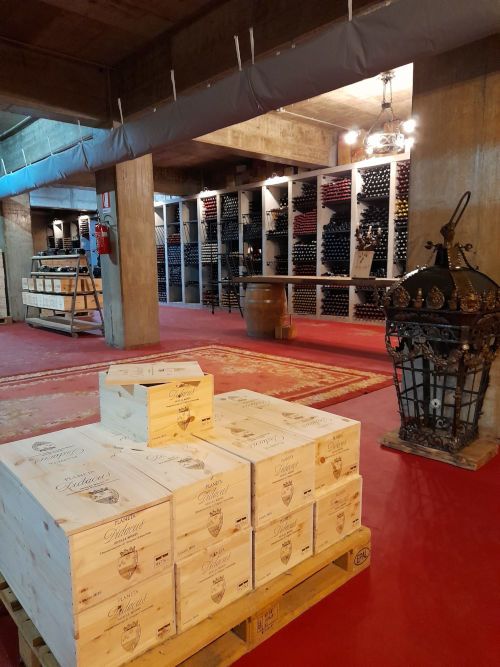 The trip was a discovery of diversity too, as we got to explore the different types of soils and grapes that characterise Planeta's wines. Our three-day adventure was filled with cellars, vineyards, trainings and tastings. The landscape of Sito dell'Ulmo impressed me most. The winery is set on a hill at about 400 metres above sea level, with a terrace overlooking vineyards of Nero D'Avola, Merlot and Chardonnay. Meanwhile, Lake Arancio helps mitigate the very high temperatures that are common in the area.
I was also stunned by Serra Ferdinandea, Planeta's latest project and a joint venture with the Provencal Oddo family. This biodynamic estate is magical, with its pristine biodiversity and green hills – it's the perfect place to grow grapes for authentic and pure wines. We announced the introduction of this winery to the Enotria&Coe portfolio in September 2022, and are delighted to have them on board.
Gergely Szabo – Business Development Manager
Visiting Planeta was like zooming in on a very detailed map. It was amazing to see the minuscule details and all the extra care they take in making their wines – it's one of the most terroir-oriented wineries I have ever come across. Entire winemaking countries have a lot less to play with in terms of soils and climates than what Planeta has at its fingertips. The Menfi, Noto, Vittoria, Capo Milazzo and Etna estates are so radically different, and the celebration of this diversity can be tasted in every glass.
It was also fascinating to see an extended Sicilian family in action. Thirty-odd family members from across generations are involved in the business in multiple capacities. The amalgam of people coming together on this island over thousands of years really makes this place unique. Whoever said that Sicily is a land all its own is absolutely right.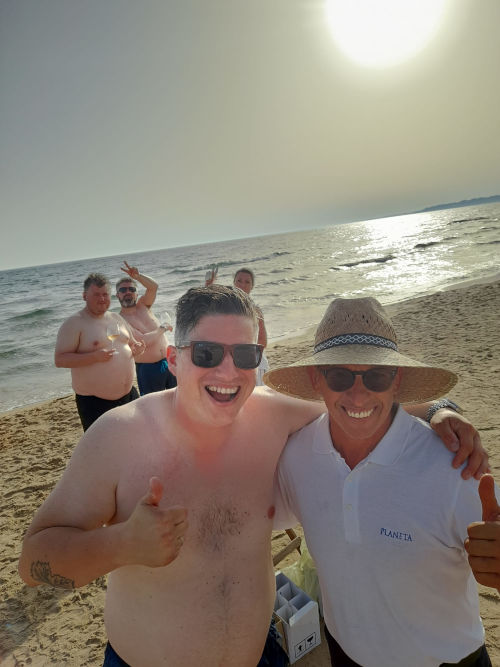 One of my favourite moments was when we were taken to an empty beach, a beautiful strip of sand below a massive olive grove, for a dip in the Mediterranean Sea. Getting down to the beach from the plateau was quite an exercise in a 4x4 driven by Beppe, one of the family's seniors. Once we got down and in the shallows like stranded white whales, there was a tiny old Fiat Panda skipping and jumping down the road like some overly confident mountain goat. After the impossible descent, the Panda stopped on the edge of the beach. A tiny old Italian man with the most perfect smile got out – one of the workers at Planeta. He assembled a cross-legged wooden table that was almost the size of his car and placed some glasses and two ice-cold magnums of Planeta Rosé on it. To complete the beach feel, he donned an enormous straw hat. You could almost hear the Fellini movie soundtrack in the background.
David Prow – New Business Manager
As I get older, travelling becomes more and more a chore! In this post-Covid world, the trip from Glasgow to Sicily took double the time expected. However, this beautiful island allowed us to quickly forget the challenges of travel.
Wherever I go, for work or leisure, I like a short run on the first morning to get a feel for the location. Leaving the hotel and heading away from the Planeta vineyards, I was struck by how much of the island is under vine and how stunning the whole island appears – even if I was hoping for more of a flat run.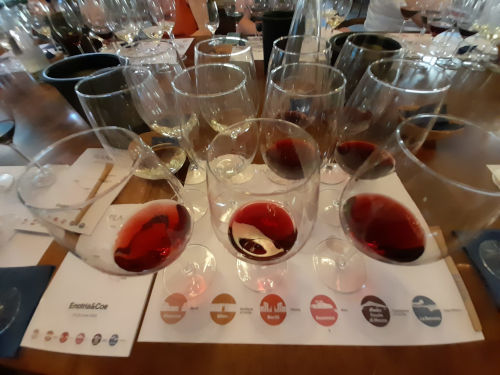 Day one found us up in the hills surrounding Menfi. Hills and 4x4s are not really my comfort zone, as I'm not great with heights or driving down steep vineyards with no visible road. But these remote vineyards were stunning and an absolute high point of the visit for me: mountain vineyards, views, information on the wineries of Ulmo and Dispensa and incredible regional and seasonal food.
I had enjoyed Planeta's wines before the trip, but since returning I have a much greater understanding of the amazing wines of different parts of beautiful Sicily. I now feel like I owe it to my customers to show them the wines of my friends at Planeta.
Karl Tazzyman – Territory Sales Manager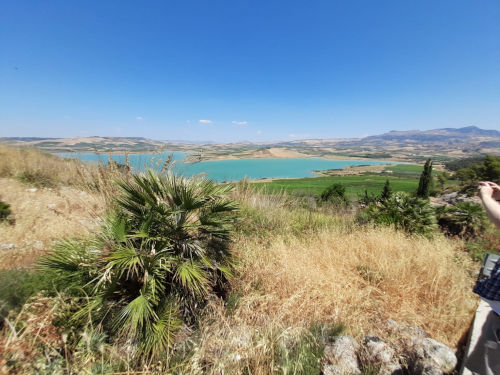 I've tried the wines of Planeta over the years, so I knew that the offer to visit the estate was one I did not want to pass up, particularly as this would be my first visit to Italy. Sicily itself is an island which has its own spirit, made up in part by the influences of the many visitors to its shore.
We were driven through lush green pastures. The mountainous terrain has not all yet been populated, and this was encapsulated in our visit to Serra Ferdinandea, a vineyard which has not felt the industrialised touch. Overall, Planeta is a winery that has taken its early influences from places such as Australia, and it is very much using the past to look to the future.
When I mentioned that it was my first time in Italy, many people would respond by saying it was my first time in Sicily. There is so much pride in the land from both people who were born here and from those who have adopted Sicily as their home, as we discovered by meeting people like Penny, Planeta's England-born export manager, and winemaker Patricia from Hungary. We were only in Sicily for a relatively short time, but I could feel my inner Sicilian growing by the hour.
Alistair Wilson – Territory Manager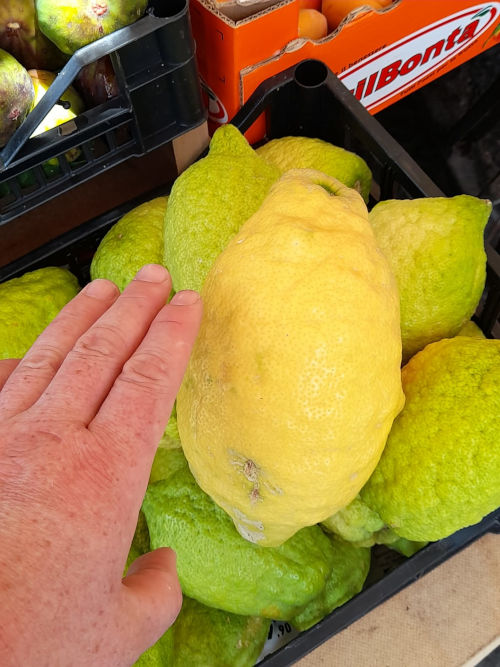 Before arriving in mid-30-degree heat in Palermo, the closest I had been to Sicily was gazing at the silver screen and following the lives, loves, ups and downs of the Corleone family. I'm not sure if the two (The Godfather trilogy and Sicily) can ever be separated in modern culture, however I wasn't going to reference it, uncertain of how it would be received.
To say I was super animated about seeing one of our true DNA producers is an understatement. I couldn't wait to experience the lemons, wines, vineyards and olive oils, so it was love at first sight upon arrival at our hotel (no, I'm not talking about you, David!). There, we had a selection of snacks with a few wines to help everyone acclimatise. I first tasted the slightly chilled Plumbago Nero d'Avola, which was absolutely stunning and remained my number-one wine of the trip until I tried the La Segreta Grillo… or perhaps it was the Didacus tasted in the sumptuous surroundings of the cellars at Menfi… or maybe the 2021 Rosé Sicilia in magnum on the beach after a swim, with the sun slowly disappearing over the Strait of Sicily.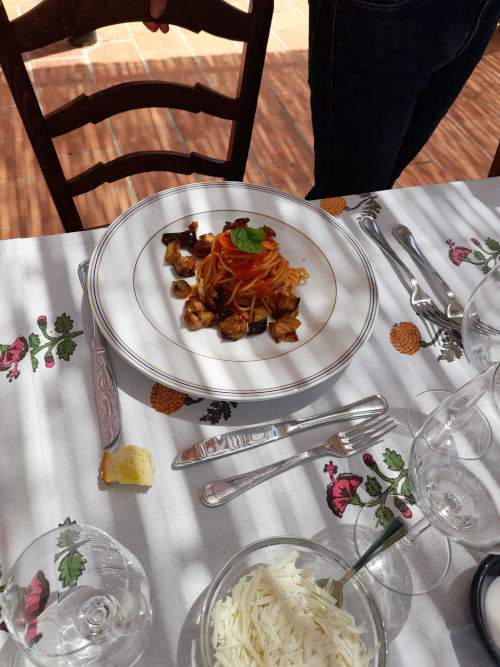 Whether it was the people, the magic of Sicily or the wonderful guidance of the Planeta staff, the trip was so imbued with warmth, happiness and genuine sincerity. A special note has to go to Rosalinda for her continuous care and advice – I left Sicily with a much greater understanding of wine, its place in history and the island as a whole.
We learned, for instance, that there are over 65 grape varieties in Sicily. Some are not commercially grown, however many have a great amount of historical interest. One of these is Mamertino, the preferred wine of Julius Caesar, which we tried during our first stop at Menfi. Menfi has been the beating heart of Planeta for 17 generations. Here we got to peek behind the curtain and delve not only into the history of the family, but also learn more about their vision for the future.
It would be remiss of me not to mention the amazing food, which was made even better by Planeta's sensational olive oil. The oil is used in many dishes – most amazingly (for me) in a lovely dessert with thyme, rosemary and strawberry. It might not sound like a dessert, but it was the best I've ever tasted: a true crescendo and a wonderful example of a local product, expertly harnessed.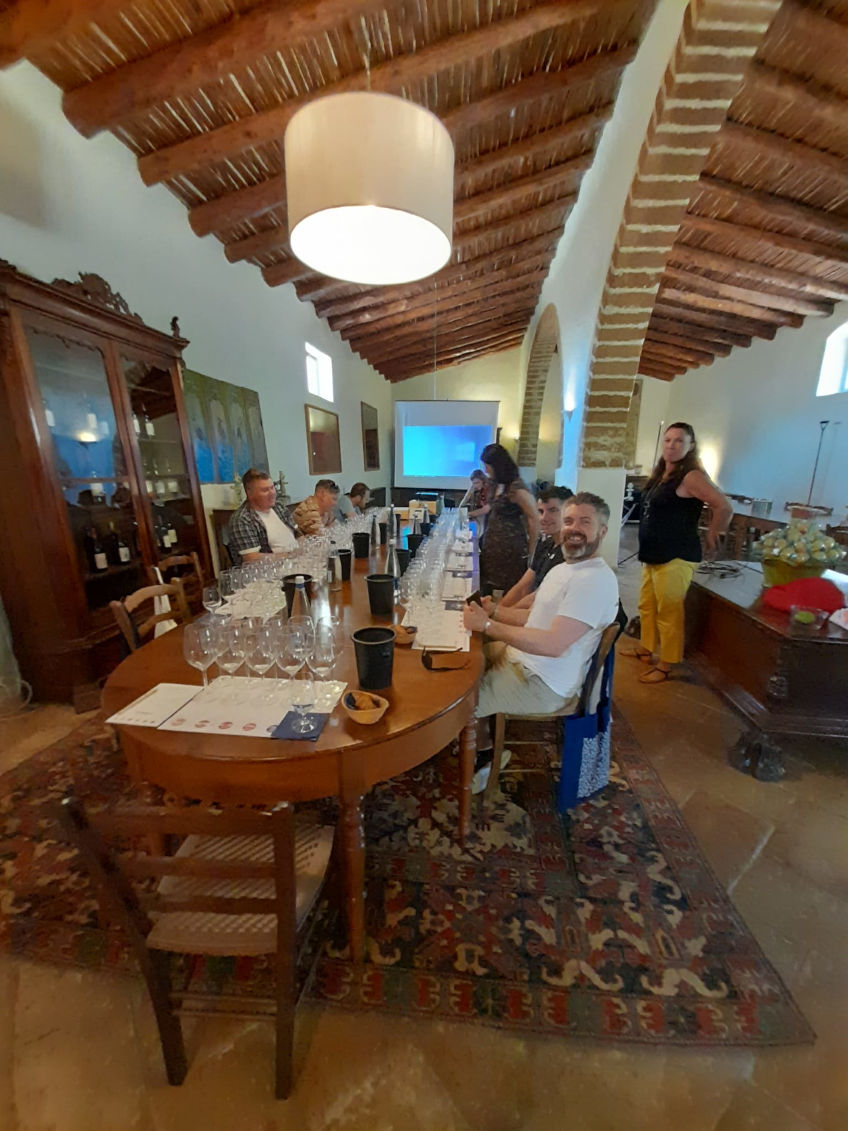 The team's top 3 wines
| | | | |
| --- | --- | --- | --- |
| 1 | | Sito Dell'Ulmo Merlot | Very rich, with aromas of thyme and lavender, as well as sweet, juicy blackcurrants and candied violets. An intriguing combination of pleasant tannins and extraordinary length. |
| 2 | | Chardonnay | Creamy and crunchy. Elegant, with great freshness. A slight mineral touch harmoniously combines the flavour of ripe yellow peaches, acacia honey and marzipan. |
| 3 | | Terebinto Grillo | The terebinth is a shrub with shiny leaves that is associated with Sicily and the Mediterranean countryside. A single-variety Grillo, aromatic and intense. |
Part of our 50 Year Anniversary Focus 50 Series