Focus 50: Trip 35, Grupo Peñaflor (Argentina)
To mark Enotria&Coe's 50th anniversary this year, we're shining a light on 50 outstanding producers who have been instrumental to our company history. As part of our celebrations, members of the E&C team took a trip to Argentina to experience the world of Focus 50 winemaker Grupo Peñaflor first hand – here, they share their highlights.
Scott Trutwein – National Account Manager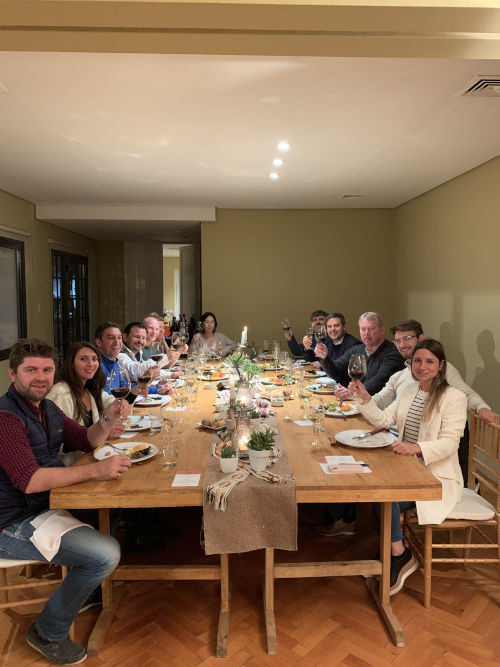 I've been lucky enough that this was my third visit to Argentina, but I'd never been to Peñaflor. When we got to Mendoza, I saw that it had changed a lot. It had been years since my previous visit, and the city had built up and expanded. We visited three wineries during the trip to Peñaflor. The first was Mascota, about 45 minutes from Mendoza. Of 300 days of sunshine in Mendoza, we managed to get one and a half days of rain, which was quite amusing.
They have a famous winemaker called Rodolfo Sadler, known as Opi. After we had been round the vineyards and enjoyed some rain, we decamped to his house for a tasting of the Mascota range around the dining room table. With Opi and the viticulturalist, we went through a raft of wines, Malbecs mainly, and also some Chardonnay. Then we had a lovely typical Argentinian dinner accompanied by their wine. They kept doing laps of the table with different cuts of meat until you effectively had to say "stop". We knew that there was a tango show going to take place at some point but it had fallen out of my mind, and then two couples looking incredibly smart suddenly started performing tango at the end of the table! It just added to the whole ambience of the dinner.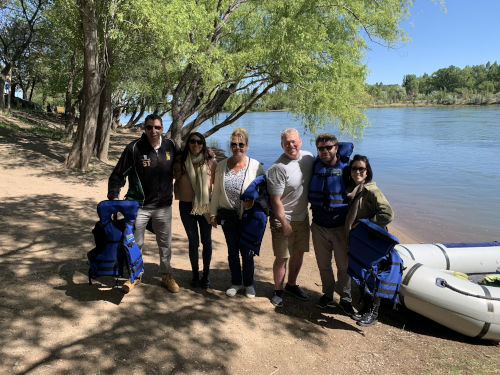 The following day we went to Trapiche, which is the main brand within the Grupo Peñaflor portfolio. If you ever walk into the Co-op and see a bottle of Malbec called Pure, you will notice an image of a house on the label – that's where we went. Trapiche also makes a wine called Estacion 1883, and we got to see the actual railway that gives the wine its name. It's not functioning anymore, but they converted one of the train carriages into a bar. Of the wines we tasted, I think the Terroir Series was fantastic. We did a brilliant tasting and then a nine-course lunch. I work in the off-trade, so it was great to be able to taste some of the wines that I don't allowed to sell and to understand the breadth of what these wineries do.
El Esteco is in a place called Salta, which is about eight hours north. We weren't going to drive eight hours, and we weren't going to fly up there, so instead we drove a couple of hours to Las Pircas, a family-owned ranch at 2,000 metres altitude. We did the El Esteco tasting there. It looks like we've been photoshopped into some of the photos. The grass was so green, and the Andes were so white. We actually benefited from the rain we had in Mendoza, because when we went closer to the Andes the rain had become snow – that's why they were so crisp and snowcapped. Had we not had that rain a day before, we wouldn't have gotten such a glorious picture.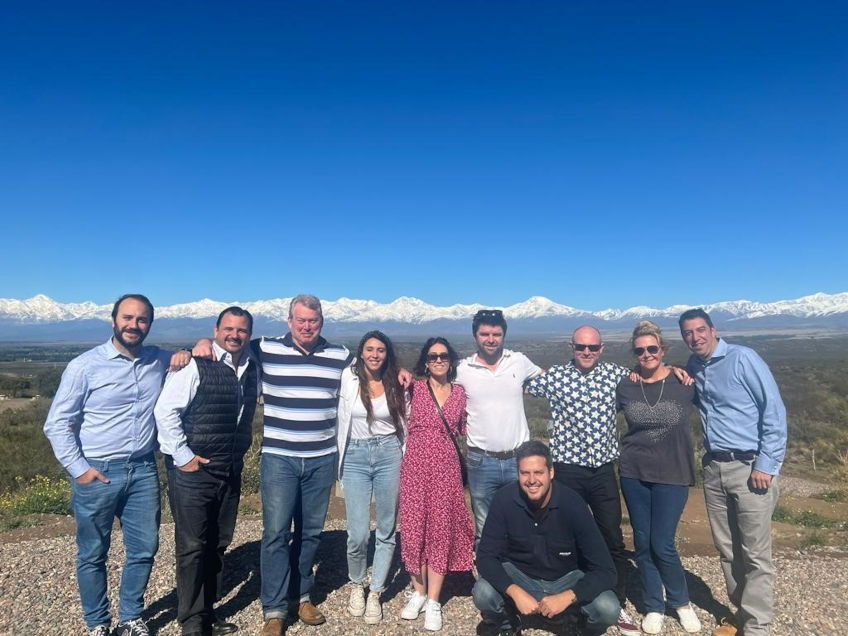 Diane Davidson – Territory Manager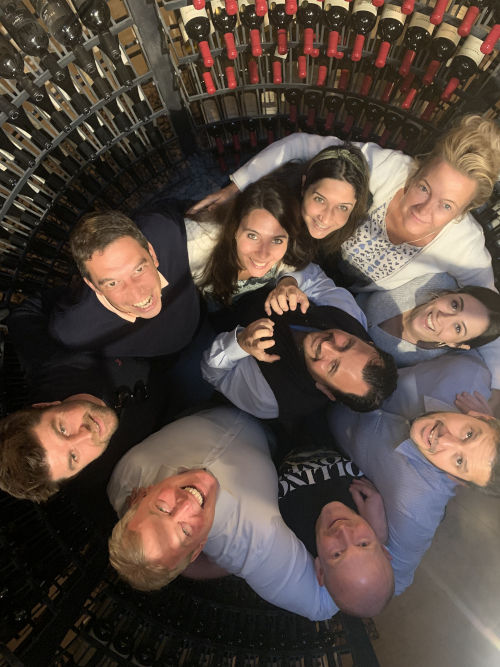 We flew into Argentina quite early in the morning, and then the Peñaflor team took us to some vineyards and they talked about soil types. We went to the Mascota vineyard, and it was interesting to see the vast expanse of the vineyards.
At Trapiche, we had a look around the winery. I sell a lot of their wines, so it was amazing to see the winery. One wine that I sell quite a bit of – Estacion 1883, kind of my go-to wine – has an image on the label, and actually seeing the label come to life was surreal. We got to see the building with the railway track where the grapes used to come in. It was a really beautiful day. And then we had a nine-course lunch. It was so long – the amount of steak we had! The filet steak with vegetables, which we had with a wine called Iscay Syrah Viognier, was a highlight for me. We started the meal at two o'clock and finished at half five, then had whisky after. Each course was fabulous, and they did all the pairings perfectly.
But my favourite memory was when we were with El Esteco and went to Las Pircas for the day's activities. We arrived, then we had lunch and then we went horse riding. It was incredible, set against the backdrop of the Andes. The scenery was so spectacular, and then we came back and had a lovely tasting with El Esteco at the ranch. It was absolutely amazing, being at one with nature and tasting the wines in that environment. I've been in the wine trade for about 30 years, and because I've been to so many vineyards, they all become quite similar. So it was lovely to try the wines in that setting.
Troy Christensen – Chief Executive Officer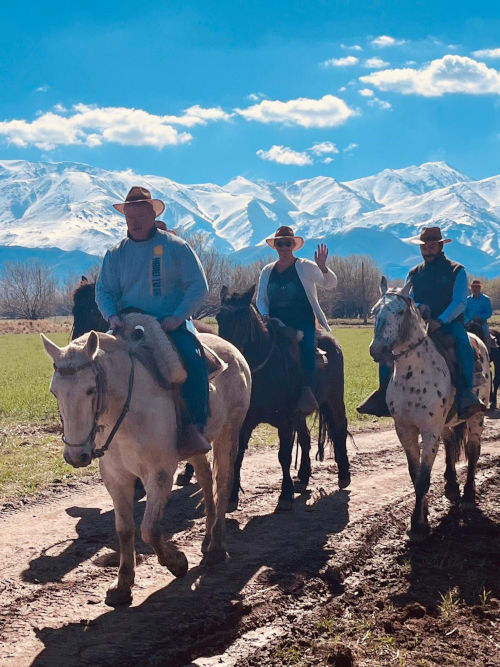 Argentina is so Malbec focused, but with Peñaflor investing in a coastal brand, Costa & Pampa, it's bringing cool-climate varieties into the mix. It's showing some really interesting innovation, so it was great to learn about that in person.
I'm sure everyone would say the horse riding trip at Las Pircas was a major highlight of the trip! But we also had an extensive lunch with everybody at Trapiche, including the winemaker and the viticulturalist. The opportunity to sit there, enjoying food from some really great chefs at their restaurant, hearing about the wine from the people who made it and having a nice long conversation about business was great. The lunch went for hours, with whisky at the end. I think it was a very positive experience, because sometimes when you're in quick business meetings, you don't necessarily really get beyond just the numbers and the strategies. We had good people meeting with and engaging with their folks, and that was excellent team building on both sides.
Top 3 wines – by Tom Bacon
| | | | |
| --- | --- | --- | --- |
| 1 | | La Mascota Vineyards La Mascota Chardonnay 2020 | 'La mascota' means 'the pet', and this wine certainly lives up to its billing. Much like a teacher's pet, it delivers plenty of apples up front. The winemakers have clearly done their homework too, as fresh pear and apple aromas give way to more developed baked and stewed apple flavours. The mouthfeel is creamy yet elegant, displaying Burgundian levels of malo and oak manipulation without overpowering the apples and pears. A masterpiece of poise, this is a vinous Werther's Original (with the additional benefit of not having to visit your grandparents' house to taste it). |
| 2 | | La Mascota Vineyards Unánime Gran Tinto Vino 2018 | The Latin 'unanimis' means to be in complete harmony or accord, and Unánime harmoniously blends 60% Cabernet Sauvignon with 25% Malbec and 15% Cabernet Franc from stony Uco Valley soils to create a complex, structured, rich wine with character. Like a tango on the tastebuds, this wine starts with a graceful kick of blackberry and blueberry, tobacco and a swirl of rosemary and thyme notes. Plum, fig and cassis burst onto the palate like a roundhouse can-can of flavour. Unánime by name, unanimously liked by nature. |
| 3 | | Trapiche Perfiles Textura Fina Malbec 2020 | The clue is in the name. This was introduced as 'silkier than silky, the silkworm's silk pyjamas', and coming from Mendoza's revered Valley Luján de Cuyo, it didn't disappoint. While quite a full-bodied wine, the tannins glide across the gums – poles apart from the chalky, grippy tannins in other 'gutsy' Malbecs found nearby. It demonstrates how Malbec responds to different soils. Trapiche's Perfiles Calcareo, for instance, is grown on clay soil and has lovely creamy damson flavours, a beautiful velvety texture and lingering finish. It's well worth comparing the Calcareo and the Textura Fina – with a rib-eye steak on hand, naturally. |
Part of our 50 Year Anniversary Focus 50 Series