Focus 50: Trip 1, Ken Forrester (South Africa)
To celebrate Enotria&Coe's 50th anniversary, in 2022 we will be celebrating Focus 50 producers. Getting a team of Enotrians out to South Africa in a dreary, grey January was just the ticket to combat the onset of Seasonal Affective Disorder, and we couldn't imagine a better way to kick off the Focus 50 than with a visit to the legendary Ken Forrester.
Ken Forrester was a well-known Johannesburg-based restaurateur before he decided to uproot and move to Stellenbosch in 1994 to set up his own winery. The parcel of land he fell in love with is one of the oldest wine farms in the Cape, with records dating back to 1689. When Ken bought the property, there were some vines planted in the 1970s, which he embraced to champion quality-driven Chenin. His insistence on the potential of a grape that until then had been used for bulk wine rapidly earned him the moniker "King of Chenin"
Today, Ken's range includes his iconic The FMC, together with late harvest wines, sparkling wines and Rhône blends. All fruit is farmed organically, but Ken won't entertain pursuing organic certification because it would be an admission that there is any other way to grow high-quality fruit. A larger-than-life character, Ken has a story behind the naming and origin of every single wine.
Kate Williams - Territory Manager, South Team
"This is dreams-come-true territory for me: having represented Ken Forrester's wines in the UK for nearly 15 years I am finally back in South Africa, meeting up with Ken in person, his family and team. We spend the day tasting lots of wines and learning more about the vineyards, together with the challenges and successes they have faced over the last Covid-ridden years. Remarkably they had a glut of Chenin Blanc so instead of producing bulk Chenin, Ken and the team decided to try their hands at making gin. And so, the Jackalberry Jenever Gin was born, just another example of how winemakers adapt to the challenges posed by the natural world."
"The main message I have taken from Ken and all the other winemakers we visited during our visit to South Africa is the focus on quality in the vineyard driving quality in the bottle, and so their commitment to precision viticulture. This showed in our tasting of Ken's wonderful wines - My picks of the day were Pat's Garden and a lively glass of Sparklehorse."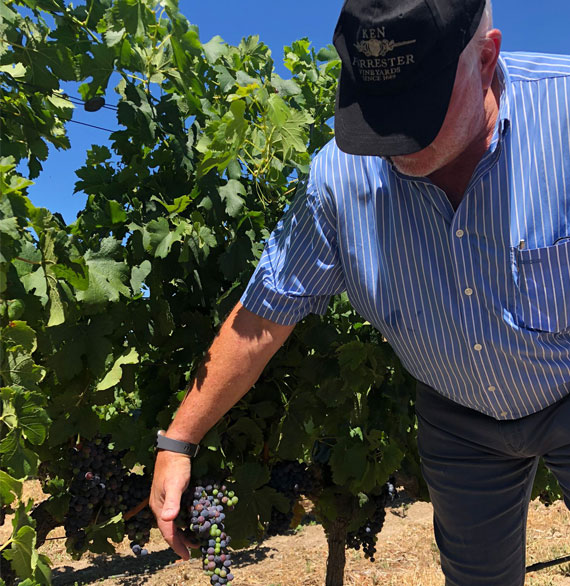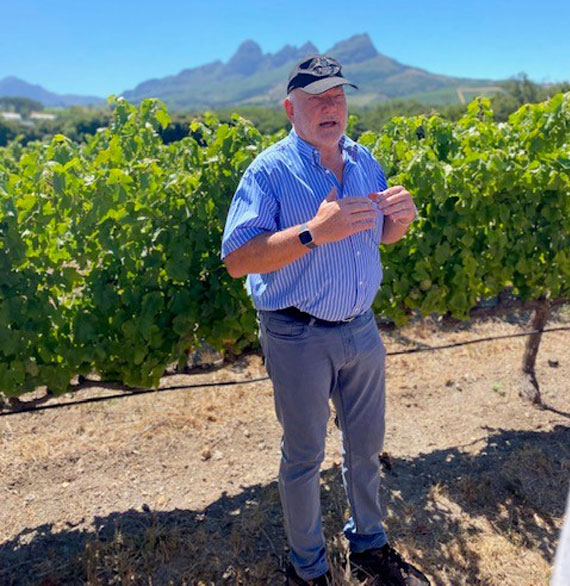 Cara Lester - National Account Manager
Perfect blue skies and lush green vineyards stretching out before us all the way to Helderberg Mountain in the distance. A throng of dogs weaved between our legs, and wild exotic aromas drifted through the air. It seemed utterly impossible that just 18 hours ago we were in lil ol' grey England, and were now right here in the heart of Stellenbosch. If anyone could shake us into reality, it would be Mr Ken Forrester.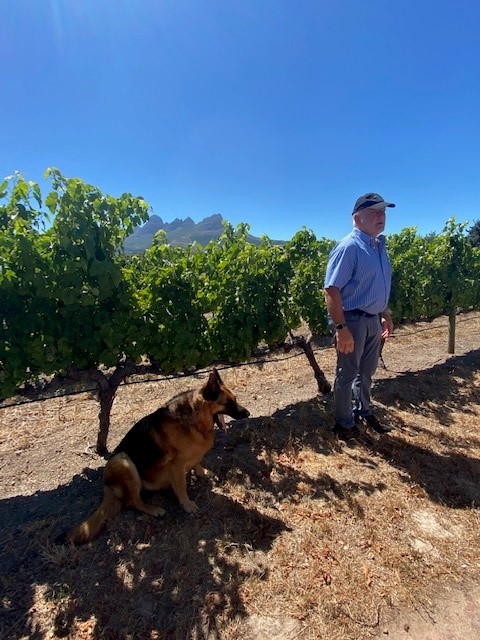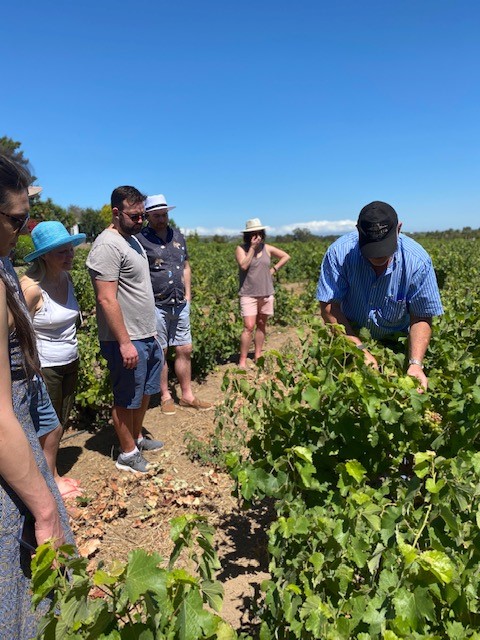 His boisterous and outgoing nature was matched by a welcoming 11am Jackalberry Jenever Gin and Tonic followed by a dreamy walk around the estate, where we swooned over old bush vines cradling that prized Chenin, soon to become Ken's flagship wine, The FMC.
Ken, quite the raconteur, enthused over his wines and life, captivating us equally by both. We sniffed and swilled our way through 18 wines, from new creations like the strawberry-led funky (cool, not stinky) Stained Glass Pet Nat, a steely Swartland Chenin Terre Noir and the deliciously crunchy Cinsault 'Misfits' to our loved portfolio favourites.
And how does The Gypsy age, Ken?' piped up Zippy. 'Well, let me show you,' responds Ken, pulling out a bottle from his second ever vintage of this wine, in 2001. He wished us well on our way with a box of Ken Forrester Rosé, which we happily got better acquainted with in the pool. What a day!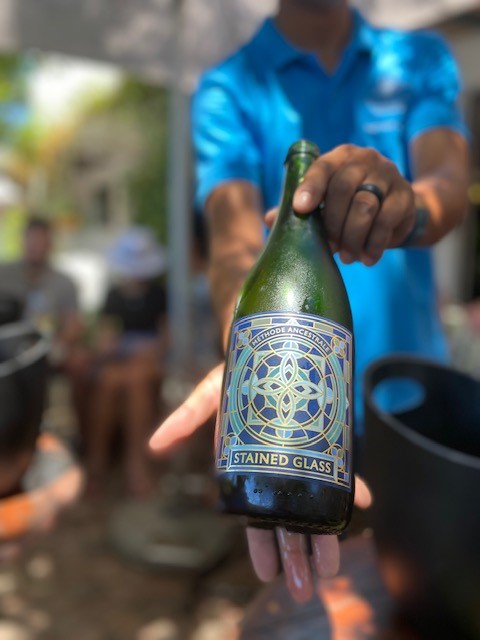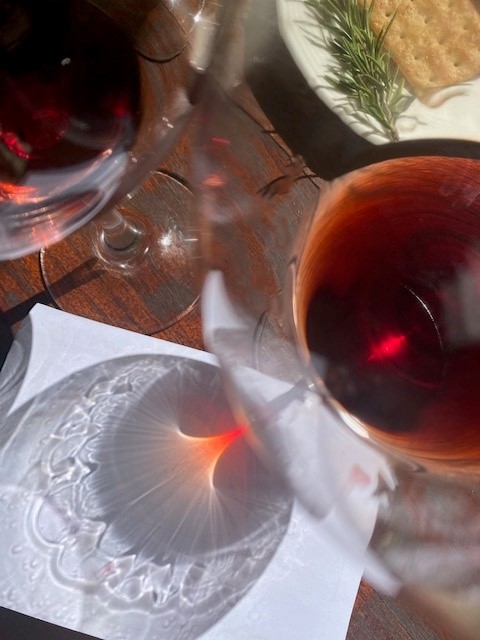 Anna-Sophia Rzevski - Customer Service Manager
The moment we arrived, we were welcomed into Ken's world. Not only did we get to try an array of different wines, each with a unique profile, we were also taken on a tour around the vineyard and told the history and the method behind these wines.
Working in the operational side of the industry and of Enotria&Coe, it was so special to have the opportunity to see first-hand the source of everything we do.
This experience has motivated me even more to go above and beyond in delivering the best customer service to ensure we can get products like these out to as many people as possible.
The team's top 3 drinks
| | | | |
| --- | --- | --- | --- |
| 1 | | The Gypsy 2001 | Surprisingly vibrant for its age |
| 2 | | Jackalberry Jenever Gin | Aromatic lift and redolent of grapefruit zest |
| 3 | | Terre Noir Chenin Blanc 2020 | Textured melon and peach |
Part of our 50 Year Anniversary people series
This trip was carbon offset by Leapfrog