Focus 50: Trip 33, Crasto (Portugal)
To mark Enotria&Coe's 50th anniversary this year, we're shining a light on 50 outstanding producers who have been instrumental to our company history. As part of our celebrations, members of the E&C team took a trip to the Douro Valley to experience the world of Focus 50 winemaker Quinta do Crasto first hand – here, they share their highlights.
Craig Evans – Business Development Manager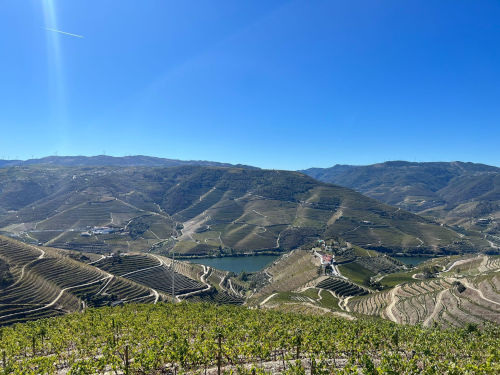 I've been in the trade for quite a long time. I've been to wineries all over the world but have never actually been to Portugal before, so to go there and visit one of the oldest and most famous Port houses was a real treat. Crasto was beautiful. It has the most stunning views of the Douro Valley and the river. The place is immaculate – probably one of the cleanest wineries I've ever seen, and the all-round hospitality was amazing. The Roquette family is incredibly passionate about what they're doing and where they're going.
We had dinner with the head winemaker, Manuel Lobo, in the evening. I've been in the industry quite a while but I learned a lot from him. He was very interesting, very engaging and super passionate. The next day we had an in-depth tour of the winery and tasted tank samples of the whites and the reds. Then went on a rickety old truck up to the highest point of the vineyard, which is 600 metres above sea level. It was quite a scary journey for me because I suffer from extreme vertigo. The vineyards are set out there on steep terraces, and we were on a track that was probably built for horses and goats, in an old truck from the '70s. So it was quite an experience. But once you got to the top, it was just stunning. It ended up being my favourite moment of the visit. I knew it was going to be fraught with fear for me, but the end result was worth it. It was scary, but it was wonderful.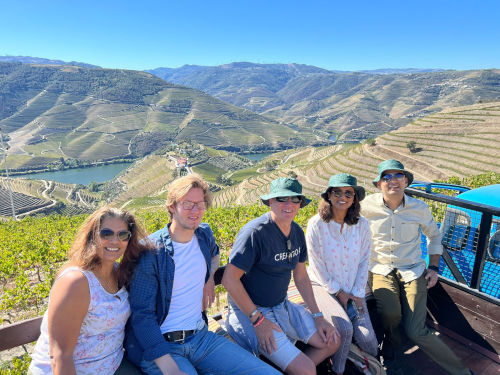 We also met export manager Miguel Roquette. He's very commercially minded and told us about their future plans – they're extending the winery, building more swimming pools, trying to bring in more visitors. It was very different from the winemaker, who spoke about the wine and his passion for wine. So we had two very contrasting meetings, and it was interesting. I went there expecting this old, historic family operation with traditional values, and I came away thinking that they are a very old, historic family, but they have very modern values.
Crasto's focus is more on still wines than Port. I was really looking forward to exploring Port, but I do understand their reasoning. Port is in decline and they have to rethink their strategy moving forward. Their winemaking is phenomenal, and they've spent an awful lot of money doing things properly and getting it right. I wish I could've stayed longer! I'd definitely want to go back again.
Vanita Kabariya – Purchase Ledger Clerk
The first thing I noticed when I entered the estate was the ancient feel to everything, and just how vast the land was. There's so much open space. You're driving upward through the hills, and you notice the altitude and the greenery. There were broken buildings and stones and ruins, and it felt like we were on a history trip. But at the same time there were modern buildings around. You realise the history of it – they've been making wine here for generations, and you could feel that tradition.
We met the owner's son, Miguel, and he briefly took us around the area. It was lunchtime, so we ate and he explained about the whole family and their history. We did some wine tasting. It was really relaxing. I was a bit nervous because I had never done a trip like this – I work in finance – but it was really nice.
On the second day, they took us in an open truck up in the mountains. We were a little nervous because the truck was old and the roads uphill were narrow. But when you're driving in an open vehicle you can actually see around, and that was really good. I'm from Africa, from Kenya, and it reminded me of going on a picnic growing up. Back then, not everybody had cars, so you would get a truck. My dad was in construction, so he had this really big open truck. Our family and friends would get in, and we'd take our food along. It felt like that, and it was nice.
My favourite part was the vast openness of the land. It feels like you can breathe. Living in London, you're constantly surrounded by buildings, and you don't see much vegetation or greenery. At Crasto, you can just be silent, sit, have a glass of wine and watch the sun go down.
Bhavik Parikh – Head of Applications & Technology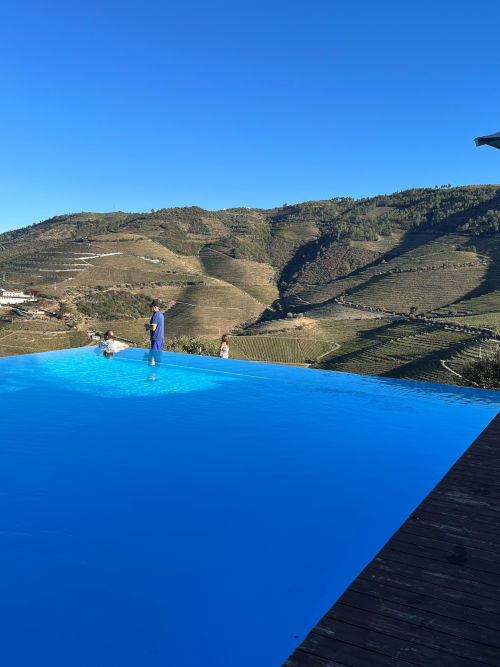 I think my biggest highlight was the trip up the hill in an old truck with an open back. The weather was amazing, and they also had an infinity pool. Of course, the water was a little bit colder than what we were expecting, but you don't get to experience an infinity pool very often. It was up on the hill, surrounded by the mountains. You just see the water and the mountains behind it – quite a spectacular view.
Crasto has a vineyard in the hills that we were driving through. At the top, there's a flat building, and they're going to build a guest house up there as well, apparently. The architects who designed the infinity pool are remodelling all the buildings and guest houses.
We also toured the winery, and it was interesting to see the winemaking process. It was my first winery visit so I didn't have anything to compare it against, but I enjoyed learning how it works beyond just fermentation. And the next day we also tasted lots of different wines with the winemaker – that's where I learned my spitting technique! We tasted lots of different wines at lots of different ages, which was great.
Sharda Hirani – Assistant Accountant
The view of the Douro Valley was remarkable. That was my first impression. We were right at the top of the hill, and you can see out onto all these vineyards. There are loads – just row after row after row down the valley. It was breathtaking. Taking pictures doesn't do it justice. You have to be there.
Working in finance, I don't get involved with the wines themselves, I just do the number crunching. So I found the best thing on the trip was just learning how everything's done, from the harvest, to the pressing, to the fermentation – we went through all the stages. I'm not a big wine drinker; I drink a little bit of wine but not too much. But it's just fascinating to actually experience the whole process. Crasto was big, inside the winery itself. It was massive, and I was awestruck, to be honest. I loved it and was glad to be given this chance to visit a winery.
Mateusz Kowalczyk – Business Development Manager
You can imagine how wonderful the first impression was: we're sitting on a terrace with the valley and the river underneath our feet, sipping lovely wine well before midday. I mean, what could possibly go wrong? That was an early day for all of us, because we were at Heathrow at six o'clock to depart for Portugal at seven o'clock. But the minute we arrived, we saw that it was so worth getting up early to sip wine where it's made. The Douro Valley is honestly one of the most extraordinary places for winemaking, from its steep slopes, to its very high temperatures during the summer, to the river reflecting the sun. It's something you always read about in your wine books and learn about when you're preparing for wine exams, and you dream about actually going there.
The vineyard is absolutely stunning, and we had a chance to see where the wine is made – where they still crush grapes using their feet, and also some modern technology that's not so common across other estates. The racks here are unique. Their oak barrels are very heavy, nearly 300 kilograms per barrel, and they sit on those racks. But when you need to stir them, instead of having to bring them down and stir, you just turn the barrel around, because the rack has small wheels on it that allow it to rotate 360 degrees. It helps prevent oxidation and keeps the wine fresh. That's something that caught my eye. They've also been making significant progress on identifying some of the lesser-known grape varieties that grow across the Douro Valley and understanding their winemaking potential.
We were able to see people actually picking the grapes when we climbed one of the highest slopes. It was absolutely fantastic, both from the perspective of my own curiosity, since I want to know how the wines are made, and also getting a feel for how people live here. But my favourite part was when we actually got to the top of one of those slopes and were able to see the vineyard from a bird's eye view. You can see it in all its glory, all its beauty.
We learned that they're paying a lot of attention to monitoring individual plots in the vineyard. This is quite a unique thing. They have drones in the vineyards as well that monitor the temperatures and the soils, and they keep an eye on all the premium parcels. One thing I noted is how they incorporate tradition and a modern approach to winemaking using technology, and are conscious of the sustainability side of things: they're careful about water usage, and they make sure that the best possible quality of the grapes is achieved.
Top 3 wines – by Mateusz Kowalczyk
| | | |
| --- | --- | --- |
| | Quinta do Crasto Douro White 2019 | Vibrant blend of Gouveio, Roupeiro and Rabigato with aromas of white flowers, citrus peel and white peach and flavours of stone fruits. Elevated acidity and a harmonious, long-lasting finish make this a perfect all-round wine that complements a variety of seafood. Enjoy well chilled. |
| | Quinta do Crasto 2003 Colheita Port | Long maturation in cask allows this wine to show an abundance of dried fruits and sweet baking spices with a touch of dark chocolate. The finish is long and complex, and the flavour intensity balances the high alcohol level. Superb with blue cheese, chocolate-based desserts and dark chocolate mousse. |
| | Roquette & Cazes Douro DOC 2019 | Touriga Nacional in its best form! An astonishing wine with rich dark fruits on the nose and soft, almost silky tannins. A rich and concentrated wine that is an absolute sine qua non for every Douro wine lover! Pair with smoked cheese or grilled meats, and simply enjoy one of the best Douro Valley wines out there. |
| | Quinta do Crasto Douro Rosé 2022 (SS Vat Sample) | We tried this when it was still fermenting in the stainless steel tank, but it was already showing wonderful cranberry and raspberry notes with ripe strawberry on the palate. Crisp and refreshing, with an abundance of flavour – once bottled, it will be an amazing alternative to the Provence rosé currently dominating our domestic market. Go, Douro rosé! |
Part of our 50 Year Anniversary Focus 50 Series