Focus 50: Trip 18, Poggione (Italy)
To mark Enotria&Coe's 50th anniversary this year, we're shining a light on 50 outstanding producers who have been instrumental to our company history. As part of our celebrations, members of the E&C team took a trip to Tuscany to experience the world of Focus 50 winemaker Il Poggione first hand – here, they share their highlights.
Francesco Giardino – New Business Manager
Poggione is an important producer of Brunello di Montalcino – the estate's director, Fabrizio Bindocci, is the president of the consortium of Brunello di Montalcino, and it's a historic winery. Alessandro, Fabrizio's son, is also a winemaker at the estate, and he gave us a tour.
We arrived there around six in the evening, so it was already kind of an end-of-the-day vibe. We saw the new parts of the winery, with very modern treatments, then we went through the barrique rooms. We were only on the tour for an hour or so, but by the time we went outside again, the sun was already setting over the olive trees and vineyards.
We ended up having dinner at the winery. It was the end of the day, and we were just enjoying the atmosphere. The vibe there was fantastic. I didn't want to take too many pictures – I was just soaking it all in. Of course, we had a nice tasting over dinner with old vintages of Brunello. I think my highlight was the Rosso di Montalcino 2010, which was very surprising. You'd expect that the best wine there would be a Brunello, but for me, it was this basic yet classic wine. Then they opened a couple of magnums for us, and we ended up with a nice grappa on the huge terrace overlooking all the vineyards and olive trees.
Benjamin Furst – Fine Wine Manager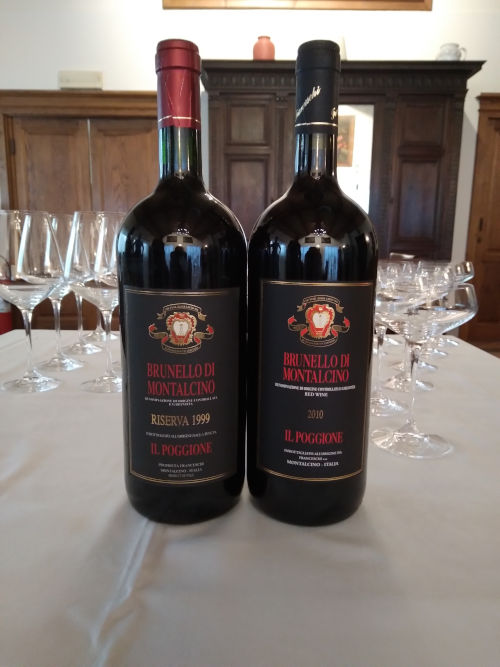 Brunello is one of our biggest sellers and a wine we're extremely proud of, and the father-and-son team at Poggione are hospitable people who love life and love what they do. They make three wines: Rosso, Brunello and Brunello Riserva. Theirs is not the most expensive Brunello in the marketplace, but it is arguably the best value for money.
The estate itself was lovely – not grand, but not totally humble. It's a reflection of them. Poggione has also built a new winery, which was amazing to see. They've kept a lot of the heritage and a lot of the history from the past in terms of decor and furnishings, so it's a mixture of old and new.
Seeing it all was brilliant, but after a week of travel, I was flagging. After 10 minutes of sitting down to dinner, I was going to have to go to bed. I usually hate grappa, but they brought theirs out, and it was amazing. Two or three glasses later I was very perky, and it settled my stomach. It was like drinking a Red Bull. And the view from the terrace was to die for, with that vista over the valley. That was a lovely evening.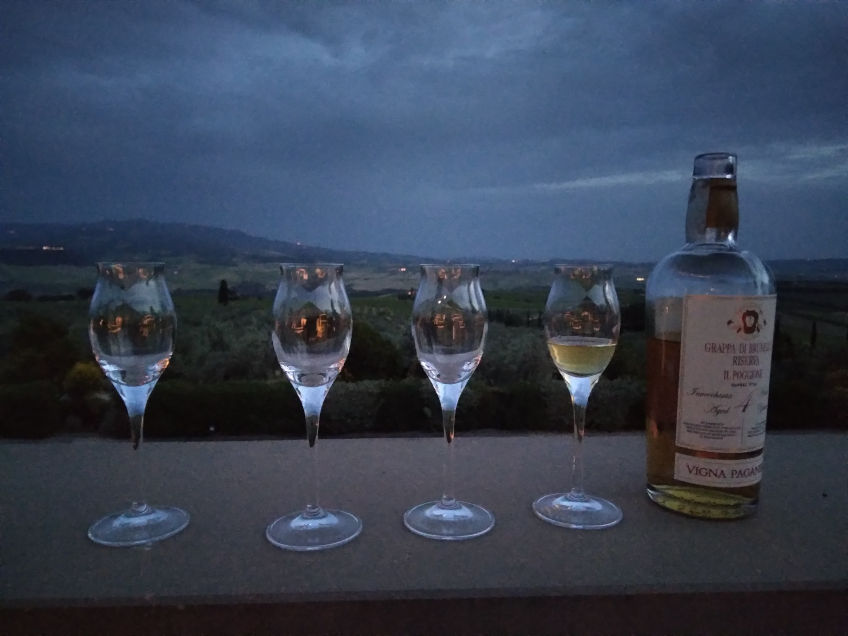 Simon Higgins – Credit Controller
At Poggione, the first thing I noticed was the age of the estate. They showed us around the castello, which sits at the top of a hill. It had some historical museum-quality exhibits, and it was really interesting to see how deeply rooted the business is in this area.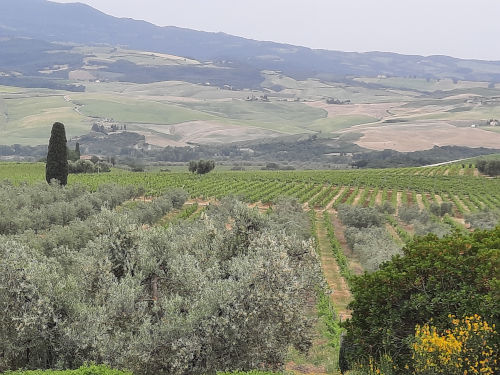 My favourite part of the visit was the dinner. We had about eight or nine courses of small plates. I'm a small eater, so I had to get up halfway through. I walked out onto the terrace just as the sun was going down. It was strange – we all went out there for a break from the food, and we all felt this kind of epiphany, a euphoric moment. It was just a perfect moment of good food, good wine, good company and beautiful countryside.
I don't drink red wine, but I was stunned by the scenery here. After the tastings, we went to a village on the hill in Montalcino. We climbed that blasted hill – it was steep and I was knackered at the top, and Ben and I got lost on the way down again – but taking in the scenery gave such a feel of the region and what Tuscany is all about.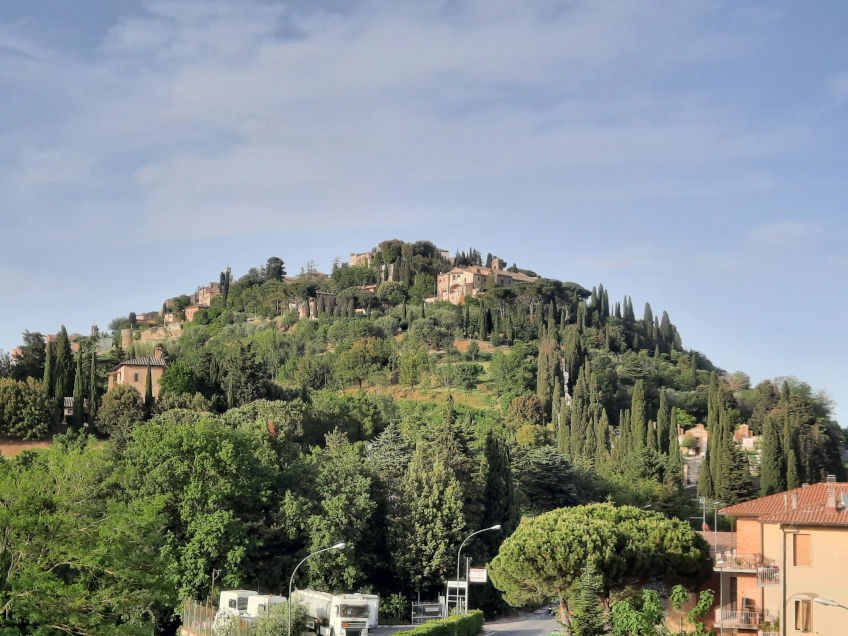 Part of our 50 Year Anniversary Focus 50 Series