Focus 50: Trip 14, Abadia Retuerta (Spain)
To mark Enotria&Coe's 50th anniversary this year, we're shining a light on 50 outstanding producers who have been instrumental to our company history. As part of our celebrations, members of the E&C team took a trip to Rioja to experience the world of Focus 50 winemaker Sierra Cantabria first hand. Here, Demand Planner Stefanie Metcalf shares her highlights.
Visiting Abadia Retuerta is a multi-sensory experience. Among the 130 vineyards of this stunning 700-hectare estate are endless pine trees, wild shrubs and herbs, whose vibrant green stands out against the light, sandy- clay soil. The cool breeze carries scents of salt, menthol and rosemary through the air. Within the estate is their stunning five-star hotel, formerly the monastery of Santa Maria de Retuerta. On the evening when we arrived, we enjoyed an amazing 17 course dinner in the elegant Refectorio restaurant. All made using local ingredients cooked to perfection, so leisurely was the pace that dessert was served at midnight. Our favourite wine of the night was their Aniversario X 2006, only recently released, celebrating 10 years.
Arriving at the vineyards the morning after, we were taken high up into the forest to get the best view of the landscape and to get a sense of the geographical area. Located just within the Sardón de Duero, Abadia Retuerta cannot be part of the Ribera del Duero classification, but this therefore allows them to work outside of those regulatory restrictions.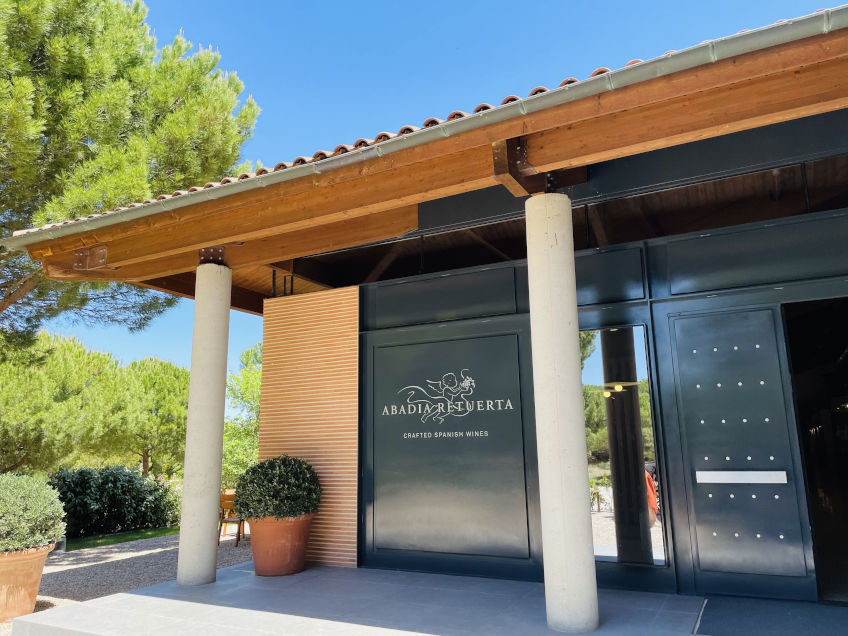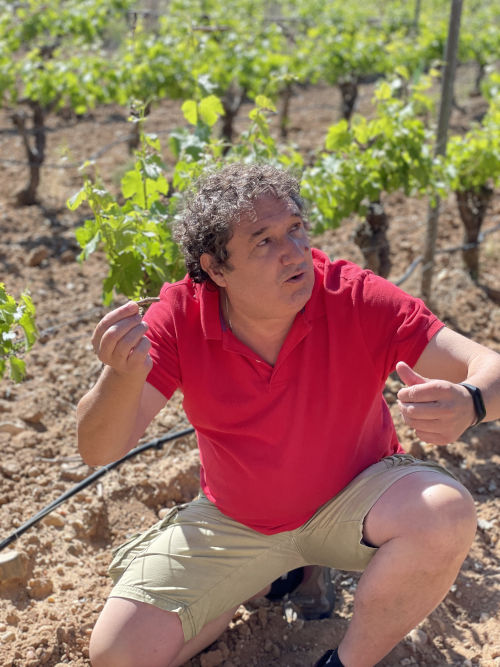 With such a unique landscape comes a responsibility to care for and work with the natural environment and they are very proud of the awards they have won for their biodiversity projects. This is clearly at the heart of Abadia Retuerta's philosophy and contributes to such a strong sense of terrior.
The land is steeped in history and records show the extent of vine cultivation in the area. One document states that in 1502, 80,000 jugs of white wine were made, which converts to around 1.2 million litres. This helps us to visualise how much of the land would have been covered in vines to produce such a large quantity. In contrast, today's volumes are closer to 500,00 litres. Another interesting detail shows that shortly after this, the monks were forced to adapt and plant red grapes due to a change in climate.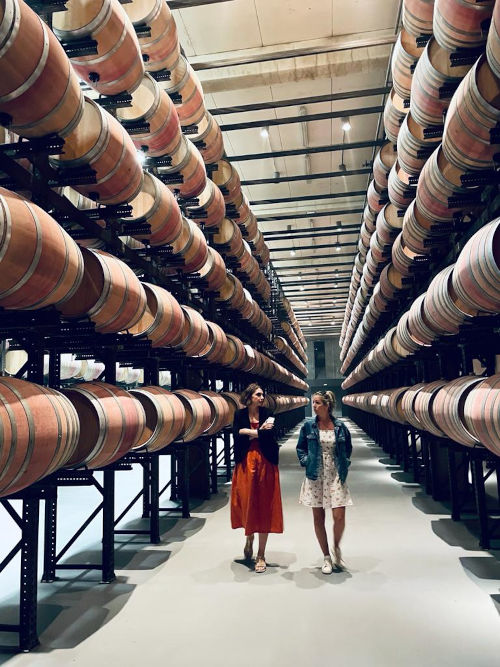 Winemaker Angel Anocibar explains the detailed extent to which he monitors temperature and rainfall. Using these figures, he will know what stage the vines are at and which approach to take. Over the years climate change has been most noticeable for them in terms of the extremes of temperature: only days before our visit there had been a heat wave, with a peak of 37 degrees.
It is imperative that they have this data about in order to make the wines that they want to make, with minimal intervention. With 23 different varietals growing on the estate, some need more degrees to finish their cycle, some need less. This also means they are always looking to work with varietals that will adapt and have also discovered that the area is perfect for organic practices. Working with different varietals, often producing an 100% varietal wine, sets them apart from other producers.
We enjoyed a picnic under the shade of the trees in the vineyard. Alongside the fantastic local bread and truffled cheese served with honey and walnuts, we tried two refreshing wines that are only available at their winery shop: a deep pink Rosado and a Gewurztraminer.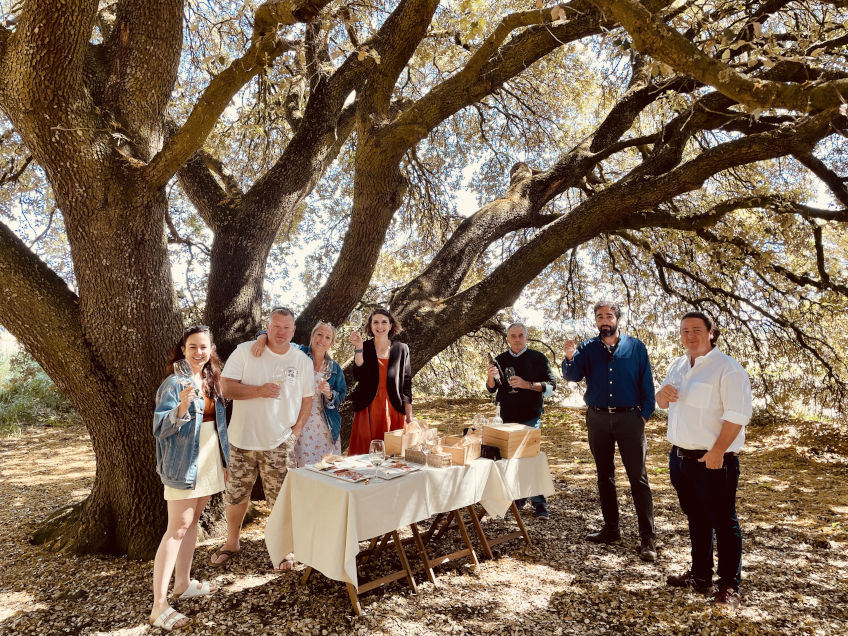 We later started our tasting with the Le Domaine White 2020, a blend of Sauvignon Blanc and Verdejo with 7 months in French oak barrels. While the yearly volume of this white is around 20,000 bottles, the total for their red wines is close to 450,000 bottles. We were also able to try their 100% Petit Verdot wine, typically a very difficult wine to make.
The range of wines is elegant and classic: floral notes and creaminess with a subtle spiciness is what defines Abadia Retuerta, especially on the nose. Content with the wines that they are making now, there is also a clear awareness that these wines will have to evolve according to how the land and the climate changes.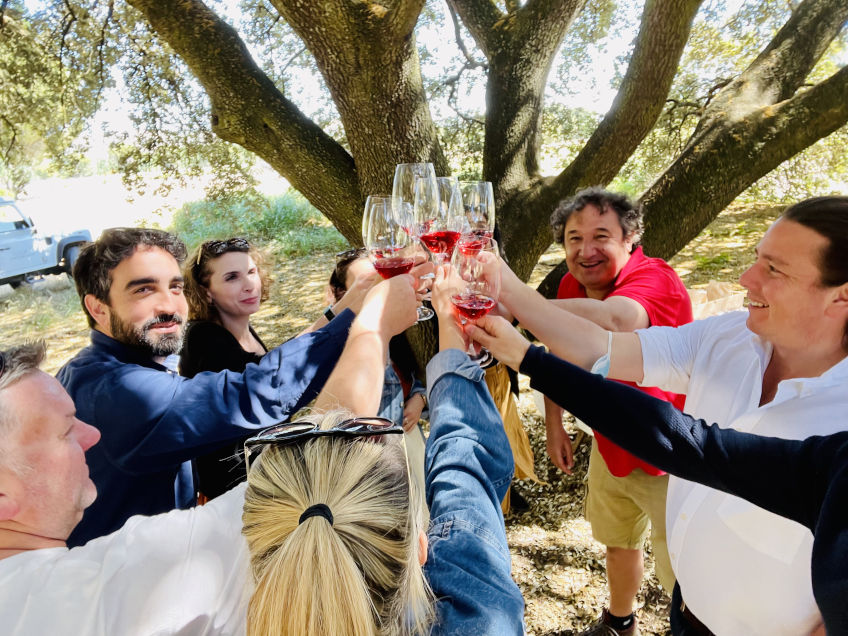 Part of our 50 Year Anniversary Focus 50 Series