Focus 50: Trip 37, Joseph Drouhin (France)
To mark Enotria&Coe's 50th anniversary this year, we're shining a light on 50 outstanding producers who have been instrumental to our company history. As part of our celebrations, members of the E&C team took a trip to Burgundy to experience the world of Focus 50 winemaker Joseph Drouhin first hand – here, they share their highlights.
Ben Slomka – National Account Manager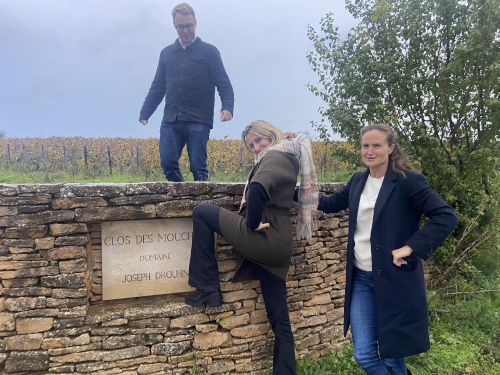 We caught the 6:30 Eurostar, which didn't arrive in Beaune until around midday. But as soon as we stepped off the train, we were straight into this amazing experience. I'd never been to Burgundy before, so for me it was pretty amazing, almost like a pilgrimage – what you imagine when you start learning about wine. Burgundy is basically the first page of the first book. It was exciting to be there, and Drouhin has such an amazing reputation, history, provenance, and connection to the region.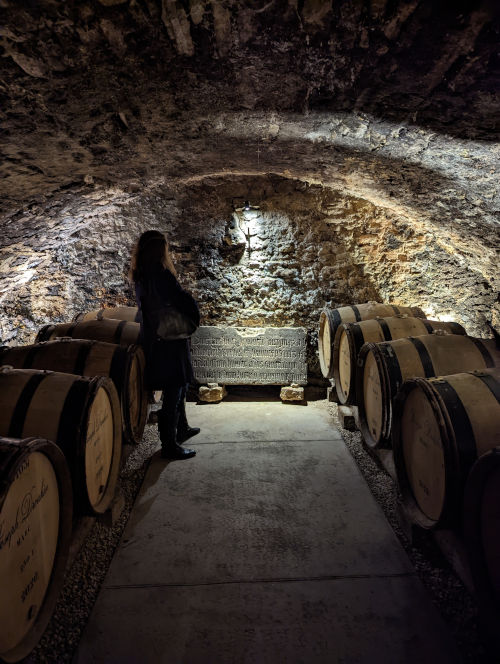 Beaune is a really pretty village. It is quintessentially French in its design, with cobbled streets that are too narrow for modern cars. There's Notre Dame Cathedral in the centre, which is impressive. Drouhin's cellars are right in the heart of Beaune. It's a very modern and ordinary-looking office and shop at the front, but then at the back of that office there's a stairway down into the cellar that's carved out of chalk, a couple of kilometres long. It was an amazing experience to soak up the history.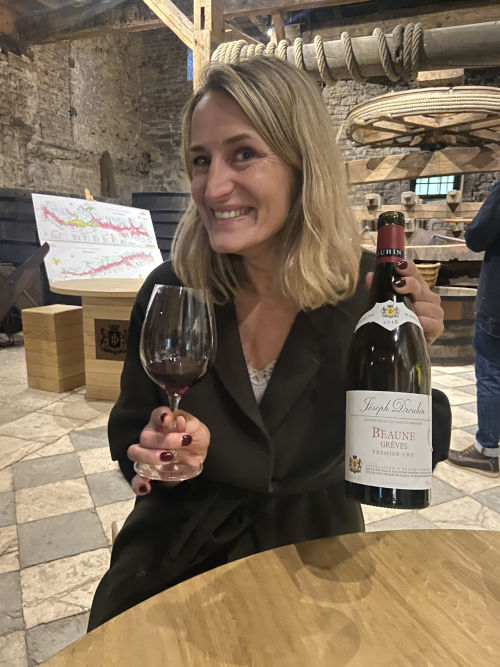 We met with a representative from Drouhin who gave us granular insight into not only Drouhin but also into an often confusing region. After we did the cellar tour, he led us through a tasting in a room with a traditional basket press. It's a gigantic press that apparently takes five men to turn, and it apparently only gets used on very special occasions – so for things like the 100th anniversary and the millennium. It hasn't been used for a number of years. The tasting that we did in that room was exclusively Premier Cru and Grand Cru wines, so it was really special.
Then we got into a mini bus and drove south. We went into the vineyards and drove through Meursault, Saint-Aubin, Chassagne, Puligny. These places are 101 when you're learning about wine, so to finally get to visit the vineyards and understand how they all intertwine was amazing.
They took us to a restaurant which had very traditional regional dishes, but it was innovative at the same time. There was a lot of modern flair on the plate, which was really cool. Burgundian food is very autumnal, so to be there in autumn eating beef bourguignon with Drouhin wine was amazing. They have this regional speciality, a 74-degree egg. It's cooked sous vide at that temperature for 15 minutes, so when you crack it the texture is silky. At the end of the meal, once we put down our knives and forks and leaned back in our chairs thinking that the bourguignon was done, they brought out eggs and bread for us to mop up the last bits of sauce.
I didn't expect them to let us taste such prestigious wines, to be honest. I was blown away by the quality of the wines that we were given and allowed to drink: very expensive, very good, famous crus of Burgundy. That was pretty spectacular.
Richard Pickles – Business Development Manager
I think that the whole part of travelling to Burgundy is the anticipation of going to one of the world's most famous wine regions, so you travel in hope and excitement if you're passionate about wine, and you're never let down. The place itself is beautiful. And as you drive further from Dijon down towards Beaune where Drouhin are mainly based, you immediately understand a great deal about the region. The Côte de Nuits and Côte de Beaune are there in all their glory, rising up approximately 300 metres as you head down the main road, and the vineyards are all scattered about. You pass through villages with incredible names: obviously Beaune itself, and you go through Corton, Échezeaux, Nuits-Saint-Georges, Pommard, Montrachet – all these names that, when you've been involved in wine for for many years, are markers of why you love wine.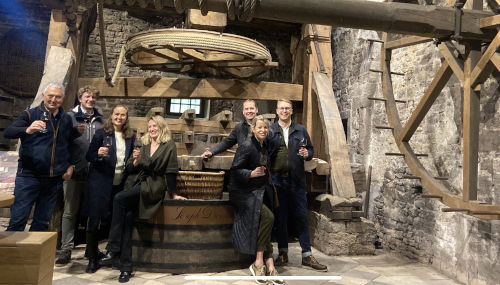 Beaune is completely overwhelmed by wine bars and wine shops, and then you get to Drouhin itself. They have quite an unassuming office in front of the church. And then you go down into the cave, which introduces you to a whole new world and a whole story of the historical importance of the winery and the people.
When we were in the Drouhin cellar, they told the story of Maurice Drouhin. He was a member of the resistance during the occupation. Eventually, the Gestapo surrounded the house looking for him during the night. His wife told them he was away on business, but he had escaped through a little door in the cellar, which is still there [and connects to the Hospices de Beaune]. Moments like this encapsulate the trials and tribulations that the French wine industry went through in Champagne and Burgundy and Bordeaux particularly.
There was one particular incident where we had a blind tasting. We were tasting various wines in the cave, and Cyril, the guy who shows everybody around, opened a bottle and we didn't know what it was. It was clearly Pinot Noir, because it was red Burgundy, so it couldn't be anything else. But we had to guess, and we went through the different villages. It turned out it was actually a Clos des Mouches, and he asked us to guess the age. And we were guessing 2009, 2010, 2015, and it was actually a 2003! Yet it had freshness, it had beautiful acidity. It was just stunning. And it took us all aback, because 2003 was a very hot vintage. In many ways, it was much like this year has been. People expected that the hot vintage was going to create problems later, but in fact it was absolutely superb.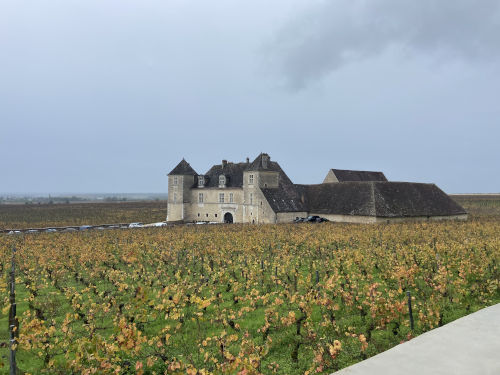 We drove through on a very wet morning – the weather was dreadful. It had been 23 degrees the day before we got there, but on the day it was pouring down and it was seven or eight degrees. But when you stand next to these vineyards which are absolute superstars, and you look down on these little villages and take in the history of the region – that was one of the nicest parts of the trip.
Michelle Cartwright – Head of Wine Development
It was a wonderful couple of days in Burgundy. The first day was a visit to the house and the cellars, which are incredibly beautiful. And on the second day we went to the vineyards. We unfortunately had the worst weather ever – it was just nonstop rain – but the highlight was being in the vineyards and understanding the different crus and the different villages and the different plots. We did it, but we did it in the pouring rain. So it was a fun day in the vineyards, even with the weather.
I've done so many tours of wineries, so for me, it's always more about the terroir and how small and how close together everything is. You could walk or cycle between the vineyards, and one side of the road is a Grand Cru, an incredibly rare wine, and the other side is a more general wine. That's mind-blowing to me.
I think the biggest highlight was spending time with Christophe Thomas from Drouhin and talking about the future of Burgundy: climate change, pricing and more. These wines are becoming so rare and incredibly precious. We talked a lot about not seeing them in restaurants as much anymore, because they've become so expensive and they're bought by collectors. So it's wonderful to experience these wines – a real honour as they become more and more sought after and less accessible.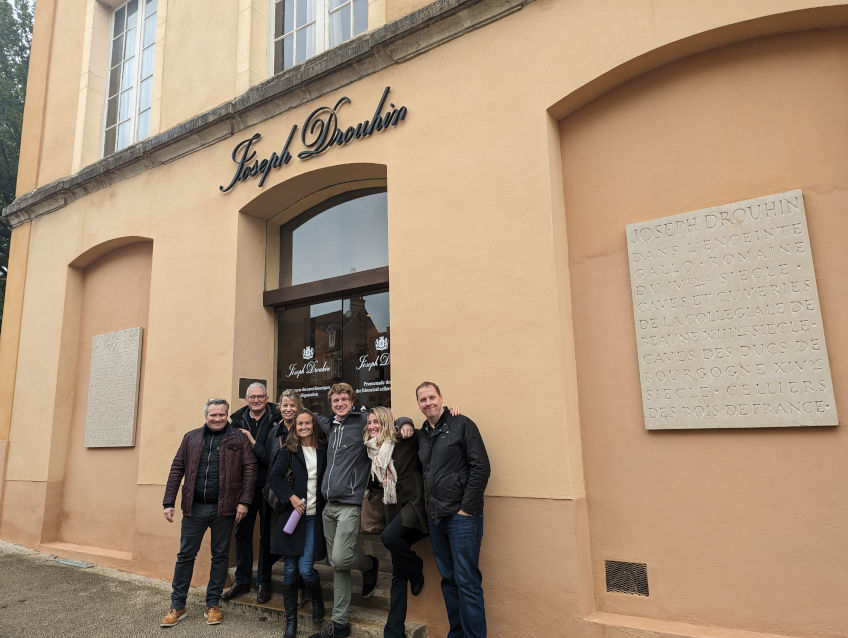 The team's top 3 wines
| | | | |
| --- | --- | --- | --- |
| 1 | | Beaune Grèves Premier Cru 2018 | Grèves is recognised as one of the very best Premier Crus in Beaune, located on a mid-slope site at the northern end of the appellation. A classic Beaune in a soft, ripe sensual style with notes of crème de cassis and raspberries, plus a hint of plum and spice. Medium- to full-bodied, bright and lively; perfumed and precise. Grèves' signature minerality has a lingering graceful finish. By Michelle Cartwright |
| 2 | | Clos de Vougeot Grand Cru 2018 | A Grand Cru located in the middle of Côte de Nuits in the town of Vougeot. The clos is an ancient walled vineyard with more than 80 owners. Joseph Drouhin's signature style of elegance, freshness and grace lingers here with aromas of cassis, plum, incense and petals. Intense flavours of dark chocolate mixed with mint and truffle merge with a deep earthy minerality. Subtle, ethereal, lingering finish. By Michelle Cartwright |
| 3 | | Côte de Beaune Blanc 2019 | A perfect Burgundian Chardonnay – just the way it should be. Rich and opulent with layers of fruit and spice, all rounded off with a crisp finish. By Katy Rickards |
Part of our 50 Year Anniversary Focus 50 Series