Malbec moment
There's no question about it, Malbec is enjoying its time in the sun. But what is it exactly that makes this grape so loved?
Utter the word Malbec, and Argentina immediately comes to mind. And rightly so, too. It's the South American nation's most popular varietal in volume and value sales, and in the last 10 years alone, Argentinian Malbec plantings have nearly doubled. There are just a handful of places around the world that produce Malbec, and Argentina is miles ahead of the pack.
Here in the UK, we love Argentina's full-bodied, versatile red grape. Indeed, more than half of the country's exports shipped across the Atlantic Ocean destined for our shores are Malbec. Of the punchy grape, UK wine commentator, Olly Smith, says "Malbec is thought of as the Giant Haystacks of the wine world – burly, hefty and packing a punch. But while it can be as flavoursome as licking a blackberry the size of the Moon, Malbec is also a wine grape capable of delivering an intriguing range of aromas, from violet fragrance to gamey spice".
According to Wines of Argentina, Malbec leads the field when it comes to attracting millennials – there's no question it's a grape in the zeitgeist at the minute. In recent years, Argentina has taken the UK wine market by storm, and in the process they've become the envy of other wine-producing countries. But why, you might ask.
"Because it's cool," confirms Enotria&Coe buyer (and self-confessed Malbec lover) Harriet Kininmonth.
"The wines have carved an identity as exciting, quality-focused and food-lead, with plush and velvety Malbec leading the revolution and clearing the path for what's starting to unravel."
"Today's UK market is evolving and consumers are increasingly on the hunt for provenance and distinction, craving a premium and enriching experience."
In light of this, we're delighted to house some of the world's leading producers of wines born from the sun-worshipping grape – Trapiche and El Esteco.
"With Trapiche and El Esteco on board we have one of the slickest, most diverse and fully comprehensive ranges in the market," Harriet says.
Trapiche demonstrates precision winemaking at unbeatable price-points, showcasing Malbec at its best, whilst El Esteco, and its oxygen-starved altitudes reveals super-premium blockbusters.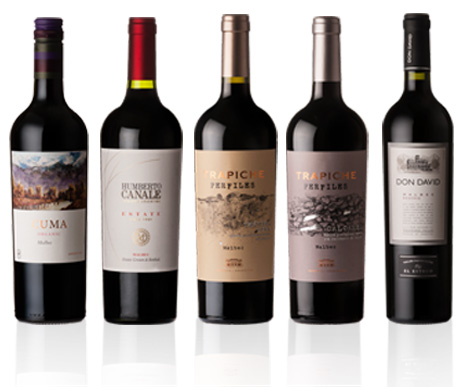 Our pick of the bunch
El Esteco Cuma Organic Malbec, Salta
Made with organically grown grapes, this savoury red wine is a thrilling mix of dark, brooding fruit and fragrant, punchy spice. Cuma organic is a project born in 2005 with the objective to develop an agriculture and winemaking activity in harmony with the environment and the culture. Meaning pure and clean in the language of El Esteco's Aymará ancestors, Cuma expresses a commitment to continue with the legacy of the regions old Indian inhabitants and to preserve the environment for the next generations. Both practices in the vineyards and the winery have followed strictly certified organic processes, allowing the grape tp express itself in the most genuine way.

Humberto Canale Estate Malbec, Patagonia
Humberto Canale's Malbec shows off a very refined style, both in the nose and in the mouth. Its careful oak cask ageing gives the wine an ultimate dimension that turns it into an irresistible one. A full bodied wine, with complex structure and surprising notes of red berries, eucalyptus, spice and black pepper. After a year in the bottle, it becomes more unctuous in character, intense and concentrated. This is the ultimate wine to pair with Agentina's emblematic "asado" (barbeque). It also shows off its style paired with all types of pastas and dishes with rich sauces.

Trapiche Perfiles
Perfiles is an exciting and innovative project spearheaded by Trapiche's chief winemaker Daniel Pi's, which truly explores the impact that a specific soil type can have on the final wine. The team has crafted two Malbecs – Perfiles Textura Fina and Perfiles Calcareo – to showcase the differences between vines grown on fine textured soils, rich in clay and silt (Textura), versus those grown on calcareous soils (Calcareo). These are wines that know it's what's beneath the surface that counts. Trapiche Perfiles profile Argentina's diversity and elegance while stimulating the senses.

El Esteco Don David Malbec, Salta
David Michel was the key driver in the winery's history. He was a pioneer in planting quality vines in the high altitude vineyards of the Calchaqui Valley, convinced this remote and exquisite region had the potential to deliver unique wines. This wine pays tribute to their founder's legacy. A medium-full bodied wine with notes of cooked plums, prunes and violets. Well balanced with soft tannins and notes of red fruits and hints of chocolate.