Focus 50: Trip 30, Kir-Yianni (Greece)
To mark Enotria&Coe's 50th anniversary this year, we're shining a light on 50 outstanding producers who have been instrumental to our company history. As part of our celebrations, members of the E&C team took a trip to Giannakochori to experience the world of Focus 50 producer Kir-Yianni first hand – here, they share their highlights.
After a punchy 3am start landing at Thessaloniki, Greece from a gloomy London Gatwick was a wonderful thing; the 2 hour drive to Naoussa, surrounded by lush and verdant landscape, clear skies, the iconic blue tractor and random cannon fire (to scare off the boar and birds), was a fantastic introduction to this beautiful region.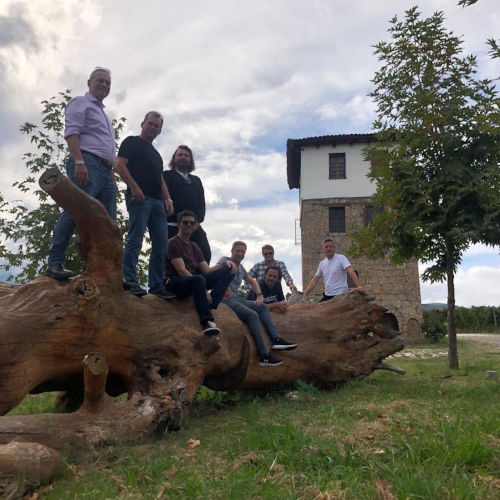 A robust 6 course lunch with pairing wines swiftly followed, the main highlight being the locally produced Trahana with mushroom, Naoussa sausage, hazelnut oil and truffle oil, paired with the rich and powerful Ramnista Le Bicentenaire 2011 (100% Xinomavro). As we all settled into our seats we needed to remind ourselves that this wasn't a holiday, but an extraordinary opportunity to immerse ourselves in the wines and culture of one of our favourite and most prestigious wine producers, Kir Yianni. A tour of the vineyards followed via an obligatory snapshot at the famous water tower (PIC1).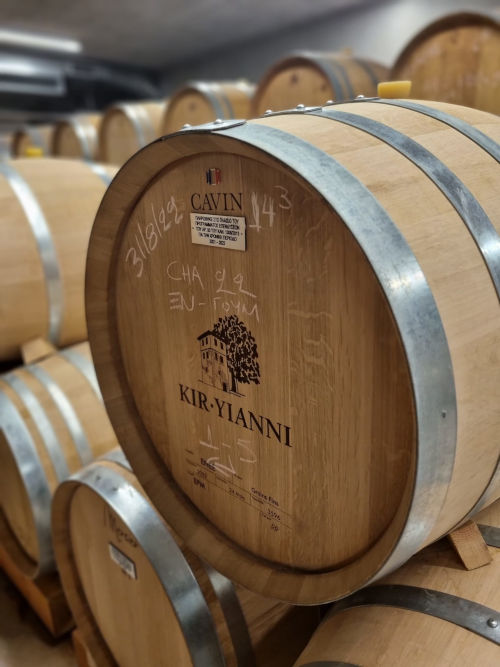 We were then led on to explore the impressive winery, past the sorting table where the Kir Yianni team were "trying out some new ideas" and into the depths of the winery and cellars (PIC2). There followed a marathon tasting of each of the 35 wines produced by Kir Yianni; with the local grape varieties Assyrtiko and Xinomavro shining through along with an intriguing collection from Crete (PIC3). At Enotria we stock a carefully selected and curated range from this producer, but the depth of the range was wonderful to experience; we'll be sure to pass on our notes and thoughts to our buying team!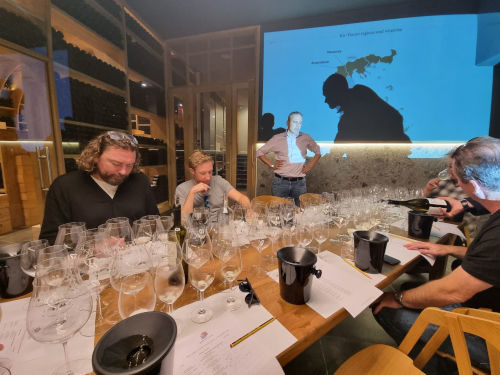 The following day meant an early start and a drive to Amyndeon and a tour of the large-scale production winery; this is where the serious work happened. We tried seven tank samples at various stages of fermentation and maturation; a wonderful insight into the thoughts and selection process of their established winemaking team.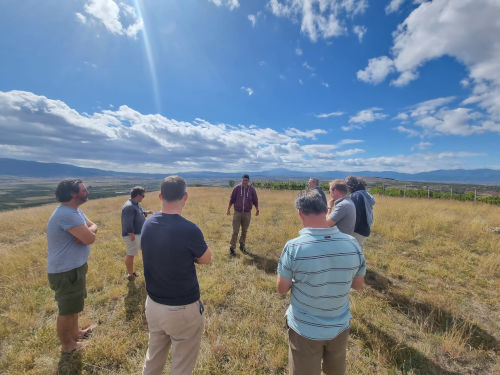 Up next was a high-altitude vineyard tour where the scale and potential of the region could be truly appreciated (PIC4). With our hosts apologising for the previous "light lunch" we were then carted on to an iconic local restaurant Thomas Taverna in Sklithro for a 7 course masterclass in cooking and wine pairing.
Following the incredible lunch the next destination, extraordinarily, was to see the tomb of King Richard 2nd, father of Alexander the Great. The treasures uncovered genuinely defied description, with golden crowns of exquisite and incomprehensible detail, and historical detail simply unavailable outside of the region. We were fortunate to be guided by the aptly nicknamed "Mic Drop", the most impressive orator and raconteur, who nearly outshone the truly magnificent treasures themselves.
Swiftly packed into buses, we made our way to the airport for the next leg of the trip.
The team's top 3 drinks
| | | | |
| --- | --- | --- | --- |
| 1 | | Kir-Yianni Assyrtiko | I love this style, it's very accessible to the wider audience as it's less mineral than Santorini versions. It shows lovely ripe fruit, some floral notes, slight richness from the lees ageing and a backbone of acidity keeping it fresh and moreish. Sourced from their Amyndeon estate, this a great all rounder as it's smashable on its own, but also lovely with grilled seafood, fresh cheeses and salads. |
| 2 | | Kir-Yianni Ble Alepou | We don't currently stock this wine but I really enjoyed it. It's a red blend of all the varieties grown in their Naoussa vineyards from selected blocks of Syrah, Cabernet Sauvignon, Merlot, Malbec, Petit Verdot and Cabernet Franc. Each plot is oak aged separately before blending, further ageing in oak and then 6 months more in the bottle. This wine struck me as offering excellent depth of flavour whilst being beautifully balanced and silky smooth. Think sweet spices from the oak combined with deep black fruit flavours and earthiness. |
| 3 | | Kir-Yianni Diaporos | For me, this is the best wine produced by Kir-Yianni. It showcases the two black grape varieties that seem to perform best in Naoussa – Xinomavro and Syrah. Being mostly Xinomavro, you get a lot of red fruits like strawberry, deep concentration and even floral aromas. The Syrah adds darker fruits and spice to the blend. This wine is intense and easily capable of ageing for extended periods. The winery always releases this wine after years of ageing and we've just moved onto the 2018 vintage. |
Part of our 50 Year Anniversary Focus 50 Series