Focus 50: Trip 26, Hattingley (England)
To mark Enotria&Coe's 50th anniversary this year, we're shining a light on 50 outstanding producers who have been instrumental to our company history. As part of our celebrations, members of the E&C team took a trip to Hampshire to experience the world of Focus 50 winemaker Hattingley Valley first hand – here, they share their highlights.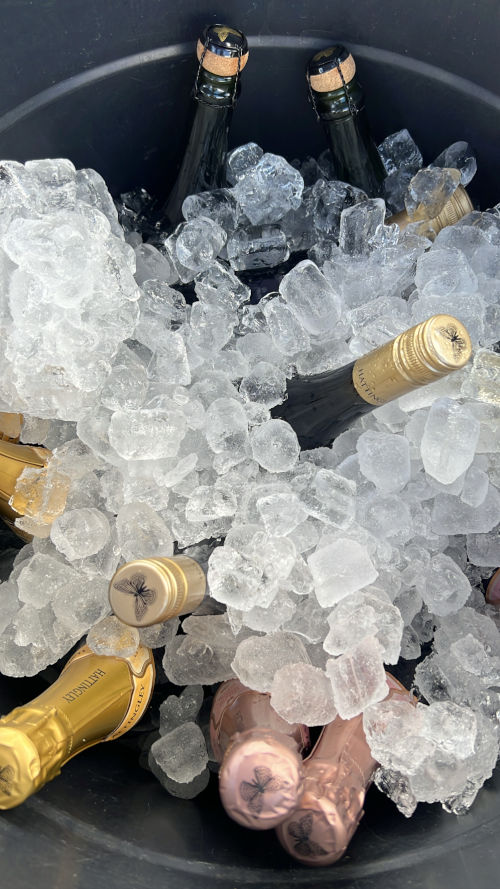 In August, we had the pleasure of stepping away from our desks to spend the day at Hattingley Valley in rural Hampshire. Founded in 2008, Hattingley has become one of the leading wineries in the UK, with more than 100 awards to its name – including the coveted Best English Rosé trophy from the Champagne & Sparkling Wine World Championship. Safe to say this is no ordinary wine producer! With the slogan 'Unapologetically British', owner Simon Robinson has truly created a business and vineyard to be proud of, with a team that's more like a family.
We started our journey with a drive through the countryside and were greeted by sunny Hattingley Valley. The team, including Simon, all took the time to give us some background on themselves, their roles and the history of the business.
Following a quick tea and coffee break, we began our winery tour. We were able to witness the winemaking process from start to finish, even sampling wine that was still in the process of being made. We saw how the team bottled the wines and stored them according to date, then sampled even more light and refreshing wines from across different vintages.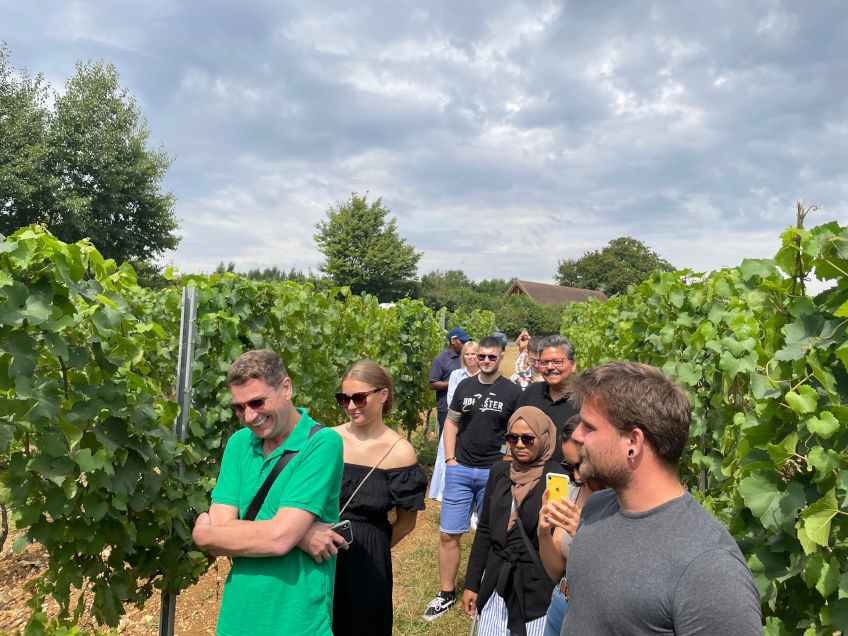 Next, we took a ride on a tractor to visit the vineyards themselves. The great fields of grapes seemed to go on for miles, and they truly provided the most amazing view. Colin, the vineyard manager, gave us some insight into how the team ensures only the best-quality grapes are produced. The pickers do their job by hand. It's not the easiest of work, especially at 3am in cold, wet weather conditions, but they always complete it to a high standard.
Afterwards, we were treated to a freshly made lunch of sandwiches, cakes and more wine – very British! Our day was coming to an end, so we jumped on the tractor and headed back to the main site, but Simon and the team couldn't let us leave for London without buying us some drinks at the local country pub across the road. It was a great success of a day.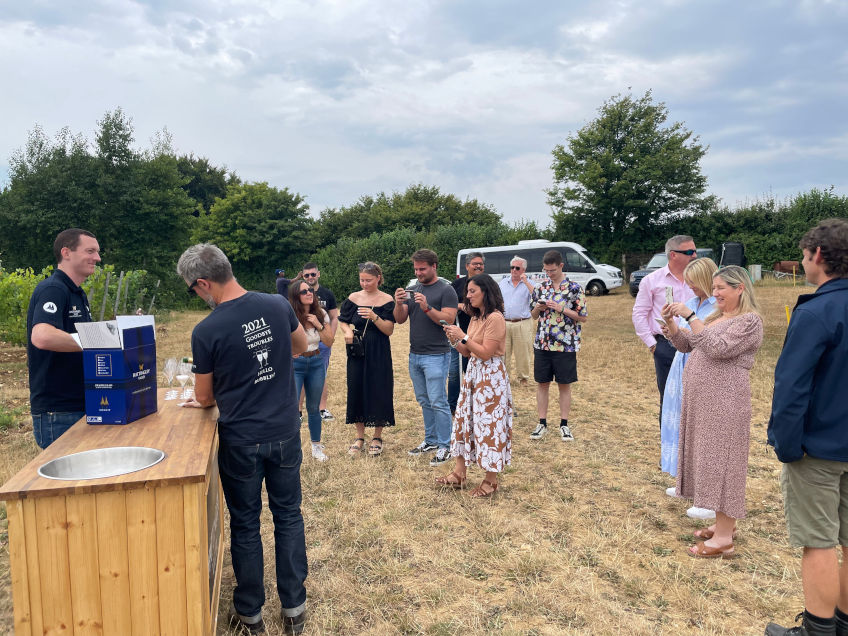 Our favourite memories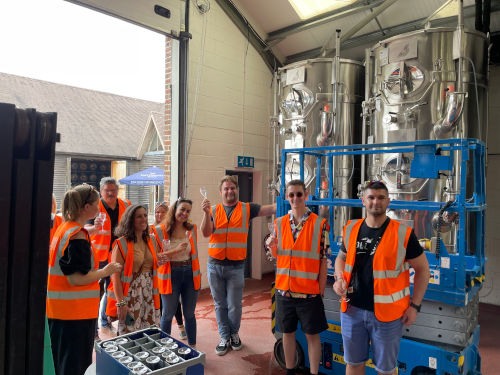 Magdalena Babicz, Credit Controller: Hattingley Valley's eco-friendly winery is housed in an old barn that has been converted into a tasting room and shop. The team took us for the knowledge-packed tour, where we discovered the magic behind creating one of the best English sparkling wines. During the tour, we had a chance to sample wine directly from the tanks while the staff explained the winemaking process from harvest to bottling. I was really impressed by the amount of hard work and heart the team puts into creating every single drop.
The winery is surrounded by 18 acres of vineyards which provide stunning views on a clear day. However, the best part of the trip was meeting the people whose passion and dedication created this place – starting with owner and founder Simon, whose relentless efforts have put Hattingley on the global wine map; to vineyard manager Colin, who isn't afraid to get his hands dirty and lose hours of sleep to make sure the grapevines have the best possible conditions for creating the perfect crop.
Hattingley Valley is just an hour outside of London, so if you're looking for a wine country day trip that's close to home, it's a great option!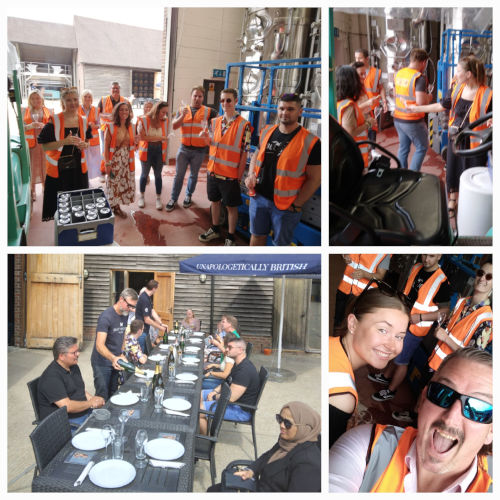 Sammie Horne, Credit Controller: All the staff were extremely friendly. They looked after us, and it was clear that they are very proud to be a part of Hattingley Valley. It was interesting to see all the hard work, dedication and long hours that go into creating the perfect wines. It makes you gain a new respect and really appreciate the whole process of winemaking, from the very start to finish. I have never been to a vineyard before, and my first experience was one I will not forget. We sat at the top of the vineyard enjoying the view, the wine and a lovely lunch.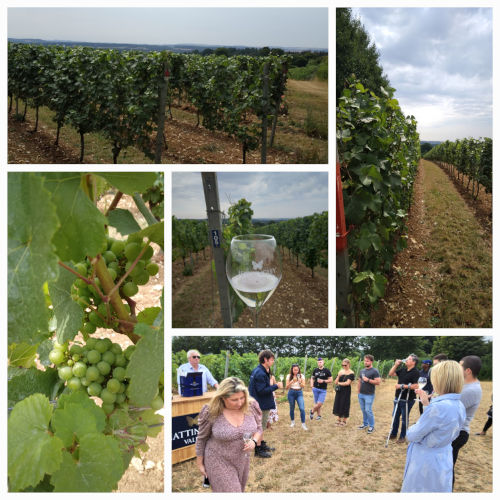 Karleigh Thorne, Credit Controller: It was a wonderful day filled with knowledge, kindness and great wine. The vineyard was stunning to see, and being my first and only winery experience, I can't imagine it getting much better than Hattingley Valley! Witnessing the process from start to finish and really getting to understand how it all works, I will never look at a glass of wine the same. The passion, precision and effort that goes into each bottle is amazing. We met the most welcoming people, and it was a 10/10 day – I will never forget the experience we had.
Top 3 wines – by Alistair Wilson, Territory Manager
1
Classic Reserve NV

One of the most important wines made here. While many people assume that a vintage wine is automatically better (which isn't necessarily the case), this non-vintage shows off the skill of the producer's winemaking.

Elegant bronze-gold in colour. Lemon pith, nougat and zesty citrus on the nose. A delicate, light honey note to the palate, with juicy acidity and vibrant orchard fruits. Conference pears and a hint of nuts, with a complex finish.

2
Blanc de Blancs 2014

Made using only the finest parcels of Chardonnay and aged for a minimum of four years. This continues to mature and develop with time, so no need to rush to drink it at once… not that there was any left after we tried it!

Pale golden colour with gentle green hues and delicate bubbles. White stone fruit, citrus fruit and a delicious honeyed character on the nose, with clean and mineral flavours with pastry and brioche notes on the palate. Well-balanced and refreshing acidity, giving way to a creamy mouthfeel and long, complex finish.

3
Rosé 2019

As the story goes, founder Simon didn't want to make a rosé, as he didn't think it was a 'serious wine'. However, once Hattingley won the Champagne & Sparkling Wine World Championship Award for best vintage rosé in the world, his mind was changed!

Delicate pale pink in colour, with strawberries, raspberries and a note of pomegranate on the nose. Pink grapefruit on the palate, balanced by a touch of sweet marshmallow. Slight earthy texture, with sweet, fresh hay and a creaminess from the oak element.
Part of our 50 Year Anniversary Focus 50 Series