Focus 50: Trip 42, Ramón Bilbao (Spain)
To mark Enotria&Coe's 50th anniversary this year, we're shining a light on 50 outstanding producers who have been instrumental to our company history. As part of our celebrations, members of the E&C team took a trip to Rioja to experience the world of Focus 50 winemaker Ramón Bilbao first hand – here, they share their highlights.
Heather Kirk – Territory Manager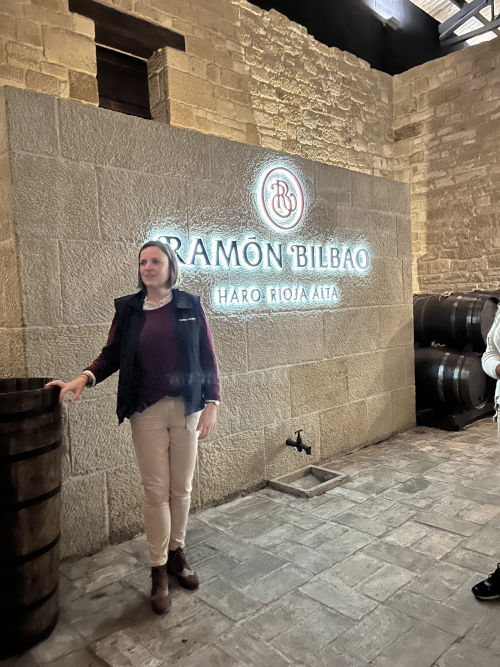 This was a well-anticipated trip, since our flight was cancelled the first time round. We left from Gatwick and were all thankful when the plane took off!
When we arrived at the vineyards, we were immediately greeted by the lovely Anna, who never left our side the whole trip. We were escorted to the vineyard dining room and our first feast commenced, with wines and food of the highest standards. The best part of the meal was watching the lamb being cooked on a barbecue using old vines instead of charcoal. We enjoyed the stunning 2016 Reseva Rioja with it, which had to be one of the best pairings I've ever had!
With full bellies and sheer contentment, we started an intense tour of the cellars, enjoying wines from the barrels as we went along. We were guided to the tasting room to sample even more wines, and Anna continued to educate us on them. She even tested us all with a quiz, which we passed with flying colours.
We all headed into town that evening and enjoyed tapas in eight different restaurants, each famous for one particular dish. This gave us the opportunity to drink eight different Bilbao wines as pairings! The first tapas restaurant we visited was a simple bar, and its speciality was aged serrano on fresh, warm bread. We were really impressed with it, and everyone agreed the Ramón Bilbao Edición Limitada 2019 was a perfect match, leaving you wanting more. But when asked which pairing we liked the most overall, the general consensus was the Mar de Frades Brut Nature sparkling wine with grilled octopus.
We thoroughly enjoyed the Ramón Bilbao team's kind hospitality and felt totally spoiled in every way. Anna was the perfect host, and we will never forget our trip to Rioja. What a wonderful visit!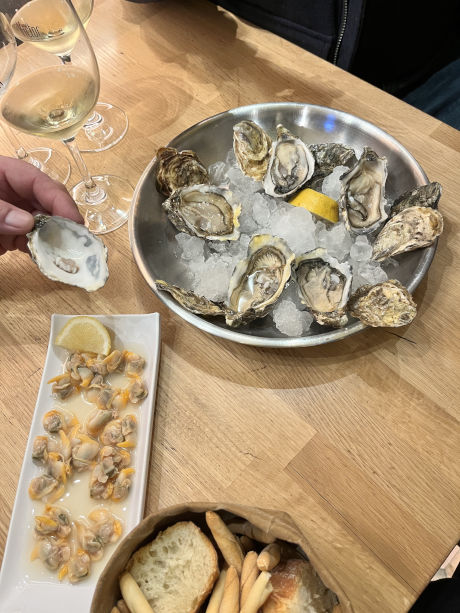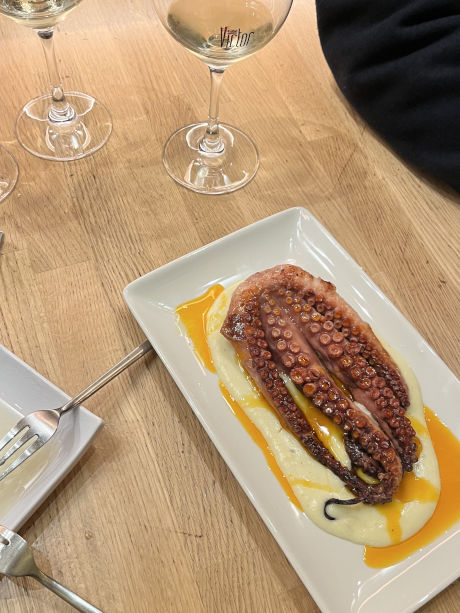 Max Calder – Customer Service Executive
As for first impressions, I think like everyone I was very taken by the wooded, mountainous landscape that eventually gave way to the more arid landscape that Spain is known for.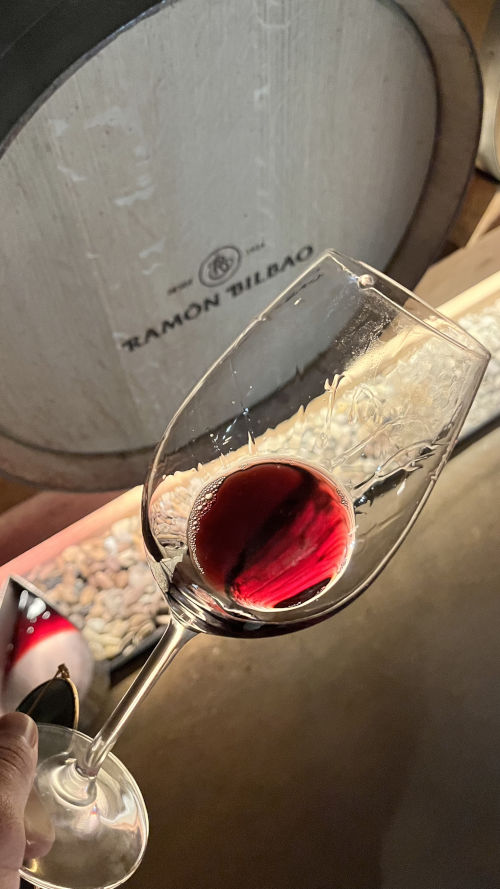 Bilbao as a city was a bit of a surprise. Like most cities in a wine-producing area, it has certainly been shaped by its wineries, however Bilbao is not defined by this. This is a city with an active nightlife, music and art scene, and these aspects are present wherever you go.
My favourite memory from the trip is probably the running joke about Mar de Frades; at lunch, Kirsty misspoke and called this wine something that sounded like 'Margaret Fridays', so throughout the trip the wine and its sparkling equivalent were called 'Margaret Fridays'.
I was also very surprised to learn that Ramón Bilbao is owned by the same company that produces Licor 43 and are the main distributors for Pommery in the Spanish market!
Danilo Cabrini – Demand Planner, New World Wines
This was my first trip to Bilbao, and it reminded me a lot of my hometown of Mendoza, Argentina, which is also a very small city with a very long winemaking tradition. Mendoza's winemaking history is more than 120 years old, and while Spain has a much older tradition, it somehow made me feel at home. That's something you can't find everywhere.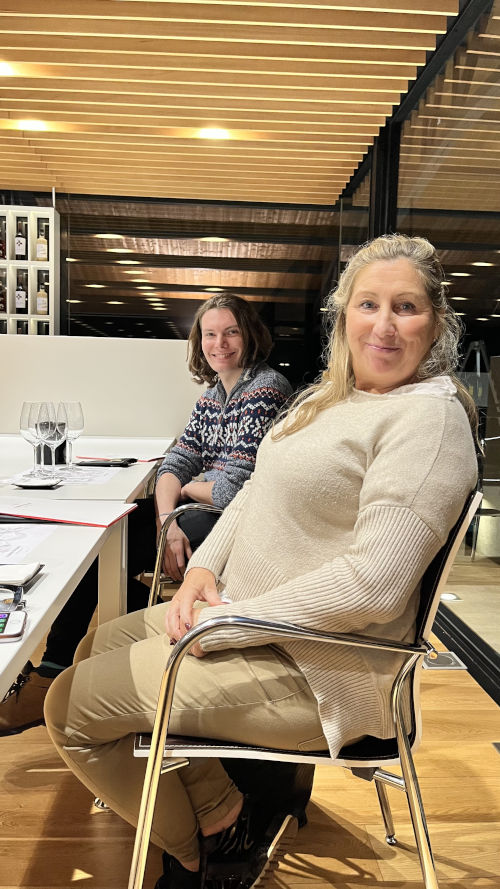 I fell in love with the passion Ramón Bilbao has for producing the best wines and the care they take when representing their name around the world. It's very rewarding to see that there are people and wineries taking the job very seriously. I would recommend a million times visiting Ramón Bilbao and trying its wines. I can assure you that you will develop a totally different understanding of Spanish wines, and you will never be the same.
When it comes to the food, it was tapas, tapas and more tapas! If you go to Bilbao, that's something you can't skip. There's a different tapa for every palate – you can find meat, veggies, seafood and cheeses. And the good thing is that you can pair every single tapa with a different wine from Ramón Bilbao. It's amazing how the region has so many perfect food and wine matches. It definitely makes this a place every wine and food lover needs to go.
It's fantastic to see that in every place I visit, people share the same love for food and wine. That's something that brings me home no matter where I go. It's really something special.
Top 3 bottles – by Heather Kirk
| | | | |
| --- | --- | --- | --- |
| 1 | | Mar de Frades Brut Nature | Distinctive, with a wonderful freshness, small bubbles and an abundance of fruit on the palate. Great with grilled octopus. |
| 2 | | Reserva Rioja 2016 | We enjoyed this wine with a delicious barbecued lamb which paired excellently. It gives notes of blackberries and spices. |
| 3 | | Edición Limitada 2019 | Delicious, with a punchy palate of cherries, red berries and herbs leading to a well-rounded finish. The perfect pairing with serrano ham. |
Part of our 50 Year Anniversary Focus 50 Series