Focus 50: Trip 41, Ascheri (Italy)
To mark Enotria&Coe's 50th anniversary this year, we're shining a light on 50 outstanding producers who have been instrumental to our company history. As part of our celebrations, members of the E&C team took a trip to Piedmont to experience the world of Focus 50 winemaker Ascheri first hand – here, they share their highlights.
Sergio De Luca – Wine Buyer, Italy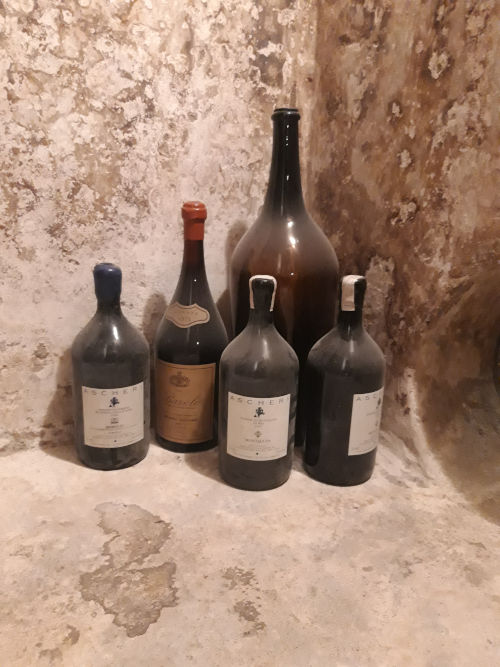 I have been at Enotria for nearly 40 years and have been buying Italian wines forever. We started buying Matteo Ascheri's wines in the '90s, so I've known him for a long time. Ascheri's production is big for the region, but the great thing is that even though it's a relatively big company it's still very connected to the area – for instance, Matteo is the chairman of the consortium of Barolo and Barbaresco.
Ascheri represents a nice mid-point for us, where we can be competitive on price and it's still a very good product. Their setup is absolutely beautiful, located in Bra, which is a town outside the area of Barolo. The family is now in its fifth generation, and even 100 years ago they were producing and selling wine. Their major market was in Turin so they established the cellar in Bra, where it was easier to access Turin. The business is also very well known for its hospitality. In the past few years, Matteo has built a luxury hotel, still owned by his family with his mother in charge, and a restaurant where his sister is in charge. It's a family affair, even though it's a bigger operation.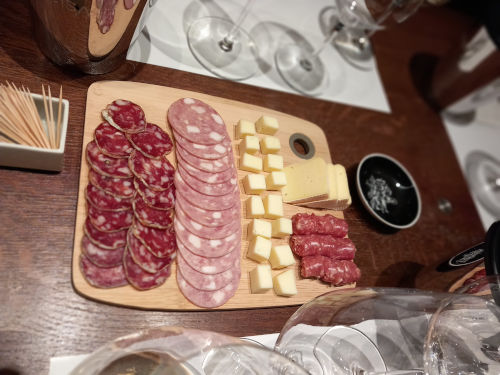 Unfortunately we had to head to the airport so we couldn't dine there, but because Matteo loves to eat and feed, they provided us with a few snacks along with our tasting.
For me, the best thing about the entire trip to Piedmont was seeing the emotions of the people who were visiting these places for the first time. They've probably heard me talking about these producers all the time, but they've never had a chance to come here before. I felt very proud of the experience, and I was lucky that I had good people with me!
John Graves – Wine Development Director
You come out of the mountains and into Bra, which is an old-school trading post. It's a gritty, salt of the earth, workaday kind of place, but you turn round a corner and you're in this old-school winery. It's fascinating.
Ascheri is a massive family. Matteo is the president of the consortium and right in the middle of all this tradition, but he's also trying to move the region and the category forward. I've never known anyone who explained things so well – he talked us through the wines and history of the company and the region, and after an hour with him you felt you knew everything you needed to know about Barolo.
In terms of Ascheri's wines, there's a lightness of touch there – there's a desire to move the wine on while retaining the traditional style. If you look at the Gavi, for instance, it's like old-school Gavi, when I first tried Gavi 15 or 20 years ago, with the traditional elements of slight nuttiness and depth and a slightly ephemeral note. But it's also modernised – fresh and clean. It was great. The Dolcetto was also gorgeous and light. Older, more traditional grape varieties are dying out because everybody wants Nebbiolo now, but Matteo has a real desire to keep them going without doing anything too daft with them – keeping the Dolcetto lovely, accessible and inexpensive. He embraces that. In our market, his Dolcetto could easily be put on by the glass in nice gastropubs and restaurants.
Of everyone we met on the trip, Matteo made the biggest impression on me, but the generosity of spirit from everyone we met was remarkable. The wine was generous too; it's for drinking with food, for sitting down to dinner with people. That generosity definitely comes across.
James Scrimgeour – Territory Manager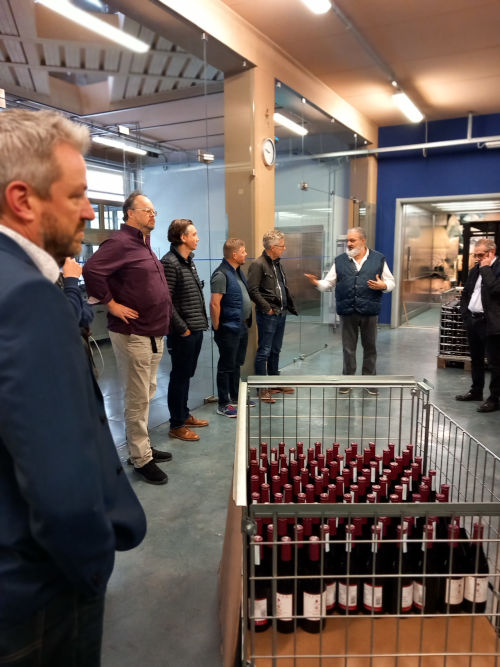 At Ascheri, the cellars were amazing. You walk into this unassuming building and go downstairs, and these cellars just keep going on forever. Despite the fact that it was a quick visit, when we were with Matteo it never felt like we were in a hurry. We tried about 10 wines with him, and also a beer – a member of his family makes a beer from Nebbiolo grape must, which after tasting several Barolos really lifted the palate. It was a great trip, and the welcome we received from everyone was so lovely.
Tom Diment – Sales Operation Manager
Obviously, we've been on quite a few winery tours, and there's a lot of stuff that can be fairly similar for winery to winery. But I think Matteo was just brilliant at articulating how the winemaking process works and what's so special about the region. I'd never had someone explain everything that clearly, interestingly and engagingly before.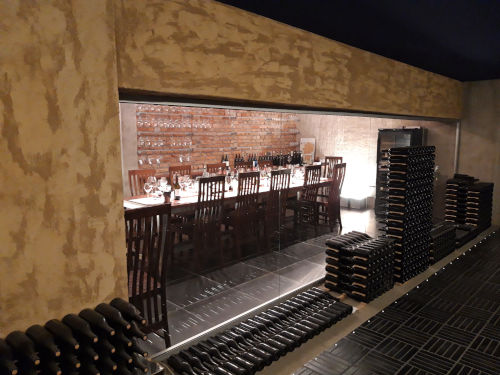 Ascheri also has a phenomenal tasting room. At the end of the winery tour we went through the cellars, and there's suddenly this room that looks a bit like a Bond villain's lair buried in its depths. There was a long table with the wines and the food laid out, and it was just completely unexpected.
During the course of the tour, Matteo also introduced us to his mother. We saw that it's still properly a family business, although the scale is bigger than some of the other places we visited. I think sometimes there's an assumption that the bigger producers will be a bit faceless, but when you go to Ascheri and meet the people behind it, you see that it is still a genuine family business. The people involved are such amazing characters with amazing personalities.
Top 3 wines – by John Graves
| | | | |
| --- | --- | --- | --- |
| 1 | | 2021 Gavi di Gavi Christina Ascheri | How I remember Gavi when it first became a 'thing' in the UK on-trade – a distant cousin to the muck that is served in many UK pubs and restaurants. Crystal clear and beautifully poised, with hints of hazelnut and soft fruit backed up by a clean, crisp finish. Place a bagna càuda in the middle of the table and finish this wine off. |
| 2 | | 2020 Langhe Dolcetto Vigna Nirane (tasted 2021) | It's alarming to hear that Dolcetto is an endangered species, especially when it's this good. There have been attempts to create 'fine wine' examples of Dolcetto, and it's never worked. Ascheri works with the heart of this grape variety, allowing expression of fruit and a delicate lightness of touch. If only we could find Pinot Noir at this price point with the same elegance and poise – light but dark, gentle but powerful. A two-bottle wine. |
| 3 | | 2018 Barolo DOCG (also tasted 2019) | A classic Barolo, but somehow different. In the old days, the rule of thumb dictated 10 years' ageing before Barolo was drinkable. With this, Matteo has shown that Barolo can be drunk not too long after release and still be enjoyed for its dark, complex, leathery secrets. Like a detective novel in a glass, this is one for savouring every drop, but it wont exhaust you… it will leave you craving more. |
Part of our 50 Year Anniversary Focus 50 Series