Focus 50: Trip 36, Casa Valduga (Brazil)
To mark Enotria&Coe's 50th anniversary this year, we're shining a light on 50 outstanding producers who have been instrumental to our company history. As part of our celebrations, members of the E&C team took a trip to Brazil to experience the world of Focus 50 winemaker Casa Valduga first hand – here, they share their highlights.
Caitlin McCole – National Account Manager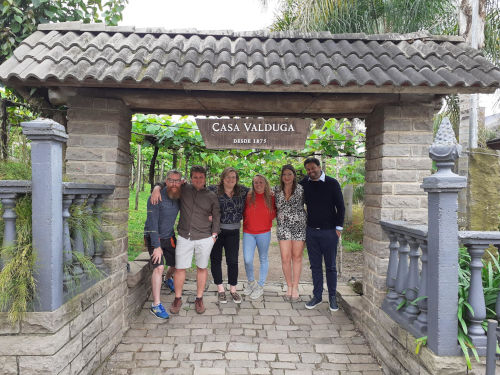 We had a bit of a dodgy start because we flew into São Paulo and were supposed to get a connecting internal flight to Porto Alegre, but we missed it and couldn't get the next one until 5pm. We decided to get a cab into São Paulo rather than just sit in the airport all day. We ended up going to the markets and had a massive sandwich, more meat than it was bread. It was incredible!
Later we caught the flight down south and drove to the estate. It was late when we arrived and met the export manager, who checked us in. We headed straight to dinner. Valduga has a restaurant on site. It's quite an Italian-influenced area that we were in, and the dinner showed that. We had a lot of pasta and got to try some of the wines.
The next day it was straight to breakfast, where they had some of the Casa Valduga sparkling wines with little cheese breads, pan de queso. It was nice to wake up and see the estate properly. Valduga is a family-run winery and I was expecting it to be small, but it's not – it's a massive estate. They're one of the biggest Brazilian wine producers, and they've added different buildings to the estate over time – a conference centre, rooms and restaurants. We met with the export manager, Andreas, and he introduced us to the site. We took a little look around, got to know the history and saw the gift shop, showroom and cellar. The cellar was huge, and it was really cool to see the scale of it. They make sparkling wines using the traditional method and have something like three million bottles, all of which they turn by hand, called riddling. These days, lots of producers use machinery to do that, so it was impressive.
We had a wander, then went through this glass-fronted cellar with a big chandelier. We sat in there and felt very fancy, and Andreas took us through all the wines. Then it was straight from the wine tasting into dinner, at the same restaurant. We had a huge seven-course meal with loads of pasta. My favourite was the mini raviolis in broth. Near the winery they've just opened an experience room, kind of a cooking school where the nonnas from the family teach.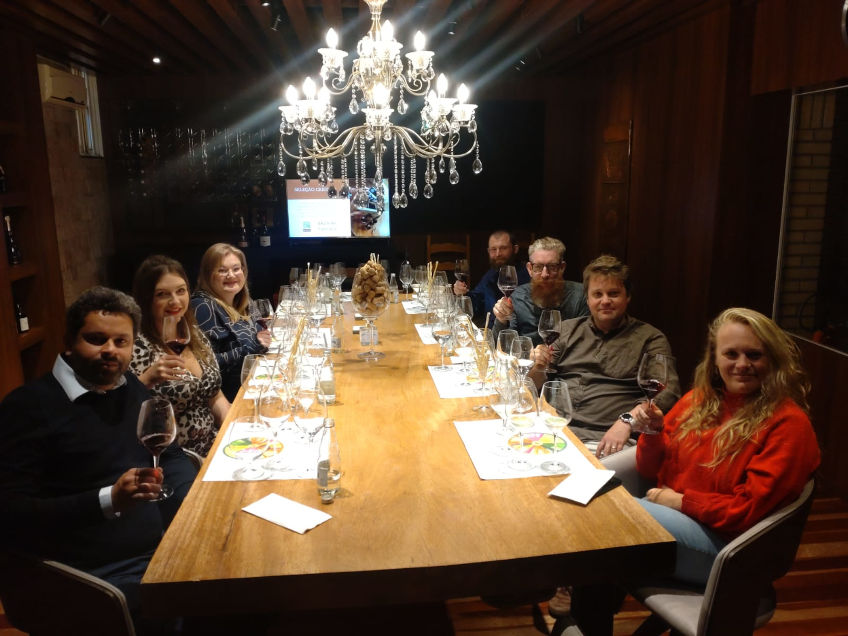 The next day we went to their sister winery, Domno, and saw a bottling plant and had another tour. They make a different range of sparkling wines, and they also have a brewery on site, so we got to try a range of different beers from the brewing company Leopoldina. Finally, we flew to Rio on Thursday. We went to dinner there and tried the local cuisines, and on Friday did a proper tour. It was exhausting, but also amazing!
Sam Cortez – Senior New Business Manager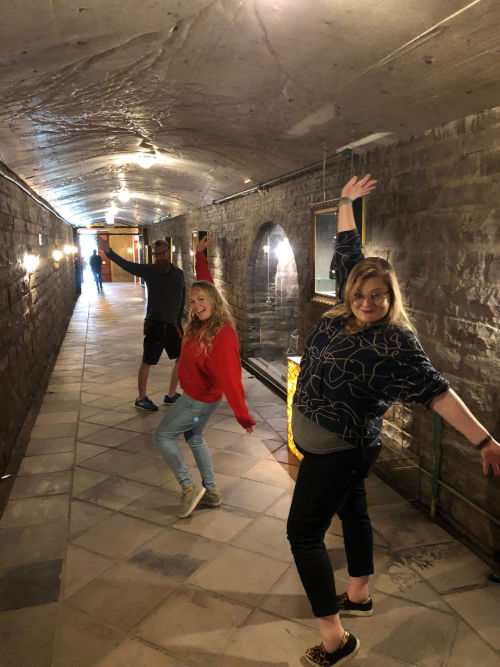 I'm from the midwest of Brazil, from a state called Mato Grosso do Sul, which is very inland, and my family lives about an hour from São Paulo city centre. We had a delay and missed our flight to South Brazil, and the next flight wasn't until later. So instead of staying at the airport, I suggested jumping in a cab and going to São Paulo for a little tour.
I took everyone to the local market, and we went out to have some food and some beers and walk around. There's this sandwich in the market there, and everytime I go, I always get one. It's huge, with fried mortadella, local cheese, bread and spicy sauce. It fed us for the whole day. We got a taxi to drive around São Paulo a bit. The whole thing took about five hours, but it was good to take everyone out and see the real Brazil. From the south to the north, Brazil is a very different country. The traffic was terrible – as always! But I think everyone enjoyed it.
The main highlight from visiting Valduga was the infrastructure in their sparkling cave where they store the bottles, all riddled by hand. It's amazing. If you went there blindly, you wouldn't know it was in Brazil. It's a huge space with lots of bottles, lots of barrels – temperature controlled, all of it. It was fantastic to see. The Valduga family are Italian descendants, so they served us loads of pasta and meat throughout the trip. For me, having lunch with seven courses of pastas and meats was heaven, and I think Jordan was in heaven as well.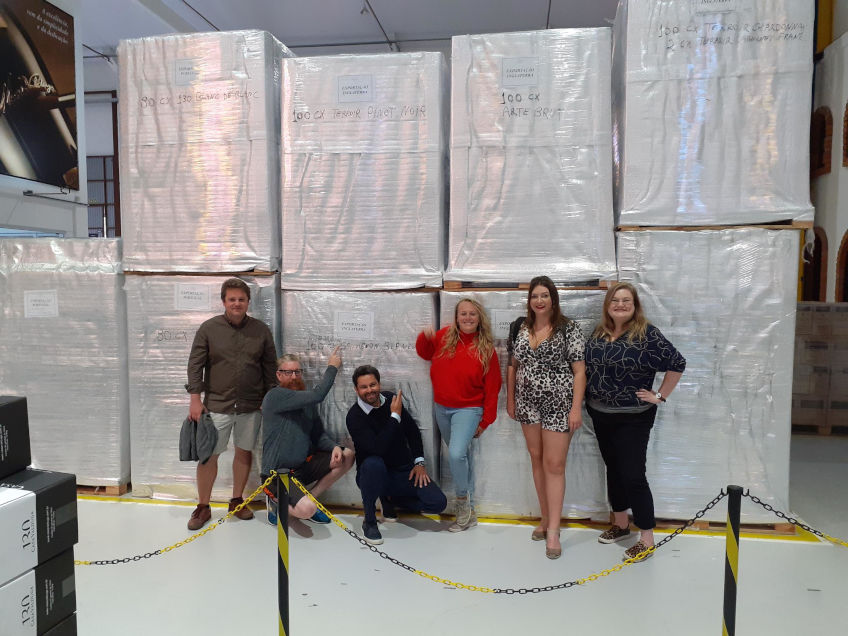 Jordan Painter – Senior National Account Manager
The pasta was the culinary highlight of the trip for me. There's a huge Italian influence in that region, and Valduga has a smart restaurant where they make their own pasta from scratch, easily as good as in Italy. The meals were really over the top, and I'm the greediest person ever. I think I was the only person to finish all seven courses! The wines worked really well with the food too. The reds have a nice acidity, which is key for tomato-based pasta dishes. And then we had a lot of creamy, cheesy pasta dishes with the Valduga Chardonnay. It was a really nice match because it's creamy and weighty for a white wine.
I didn't have any idea of the scale of Valduga's operation. They're mid-sized, producing a few million bottles a year, but the scale was really impressive. I thought it was going to be quite small, a family-run kind of place in the middle of nowhere – not very modern.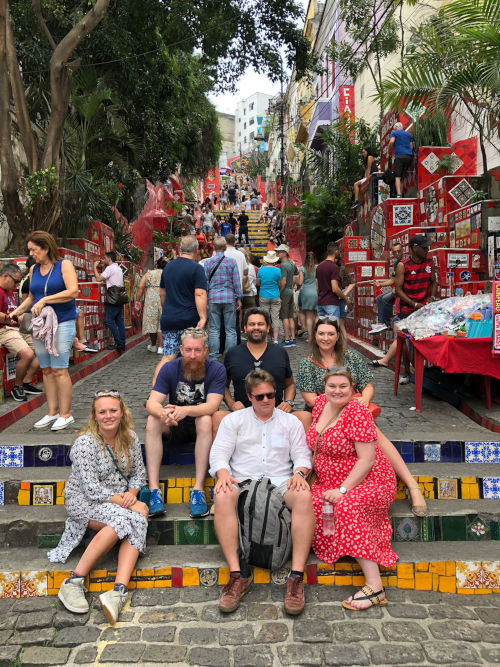 And it was the complete opposite. Yes, it's family run, but it's a gigantic family and it's ultra modern. They've got a massive hotel and huge cellars, sort of a Bond-villain style. Because Brazilian wines are so new and niche, we tend to think that all the producers are tiny, but they're not. They sell huge amounts domestically and to the rest of South America, it's just that we're a bit slow to pick up on them in the UK.
My favourite part overall was definitely Rio. It was so much fun, and I don't think I've ever seen a city like that – the way it sprawls down from the mountains and clings to the sides, it looks like something spreading out of the jungle to the sea. The vibe was like a big party the whole time. Our guide took us to Christ the Redeemer, and then we went to a national park nearby up in the mountains, just to get more views. For me, even more impressive than the statue itself were the views – they were sensational. You see the bays and all the different areas of Rio in one go. And then he took us to Old Town and we had some drinks there. And you can see the European influence on the buildings there. Despite the fact that they're not really used, the buildings are beautiful.
Leslie Somerville – Sales Director
I'm obsessed with gardening and I love plants, and I was not expecting certain plants to be in flower and to be so opulent. When we went to São Paulo, there was agapanthus everywhere, all along the motorway in full bloom. It was really beautiful, seeing all these flowers amid the dirt and grime of the motorway in this major city in Brazil.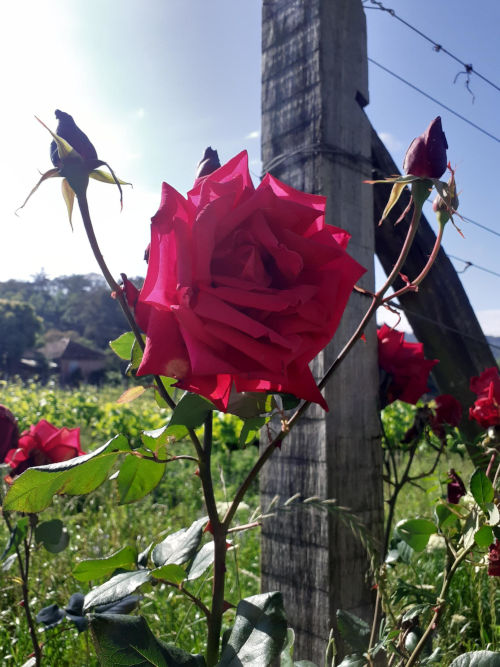 And then when we flew down to the Valduga estate and had our first proper view of it, there were plants everywhere. There were so many roses especially – roses are used a lot in wineries, because they attract disease before the vines. So they're not only beautiful, they also serve a purpose. And it was all quite designed, it wasn't just all wild. They put a lot of effort into making it look beautiful.
The actual scale of their operation was much bigger than I'd expected. You could see the amount of care and attention that goes into their production, which I don't think actually necessarily translates into the general public's understanding of wines from Brazil, especially sparkling wines. A lot of the wines are basically fermented and bottled in the classic Champagne style, which is a lot more expensive and takes a lot more effort. It was interesting that they've gone to that level, because you'll almost never get the return on your investment, but I think it shows how much they care about tradition.
Obviously, they speak Portuguese, and there's a huge Portuguese influence. But there was a really big Italian influence too. That came through in a lot of the food that we had. There was a huge focus on traditional styles of pasta. That was really impressive – they weren't trying to hide from their origins, which I thought was beautiful. They were very well aware that their country is made up of lots of different cultures.
Coralie Strong – Sales Account Manager
We had an unexpected visit to São Paulo market and had the world's greatest sandwich, which was the size of a small child. There was so much meat in it, it was basically the equivalent of one cow per sandwich. The atmosphere of São Paulo was really special, and it was great to explore and see all of the wines, spices and cheeses.
The Valduga estate itself was a beautiful setting, with a nice hotel surrounded by vines. A big highlight was going into the cellars and seeing that this team of six hand-riddle every single bottle of sparkling wine made at the winery. We watched one of the team riddle a whole rack in under a minute, which was so cool. The culinary highlight of the trip was at the winery, too – we had a seven-course pasta lunch that will go down in history as the largest lunch anybody's ever consumed! Watching Jordan eat it all was a pretty big highlight as well.
Going to Rio and seeing Christ the Redeemer was fantastic. We went for a really lovely dinner on Copacabana Beach, and there was so much entertainment and so many street activities everywhere. Seeing somebody jump over Charlotte with Jordan and Les holding up a big flag was pretty special – the atmosphere was amazing.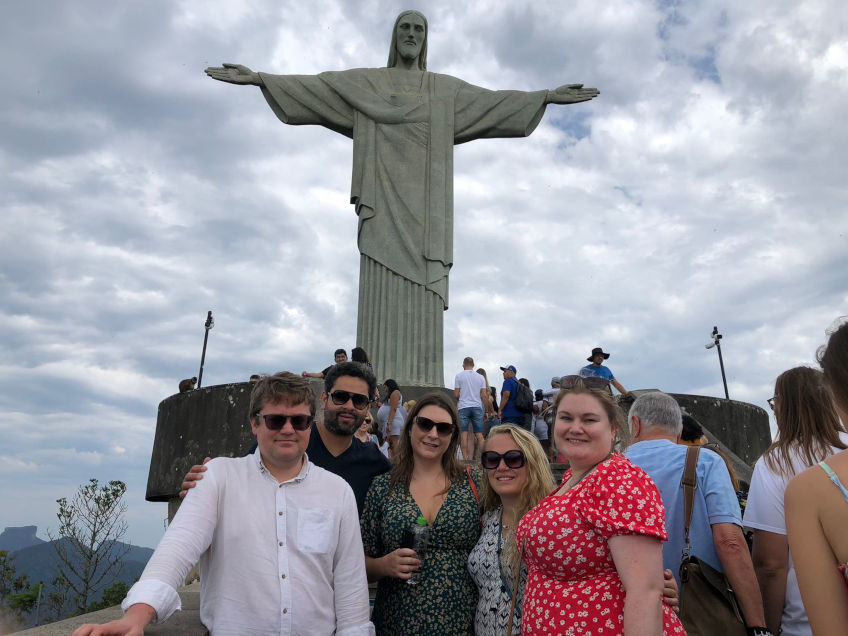 Top 3 wines – by Caitlin McCole
| | | | |
| --- | --- | --- | --- |
| 1 | | Chardonnay 2021 | Chardonnay is known as the international grape, and this wine shows that Casa Valduga can make delicious Brazilian Chardonnay. The palate is rich with hazelnut and honey notes, lifted by a fresh acidity and flavours of pineapple and green apple. As Les Somerville described, it is 'like granola in a glass'. |
| 2 | | Terroir Series Merlot 2018 | A fantastic example of a rich and bold South American Merlot. A big, meaty wine with a slight herbaceous edge coming through, along with leafy vegetal notes. A perfect match for the famous Brazilian churrasco. |
| 3 | | Identidade 2018 | A great name for a great wine, capturing the identity of the region and of Brazilian winemaking. Made from a blend of three grapes: Marselan, Merlot and the lesser-known Arinarnoa varietal. Both the nose and palate are very complex with notes of cacao, tea leaf, red fruits and cranberries, leading to a lingering floral finish. |
Part of our 50 Year Anniversary Focus 50 Series