Focus 50: Trip 2, Thelema (South Africa)
In 1983, accountant Gyles Webb abandoned his career as an accountant to buy the Thelema estate in Stellenbosch. The original title deed for the estate, dating back to 1897, shows the name Thelema which is an homage to the Renaissance novel by François Rabelais. The Thelemites in this eponymous novel live by a single rule: "Do what you will." The point of the story felt particularly poignant to Gyles: people who are free to make their own choices will self-moderate and behave with honesty and integrity.
Thelema became a thoroughly family business: Gyles bought the estate with the support of his in-laws, and his own mother was responsible for local deliveries in the first couple of years. Now Gyles' son, Thomas Webb, is at the helm but Gyles is still a regular in and around the vineyards and cellar. Gyles still keeps his private collection of 1,000 wines at Thelema, and whenever he drops in to collect a bottle or two, he teases his son saying, "One day, Tom, you won't own any of these."
Under Tom, Thelema has become a champion of nurturing local talent and raising awareness of environmentally conscious viticulture. They are involved in the Pebbles Project, providing support to disadvantaged children in the local community, and defy local norms by paying their workers significantly above the average wage. Through their thoughtful and gentle vineyard management, they have encouraged impressive levels of biodiversity; recently, owl chicks, baby hawks, mountain leopards, antelopes, porcupine and mongoose have all been spotted in and around the 45 hectares of vineyards.
Paul Milne - Territory Manager, South Team
"It's not all wine here, yesterday we drove golf balls off the Simonsberg Mountain whilst drinking a glass of Thelema Methode Cap Classique! Never makes it out of South Africa so a real treat but perhaps not quite as impressive as the different vintages of Chardonnay and Cabernet that Tom laid out for us! Just so I don't forget, 2011 Chard & 2001 Cab were the picks…"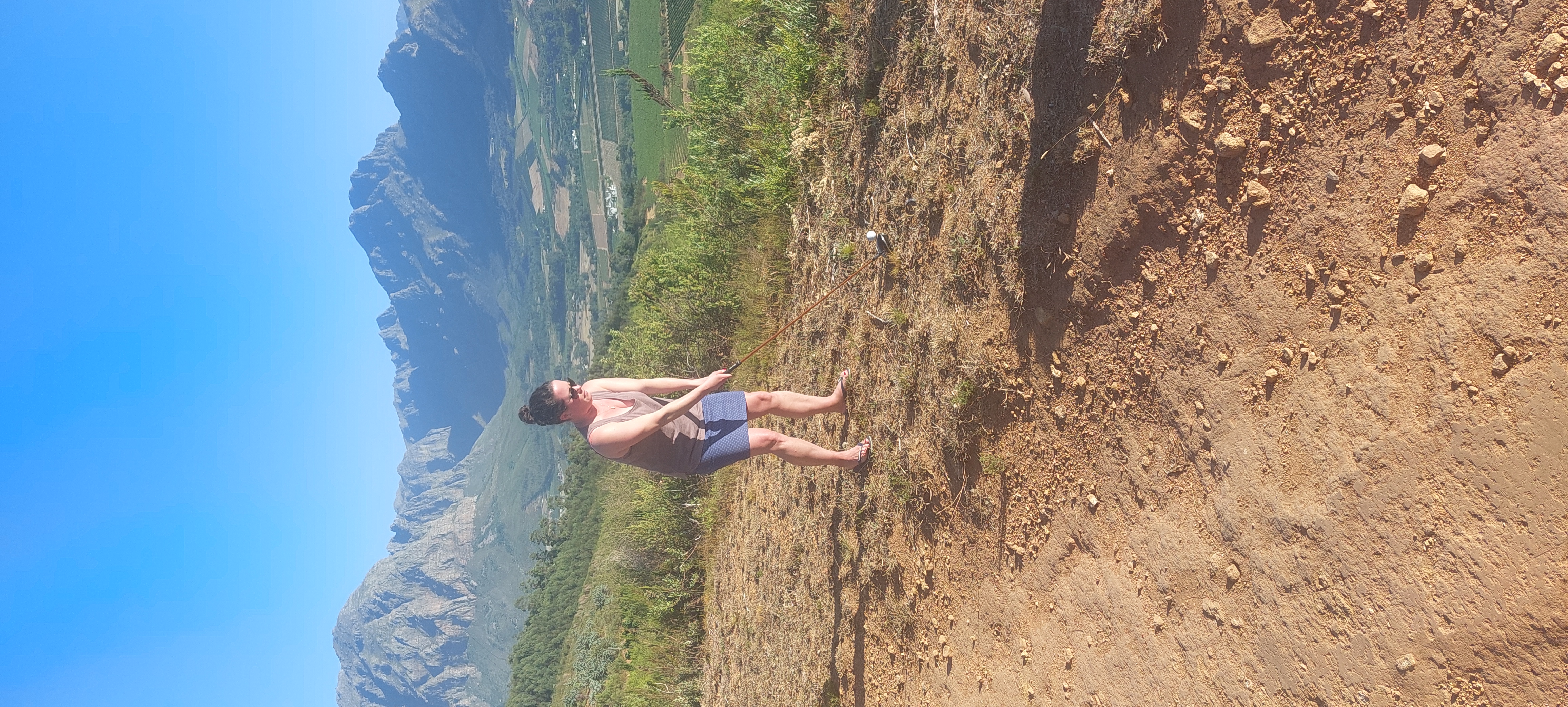 "As if the stunning scenery and tasting wasn't enough, we went back to Thelema today to have lunch at the family home where we met Elaine and the girls. We had some delicious salmon washed down with a glass of the Mountain White. Personally, I can't wait until we get the first shipment of this in – hands down one of the best wines of the trip!"
Kev Rooney - New Business Manager, Central Team
This was my first trip to South Africa and from the welcome we received, you would be forgiven for thinking we were the first group to visit! Thomas Webb and the team at Thelema were no exception: friendly, down to earth and excited to show off what they are all about: precision viticulture and knockout wines. I've known Thomas a good few years from tastings and days in trade in the UK, but there is nothing like seeing someone in their own habitat. As we rolled up to the shiny gates of Thelema Mountain Vineyard, an oasis of terroir, it was hard to believe we were just 10 minutes outside of Stellenbosch town. Simonsberg Mountain dominates the skyline with a viticulturalist's playground at its feet.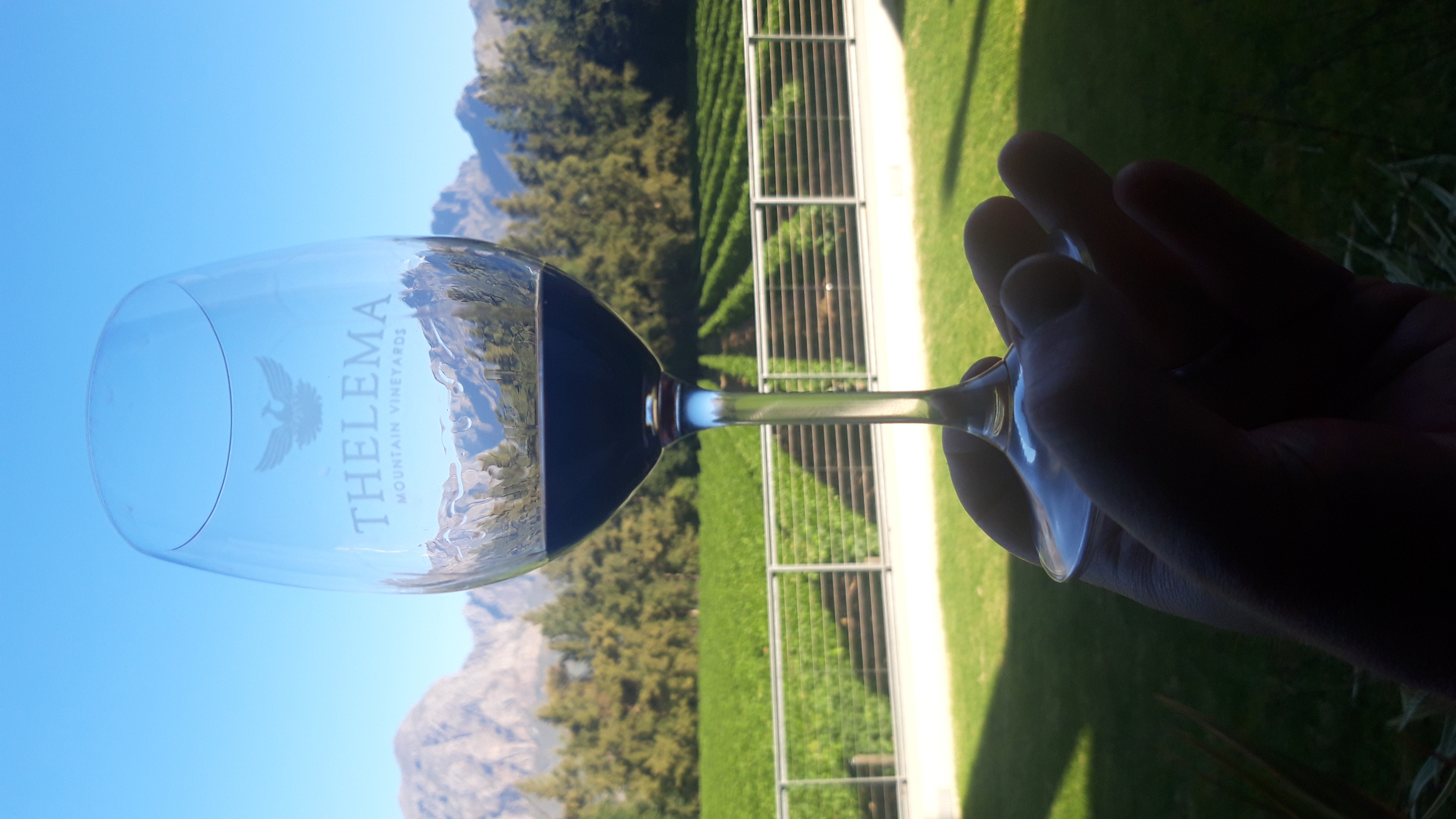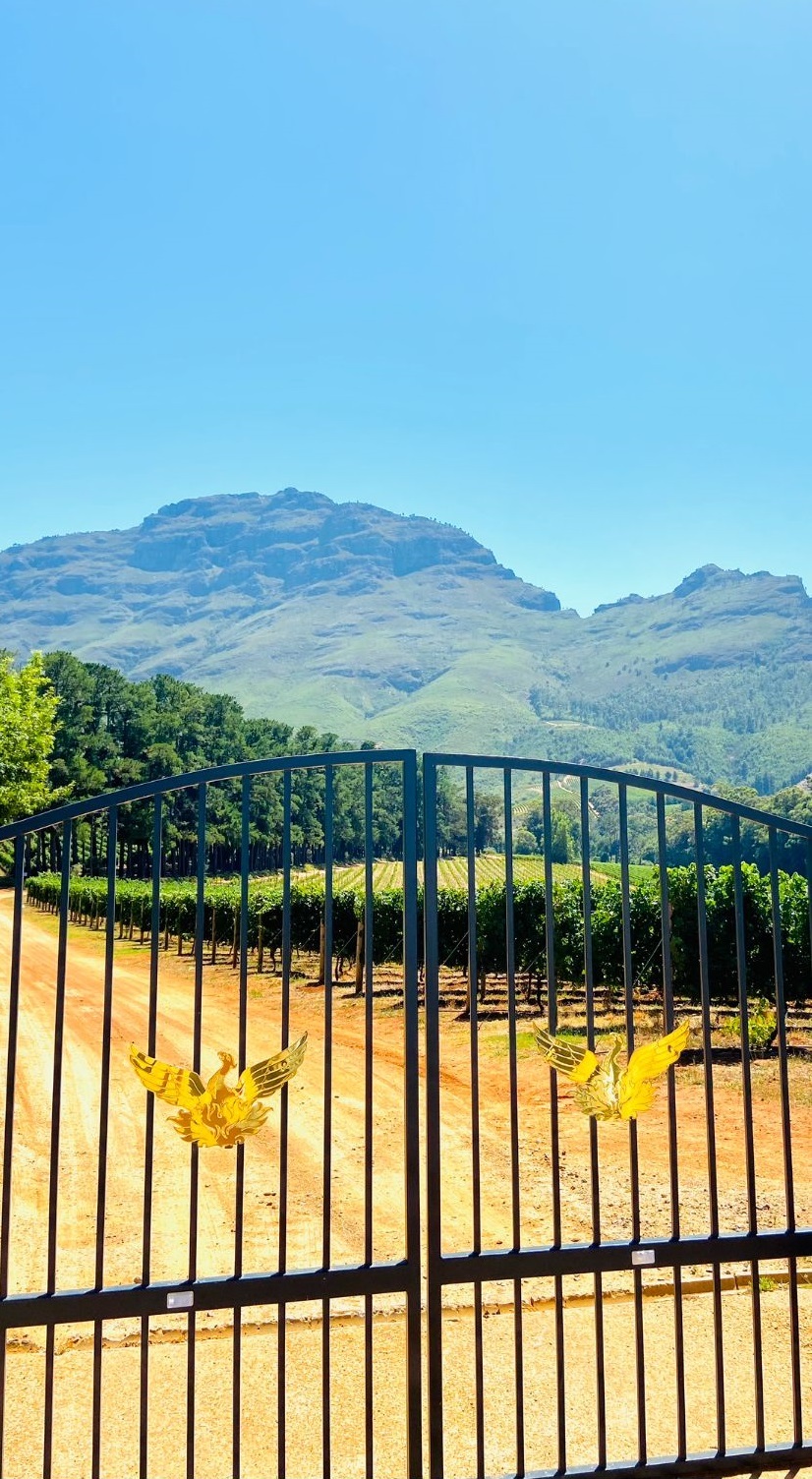 Our lucky group of Enotrians was treated to a vertical tasting of both flagship wines: first Thelema Chardonnay and then Cabernet Sauvignon, with vintages stretching back to the mid-90's, a rarity in South Africa. We all picked out our favourites but agreed that consistency and quality was the calling card, making for well-deserved reputation. To top things off we headed up to the highest point of the vineyard in a 4x4 and with the sun on its way down drove (in my case sliced) some golf balls over the vines. A good day in the office for sure.
Christine Rethman - Territory Manager, Central Team
Well, it's not every day you get to visit paradise, but Thelema nestled in the Heidelberg Mountains is as close as it gets.A warm welcome from Thomas, Duncan and the ever-enthusiastic Diaan instantly made us feel at home.
A tour of the cellars instantly put us in the mood to taste the wines that frequented the barrels we had just passed. As we come back up into the tasting rooms we were greeted with a vista that seems so huge you could almost be forgiven for thinking this is its own continent As you look out you wonder where it begins and ends as eagles sore majestically above.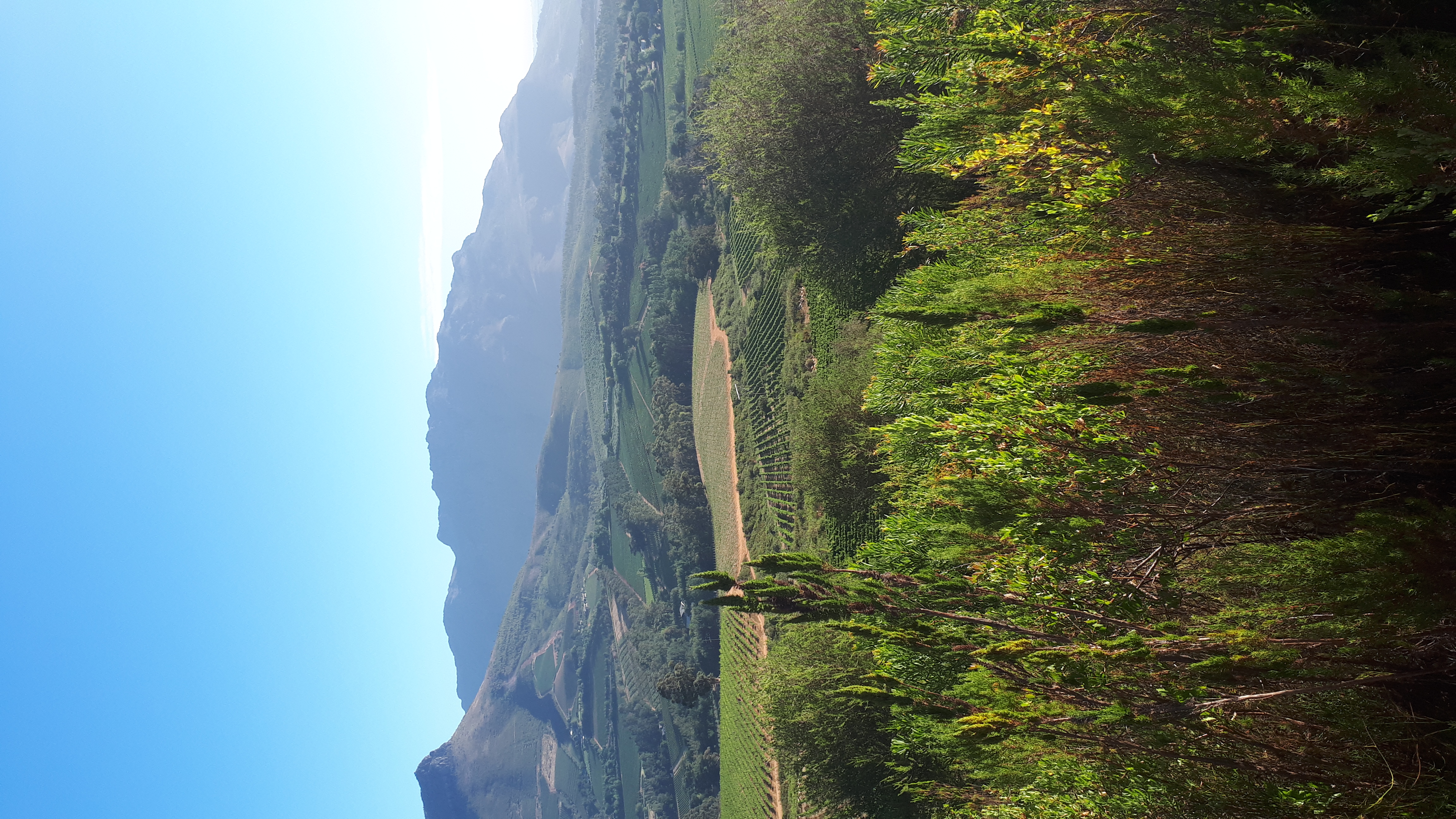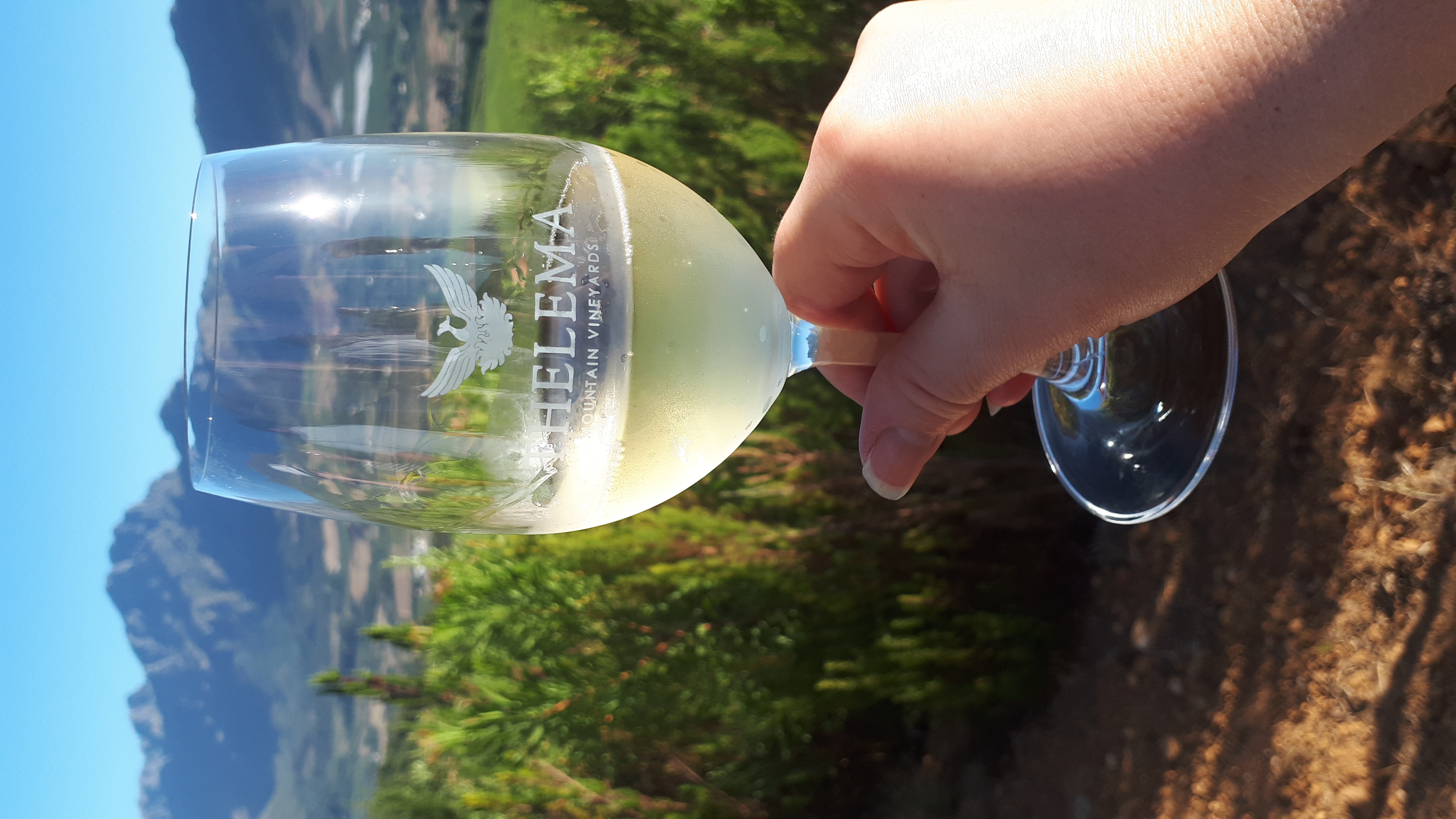 Once sat in the tasting room we immediately realised that the treat was yet to begin as we saw the list of older vintages we were about to relish. Definitely no spitting for me today, it would not only be rude, but I would never be able to forgive myself. So, we are all sat around the table, Thomas gives us a brief history of how Thelema began (huge kudos to Thomas' maternal grandparents for having the belief in Giles to fund Thelema).
So, here I am, straining at the bit, waiting to taste these amazing wines. To whet our appetite, we started off with the newly relabelled Mountain Red and White, which eased us into the tasting seamlessly. Then it was hard to contain my excitement as the 2018, 2013 and 2011 Thelema Chardonnays were poured. Being a huge Chardonnay fan, it was extraordinary to see how these amazing wines had developed in the bottle. The 2011 vintage was insanely rich and if the bottle had been left anywhere near me I would have gladly enjoyed a glass with the setting sun. But the tasting had one further level to excite, as we were treated to a masterclass of Thelema Cabernets: 2007, 2003, 1999 and 1994 (one year younger than my daughter). As each Cabernet was poured and tasted my enthusiasm for the 1994 was growing and growing. As the 1994 was brought out for tasting I could taste the anticipation on my tongue, it was hard to sit there and listen, look, nose, when all I really wanted to do was taste. When I finally tasted the 1994 it did not disappoint. In fact, it was better than I had hoped; fruit still there, structure intact, flavour bound. All I needed was a quiet place to rest with my new friend, to enjoy his company.
The team's top 3 drinks
| | | | |
| --- | --- | --- | --- |
| 1 | | Chardonnay 2011 | Green fruit wrapped in toasty oak that goes on forever |
| 2 | | Cabernet Sauvignon 2001 | Punchy body and assertive tannins |
| 3 | | Mountain White 2021 | All the freshness you want from Sauvignon with rich, creamy layers thanks to a lick of Viognier |