Focus 50: Trip 22, Castarède (France)
To mark Enotria&Coe's 50th anniversary this year, we're shining a light on 50 outstanding producers who have been instrumental to our company history. As part of our celebrations, members of the E&C team took a trip to Armagnac to experience the world of Focus 50 producer Castarède first hand – here, Charlie Carter, Training Manager, and Laura Bennett, Territory Manager, share their highlights.
Charlie: Where to start? After running from estate to estate in Bordeaux, driving through the unspoilt countryside of Armagnac, seeing a doe with her foal crossing the road in front of us and taking in our first views of Château de Maniban of Castarède, it was impossible not to feel mellow and relaxed.
Florence Castarède greeted us at the door, and immediately sat us down around the table with an array of traditional Gascogne dishes for a refreshing lunch. We were then treated to a beer in her spacious lounge to hear more of the history of the estate.
Castarède is the most historic producer in Armagnac, established in 1832. They have Armagnacs dating back as far as 1893. Florence is the sixth generation of the family to produce this elixir. The 16th-century château offers the perfect setting for such a storied estate, where we are surrounded by vineyards, rolling countryside and barrels of Armagnac.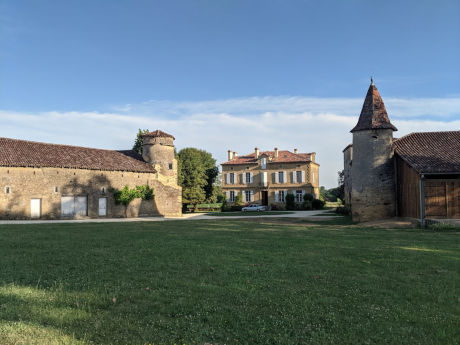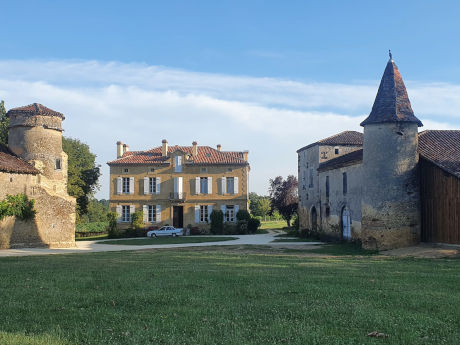 Laura: Next we were given a tour of the estate, visiting a beautiful tasting room where we learned the 1900 Armagnac was featured in a 1998 press article – it was part of a dinner between three gentlemen, with a bill that totalled 122,800 French francs! We also got a glimpse of history by looking at Florence's grandfather's handwritten order book, with the most beautiful calligraphy handwriting, and we saw the half bottles created for the G8 Earth Summit leaders in 2003. Each leader received a bottle from their birth year.
Charlie: Florence has four varieties planted: Ugni Blanc and Colombard, as well as a small plot of Folle Blanche and Baco. Everything is done naturally with as little intervention as possible. Once the wine is made, it is then distilled in an alembic still, much smaller than those found in Cognac. Only one distillation is used, keeping more of the character of the grapes.
She discussed the numerous ways in which Armagnac can be enjoyed: in cocktails, alongside a good cigar, in cooking, or as an accompaniment for dishes such as foie gras and desserts.
Dinner was more traditional Gascogne food. In front of us were trays of rare duck breast with green beans and potatoes marinated in Armagnac. It was delicious! Florence then demonstrated how Armagnac works well in cocktails by rustling up a simple Armagnac & Tonic. It worked so well – I'll be waving goodbye to gin after this revelation.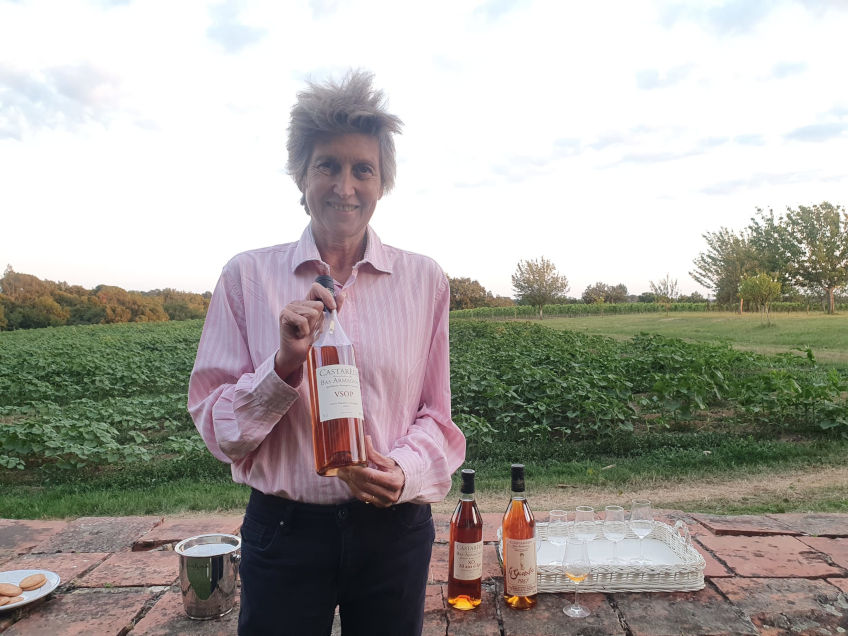 We then took part in a vertical tasting, starting with the VS, the fruitiest, followed by the VSOP and XO. The flavour profiles grew more developed with age – more dried fruit, smokiness, earthy nuance, smoother and softer alcohol. Florence matures these classifications a lot longer than the legal minimum. Her VS sees two to three years maturing in cask, as opposed to the minimum of one year. Her VSOP ages for six to eight years, rather than the four-year minimum. Her XO gets a minimum of 20 years, rather than the 10-year minimum. Quality and balance are the driving factors behind this, and it makes each spirit unique. The Castarède signature is unmistakable.
Laura: The evening involved some wonderful scenery and we were lucky enough to try Armagnacs from each of our birth years.
Charlie: What a special moment that was, getting to taste through older vintages and experience how this incredible drink evolves over years of maturation. We were then treated to a taste of the 1972 vintage, pulled out to celebrate Enotria's 50th anniversary. Just when we thought that couldn't be surpassed, Florence whipped out a 1924! Our minds were sufficiently blown. There we were, surrounded by the unspoilt beauty of Gascogne in a 16th-century château, drinking a spirit that was almost 100 years old. Life doesn't get much better than that.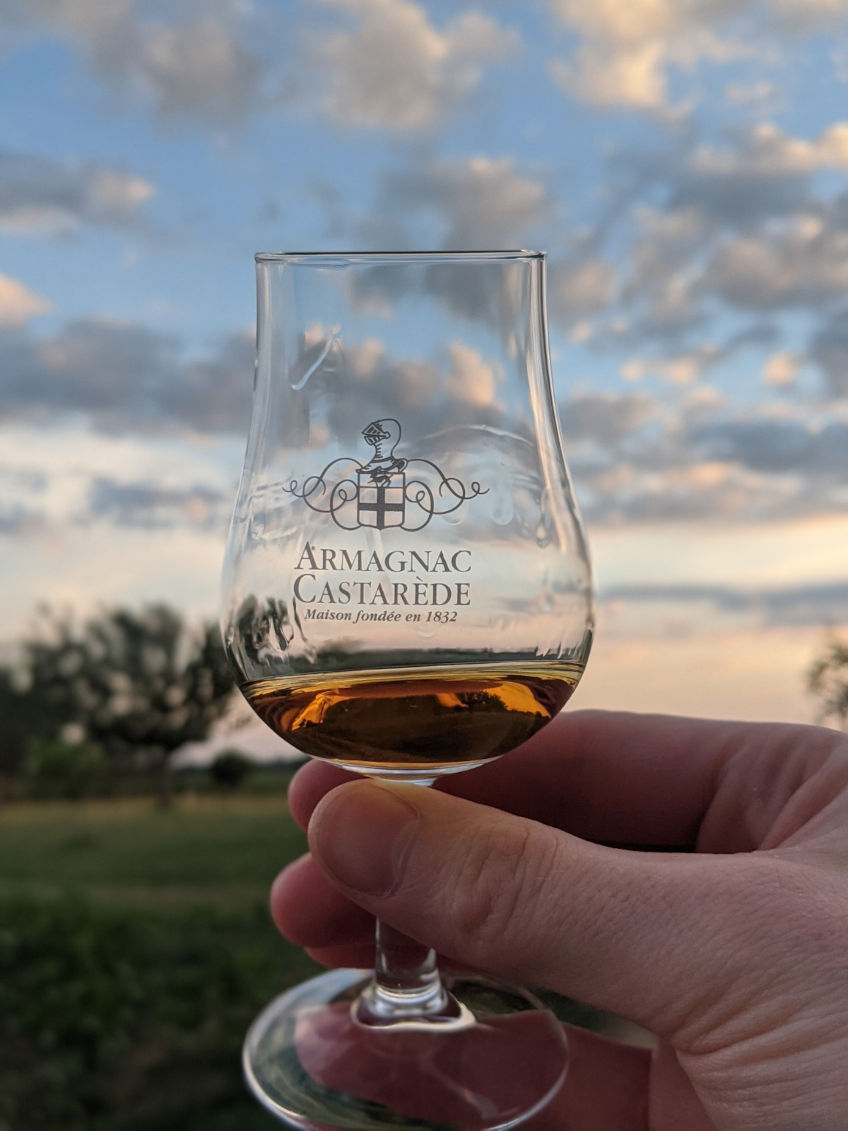 The team's top 3 drinks
| | | | |
| --- | --- | --- | --- |
| 1 | | Castarède XO | Smooth and rounded, with well-integrated alcohol, candied fruits, vanilla bean, butter and smoky inflections. |
| 2 | | Castarède 1972 | Light and really aromatic, with dried flowers and dried fruit. Earthy and musky, with a long finish. |
| 3 | | Castarède 1924 | Elegant. Alcohol is almost unnoticeable on the palate, with burnt sugar, toffee apple, toasted nuts, almonds, vanilla and butter leading to the longest, most complex finish. |
Part of our 50 Year Anniversary Focus 50 Series