Focus 50: Trip 8, Anselmi (Italy)
Business Development Manager, Gergely Szabo, reports back from our recent trip to visit legendary producer Anselmi, in the Veneto region of Italy.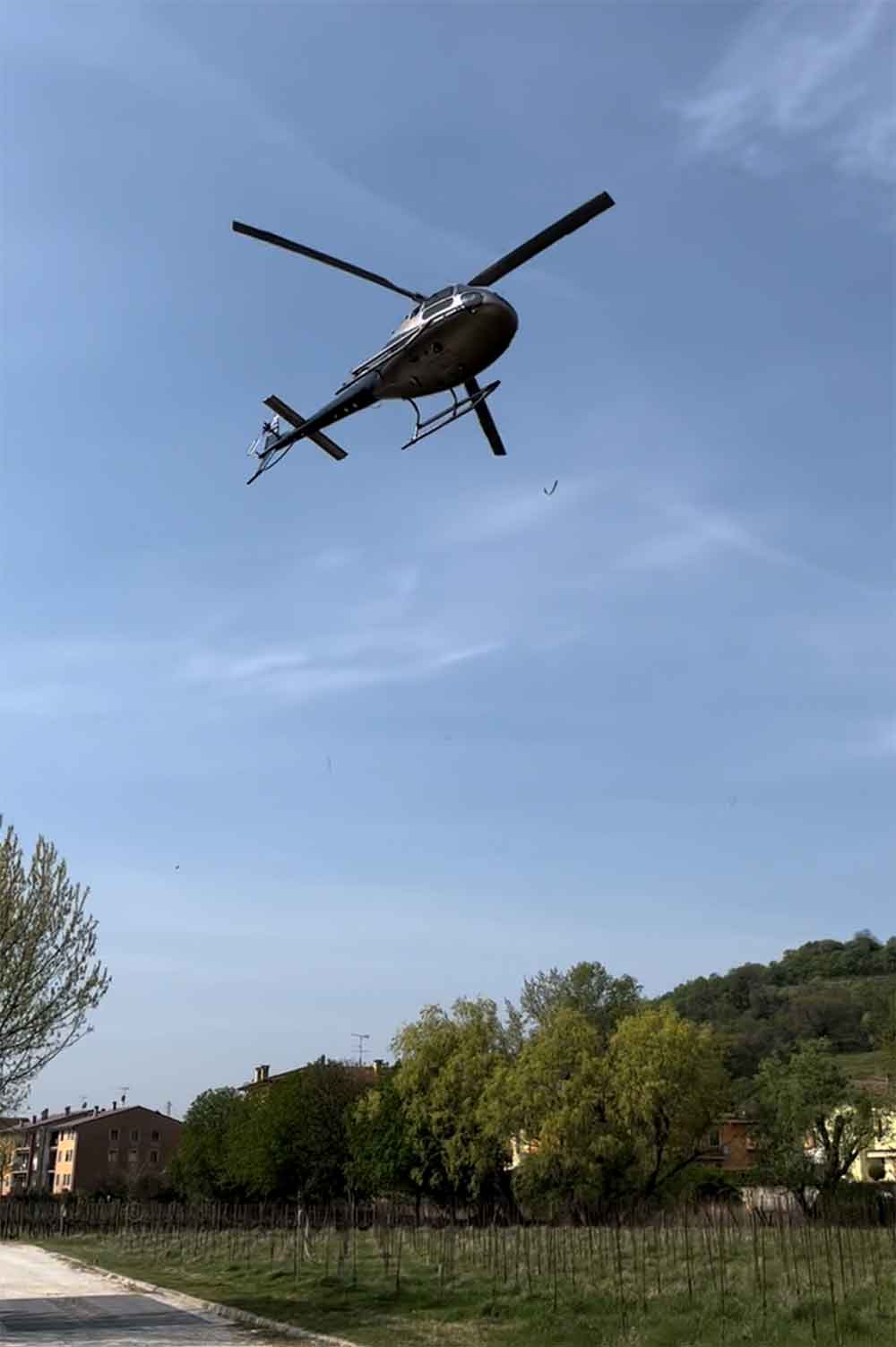 Watching a chopper taking off is a pretty impressive welcome on a winery visit. That was the sight that greeted us when we arrived at Anselmi, in the volcanic foothills of Soave. Otherwise, it was just what you might imagine from an average-sized Italian village: gardens, balconies, olive trees, vineyards, chopper... Roberto Anselmi waved to us from the pilot's seat as his helicopter rose above the vines. He is quite literally king of the hill in Soave, although by a quirk of history, he does not rule over the DOC.
Roberto Anselmi made history twice. The first time, he completely reinvented Soave wines by following refined winemaking methods, and the second time he abandoned the appellation entirely. Roberto gave the metaphorical finger to the less quality-oriented local DOC, abandoned the appellation and went his own way, staying true to his strict ideas about quality. As a parting gesture, he and a handful of fellow quality-obsessed producers organised a mock funeral procession, complete with a coffin filled with Soave wines. Bringing the streets of the old town to a standstill, they made the statement that commitment to quality had "died" in the DOC.
While Roberto flew out to check on his famously densely planted Garganega plots, we entered the winery. Up until the 1970's, Anselmi bought grapes from local growers because Roberto's grandfather had been forced to sell his vineyards to stave off financial hardship. But when Roberto graduated from university and started working at the winery, everything changed. He insisted on anaerobic winemaking, which was still unheard of in the area. After a lot of quarrelling, he managed to convince his family that this would be the future, and time has shown him to be right. Roberto managed to buy back the family lands, and now they are growing their own grapes across some of the best 70 hectares in the region.
Roberto, now working with his son Tommaso, runs a strictly quality-focussed viticulture programme with 6,000 to 7000 vines per hectare, as opposed to the local standard of 1,200-1,500. The vines are forced to compete for resources, yielding higher quality albeit much less fruit. The output is roughly one bottle of wine per vine, as opposed to the mass production permitted by the local DOC.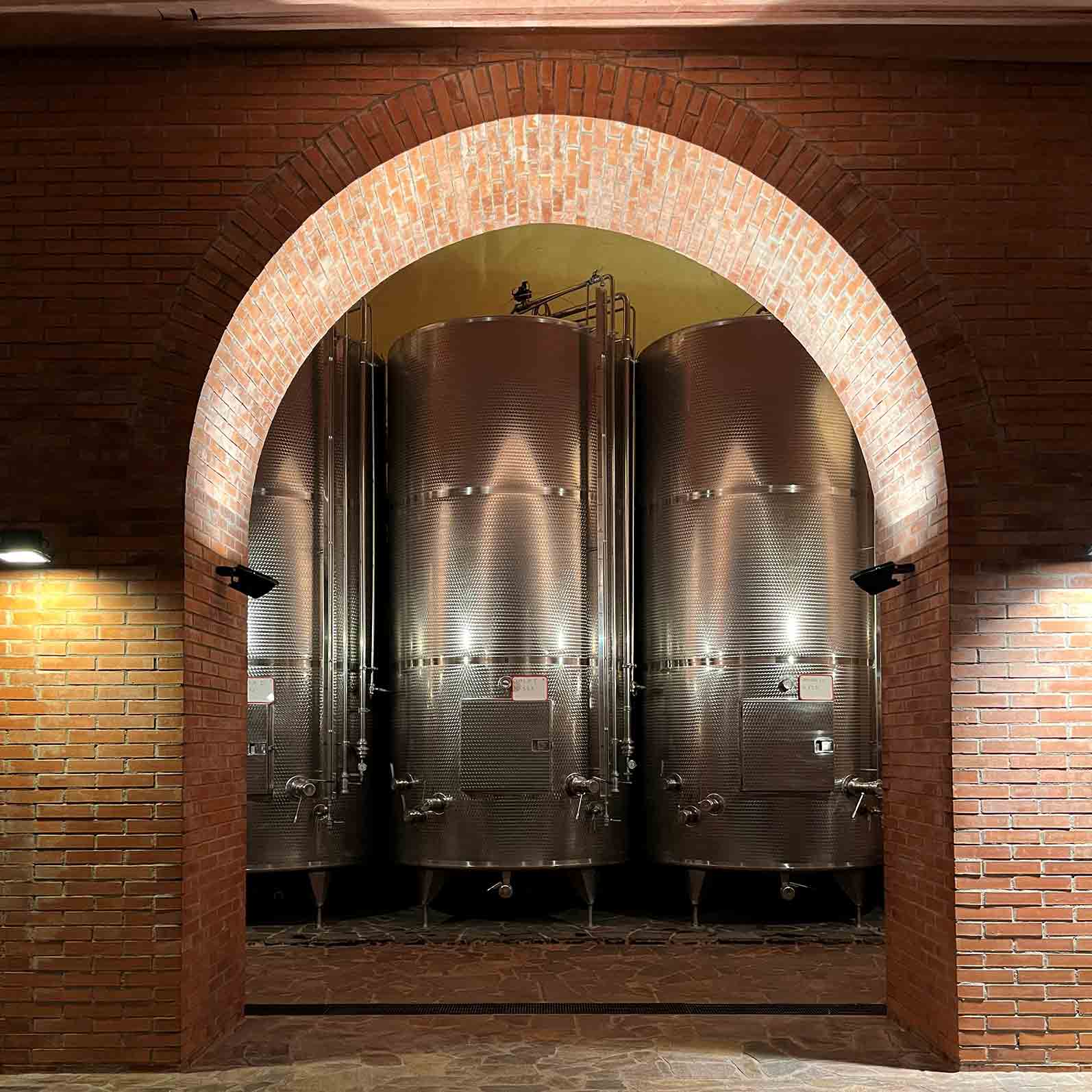 The winery is massive and very spacious, built of exposed stone, and - as you might expect - full of airtight steel tanks. The winemaking process is all about preserving the fruitiness of the local Garganega grape. They use nitrogen from the moment the carefully selected bunches are picked, all the way until the bottles are closed. Oxygen would destroy the refined stone fruit and tropical aromas so characteristic of these wines.
As my eyes adjusted to the dimly-lit interior, I noticed how immaculately clean everything is. Wineries (I mean, good ones) need to be kept clean to ensure quality, but this is on a whole different level. Instead of the usual slightly wet epoxy resin, the floor at Anselmi is made from flagstones, not exactly the easiest surface to keep clean. Maybe someone spends entire days on their hands and knees cleaning each crack between the tiles with a toothbrush.
Following our walk-through spacious halls of tanks and a massive barrel room, we got to an industrial looking elevator, that looked like something you'd use to carry pallets filled with crates between warehouse floors, or even like one you'd take to get to the coolest underground rave in Hackney Wick. But wait: this elevator has a soft Persian rug in it, not exactly typical for a working warehouse... Something is telling me that we're in for a surprise.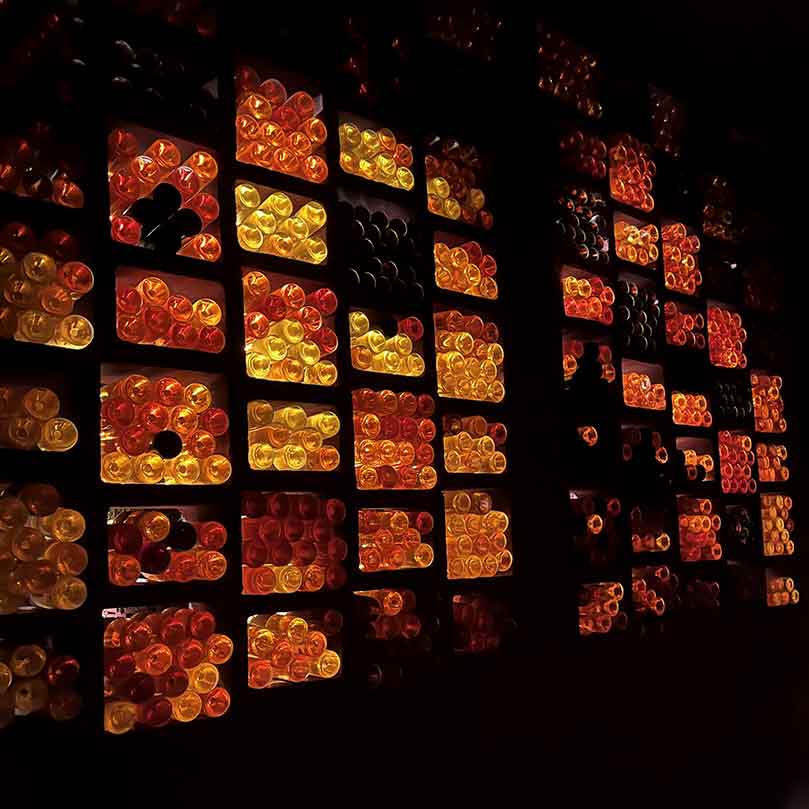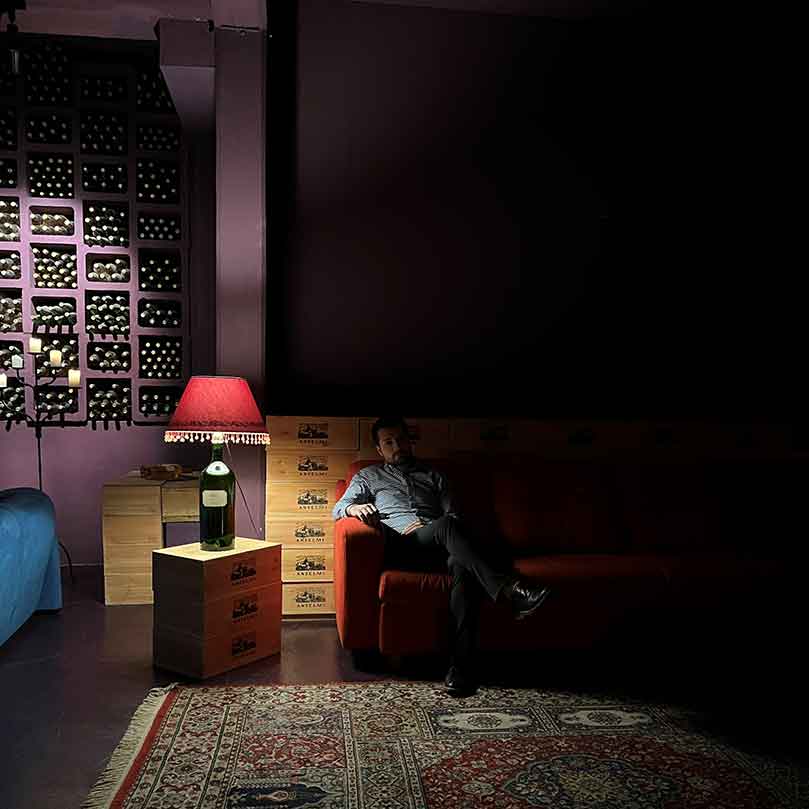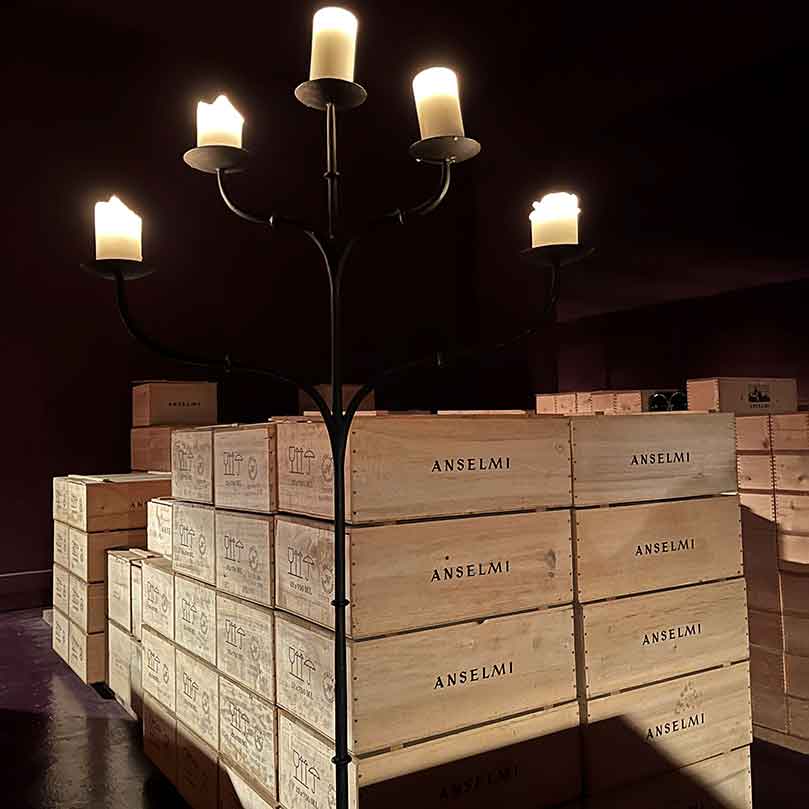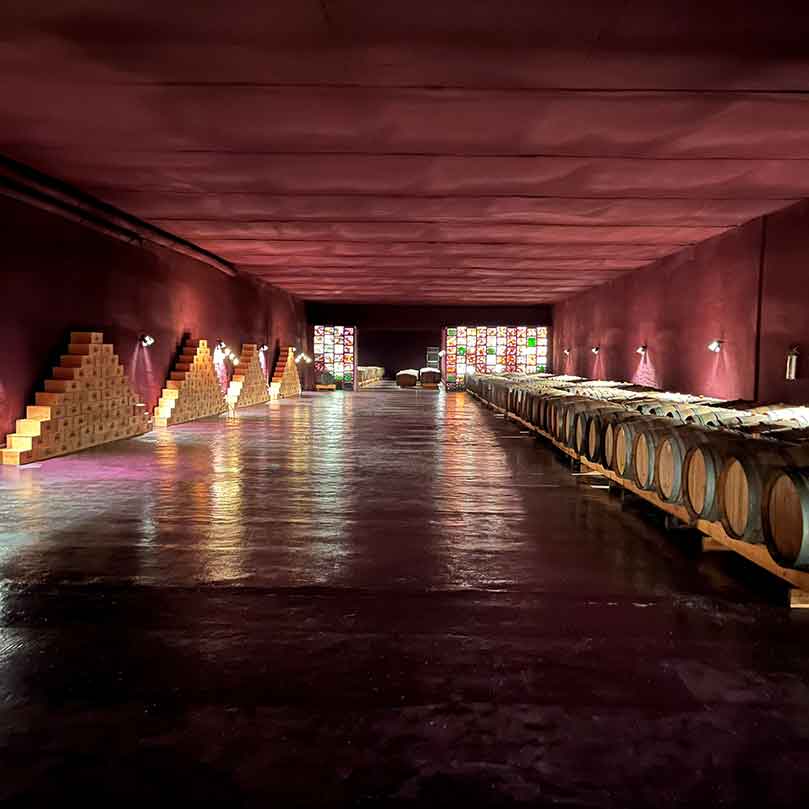 Arriving on the top floor, a wall of glowing amber glass bottle bottoms greets us in the pitch dark. Lit solely by candles, the piled-up bottles of different vintages look like the precious stones of pine resin solidified millions of years ago. The massive room is filled with barrels, and cases of Anselmi's best vintages. This is the treasure chamber. The floor is covered with soft Persian carpets and a soft silence pervades the gloom. You can almost feel the tranquillity of the maturing wine. I know that wineries on this level, especially in image-conscious Italy, are built to impress, but this is a whole new level. Think of Johnny Depp's wildest dreams of the perfect opium den. You'd want to stay here long, especially if you had a corkscrew...
The team's top 3 wines
| | | | |
| --- | --- | --- | --- |
| 1 | | San Vincenzo 2021 | Strong stone fruit with a touch of minerality. Fruity with great length. |
| 2 | | Capitel Foscarino 2021 | Rounder and smoother with apricot and a touch of floral perfume. Rich, smooth mouthfeel with lots of ripe fruit. |
| 3 | | Capitelli Late Harvest 2020 | Super-ripe tropical mango, papaya and pineapple. Zingy acidity balancing the high sugar content for surprising freshness. |
Part of our 50 Year Anniversary Focus 50 Series